1500 Arrived at Ardfern to pick up Sigma 33 Roundabout. Shown round boat by owner and pretended to understand all the gadgets and widgets. Loaded boat with food and drink for expedition (48 cans of beer and a box of cornflakes) - no more room in lockers for kit, so dry clothes rolled around in bilges for next week.
1800 Went to pub to discuss plans for expedition. Derek had first drink for 5 months. Derek then had second, third, fourth, fifth and sixth drink. Left pub without paying for meal. Guy borrowed a child's bike, as he was having difficulty with walking.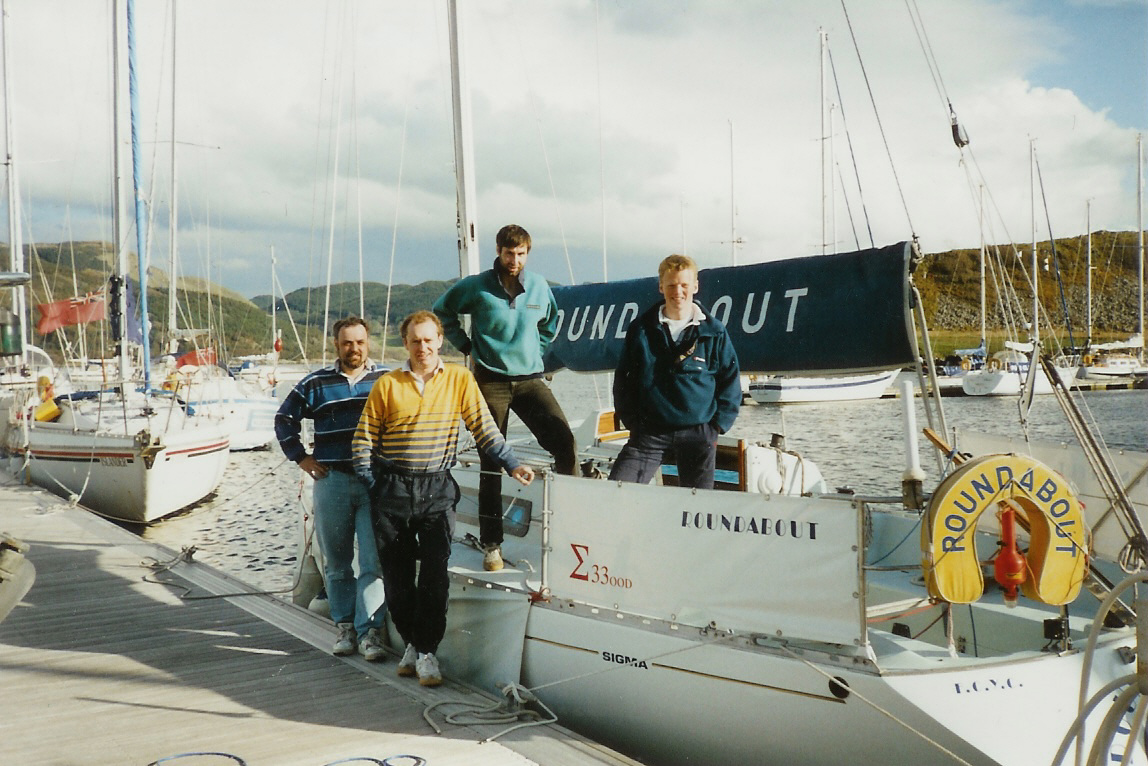 Roundabout and crew in Ardfern
Sunday 8th May
0800 Derek complained of sore kidneys - thought it might be connected with first drink for 5 months. Alastair suggested it had more to do with second to sixth drinks. Gareth slipped £20 under door of pub for last night's meal.
0900 Left pontoon, dodged a few islands, rocks and buoys and sailed down Loch Craignish.
0940 Sailed through Dorus Mor, turned northish and hoisted spinnaker.
1230 Wind died. Dropped spinnaker and hoisted iron topsail. Cheese sandwiches for lunch.
1400 Dropped anchor in Puilladobhrain. Guy said that Stoney's boat had a bigger anchor. The others told him to shut up. Went ashore for a walk. Gareth stepped into a bog up to his left knee.
1730 Walked over hill to pub at Clachan (bridge over Atlantic). Gareth stepped into a bog up to his right knee. Derek decided to give up drinking again. Interesting walk home in the dark - Guy got lost, and Gareth fell into a bog up to his waist.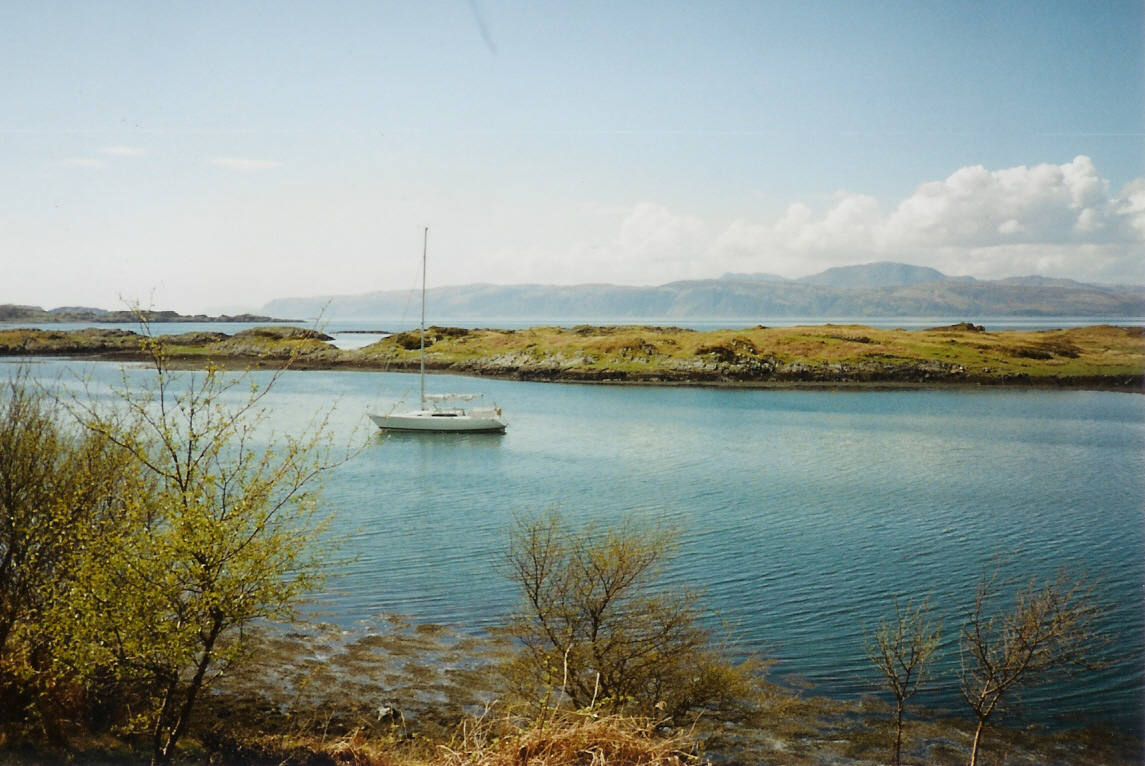 Roundabout in Puilladobhrain
Monday 9th May
0800 Left Puilladobhrain in flat calm.
0900 Wind arrived - SW 4 kn. Hoisted spinnaker and ran up Firth of Lorn.
0930 Guy decided to set the Decca, as he was an expert (Stoney's got one on Duncan's Girl). After he entered our position, the Decca told him we were in Carlisle. Gareth helped out by explaining to Guy the difference between East and West.
1115 Gybed round Duart Point. Alastair told an interesting story about how he once met Sir Charles McLean at Duart Castle. The others told him to shut up.
1200 Wind increased to 8kn - close reaching up the Sound of Mull with spinnaker. Cheese sandwiches for lunch.
1400 Wind increased to 15kn - dropped spinnaker. At last Derek had a chance to try out his brand new, award-winning Musto jacket, while Guy modelled his brand new, day-glo Splashdown jacket. Alastair and Gareth had to make do with their 15-year old oilies.
1530 Arrived at Kilchoan. Derek remembered that he owed money to a friend who was staying there, so we turned round and raced the CalMac ferry into Tobermory.
1630 Picked up HIDB mooring in Tobermory harbour. Went to Mish Nish hotel for shower, beer, food and a few games of pool. Guy beat all the locals at pool, but completely failed to score with two local lassies, despite brave assistance from Derek, who was back on the drink.
Tuesday 10th May
0900 Guy couldn't face cheese sandwiches again for lunch, so he replaced Derek as catering officer, and went ashore to buy some real food. Derek complained about a pain in his kidneys.
1000 Left Tobermory in SE 10kn and entered Sound of Mull with 2 reefs and storm jib. Went off the edge of the chart, so decided to turn round and explore Loch Sunart.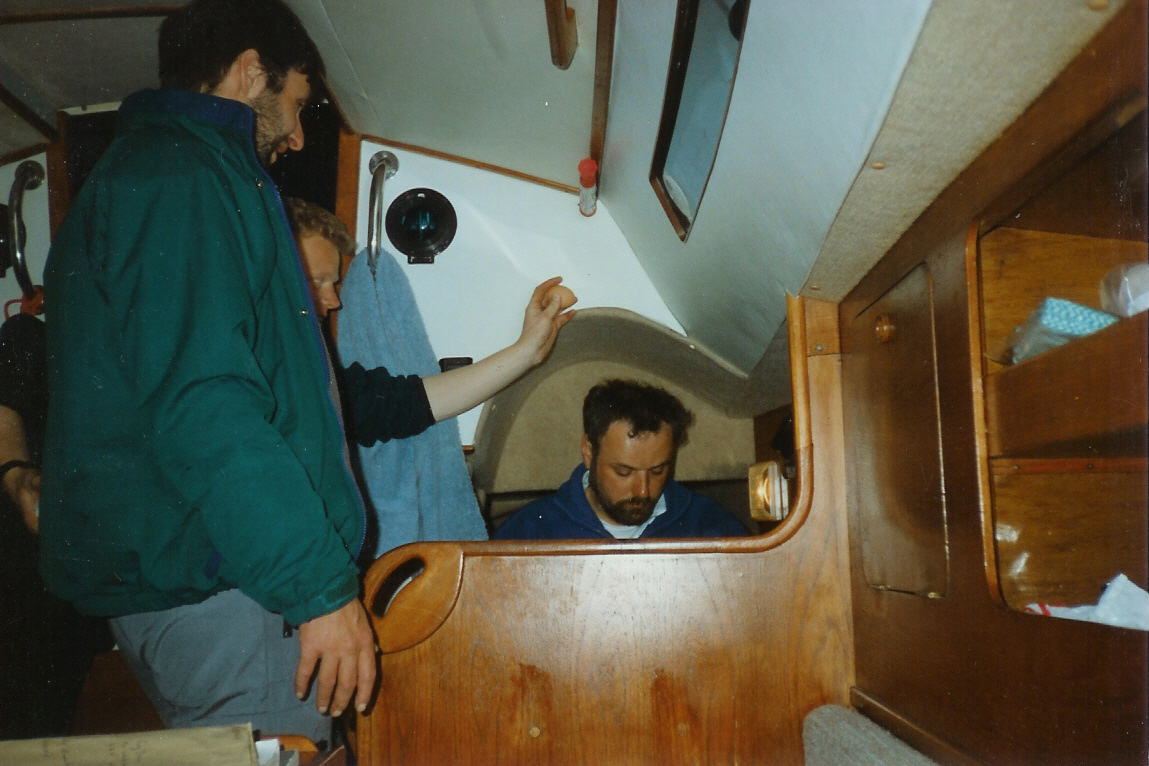 Navigating by committee
1200 Beat up Loch Sunart, which is conveniently zig-zag shaped for tacking. Derek said he saw a shark. Guy thought it was a porcupine. Alastair thought this was unlikely. Guy decided he had meant a porpoise.
1300 Pate de foi gras sandwiches with green salad for lunch.
1430 Clocked boat speed at 8.5kn up-wind in 32kn wind. Guy said Sun-Fizz 39 went much faster. The others told him to shut him.
1600 Arrived at Salen and tied up to a mooring kindly supplied by local shop in most exposed part of the bay (the mooring, not the shop). Derek beat the others at both pool and darts, as he had given up drinking again.
Wednesday 11th May
0900 Left Salen under spinnaker. Wind E 15kn, so ran down Loch Sunart, taking shallow inner channel at Risga island. Alastair thought this was brilliant navigation. Derek thought it was reckless lunacy and started complaining about his kidneys again.
1000 Entered Sound of Mull, dropped spinnaker and reached round North side of Mull.
1230 Smoked salmon sandwiches garni for lunch.
1330 Passed close by Staffa to look at Fingal's cave. Buzzed by very low flying tourist plane. Tacked down to Ross of Mull.
1600 Anchored by boatyard in Loch NaLathaich and watched the fishing boats performing synchronised ballet manoeuvres in bay. Guy told an interesting story about being here in Duncan's Girl. The others told him to shut up.
1800 Quiz night in pub at Bunessan. We came third - we would have won, but Derek couldn't remember the name of Dickens's unfinished novel, as he had taken up drinking again.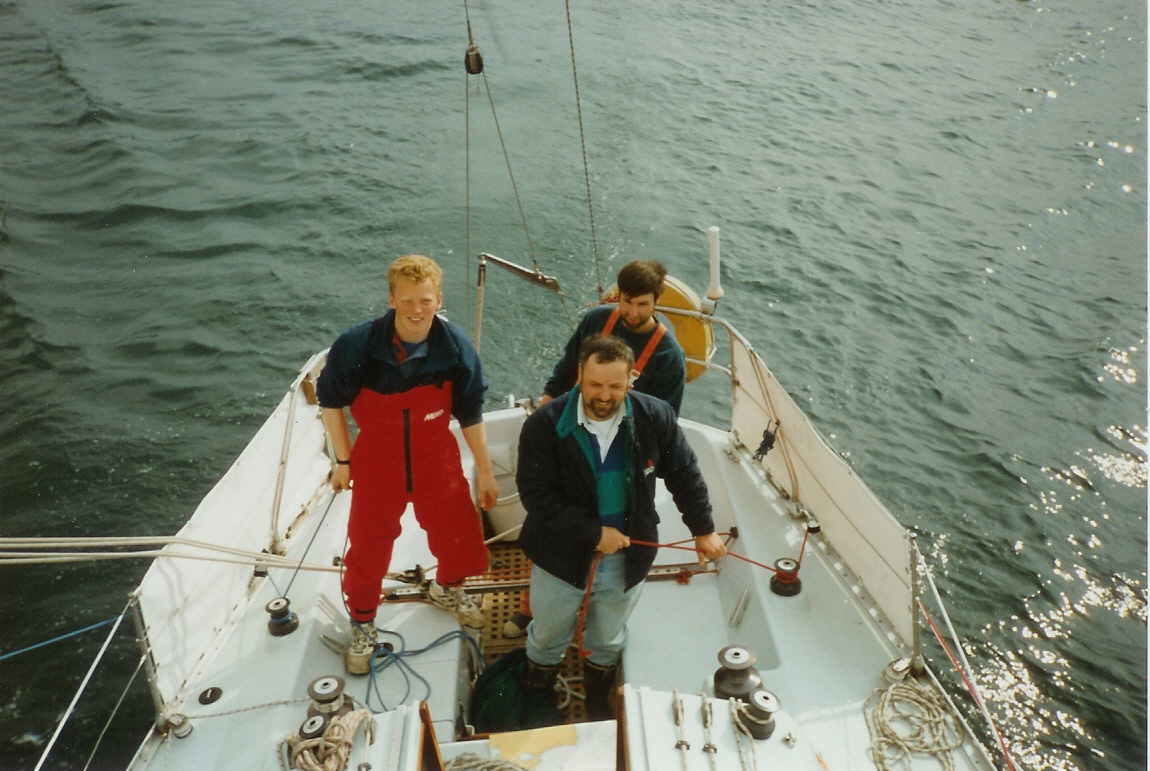 Spinnaker handling on Roundabout
Thursday 12th May
0815 Left Loch NaLathaich in E 15kn, with Derek complaining about sore kidneys. Hoisted reefed main and No. 3 genoa and reached along coast.
0900 Entered Sound of Iona. Pilot book says to follow transit on 2 churches - unfortunately there are about 20 to choose from on Iona. Motored through Toran Rocks then hoisted sails and beat Eastwards along South coast of Mull.
1300 Caviar sandwiches with a lightly-tossed vinaigrette salad for lunch.
1400 Wind increased to 30kn - gusts up to 35kn. Tried to take in another reef, but leach line caught in block at end of boom, jamming reefing lines. Decided to drop sails and motor as we weren't going very far against the wind anyway. Motored into Sound of Luing.
1500 Derek's brand new award-winning Musto jacket standing up to heavy weather conditions very well. Guy's brand new day-glo Splashdown jacket falling apart at the seams, like his boots which were well past their sell-by date and had reached their smell-by date. Gareth's 15-year-old oilies were already in bits. Alastair was having difficulty getting into his 15-year-old oilies, as they seemed to have shrunk.
1830 Tied up at pontoon in Craobh Haven, as crew decided they deserved a quiet night. Pub had no food as Receivers had laid off the chef, and anyway Derek had given up drinking again, so we retired to the boat. Guy explained that they always cooked on board Stoney's boat, so he treated us to his 'pasta surprise' (the surprise was that the rest of the crew ate it.)
Friday 13th May
1115 Late start as crew recovered from Guy's cooking. Left Craobh Haven in NE 10kn under full main and No. 3 genoa, and reached down Loch Shuna. Buzzed by two F16 Tomcats doing Top Gun impersonations.
1230 Wind increased to 25kn, so took two reefs.
1400 Entered Loch Sween, and beat up loch as far as Castle Sween because Derek had once been there, and had a very interesting story about it. The others told him to shut up.
1430 Turned round, ran back down Loch Sween and beat back up Sound of Jura.
1715 Picked up visitors mooring in Crinan harbour. Tidied up boat, then went ashore to hotel. Good beer, so Derek took up drinking again, but it seemed that food was only available if you wore a cravat and had an ugly wife. Returned to the boat where Guy cooked his 'end-of-cruise special', which consisted of everything left in the lockers, i.e. corned beef, tuna, hot dogs, sweetcorn, lorn sausage, tomato, cornflakes, ketchup, and mayonnaise. Luckily, Derek had hidden the custard.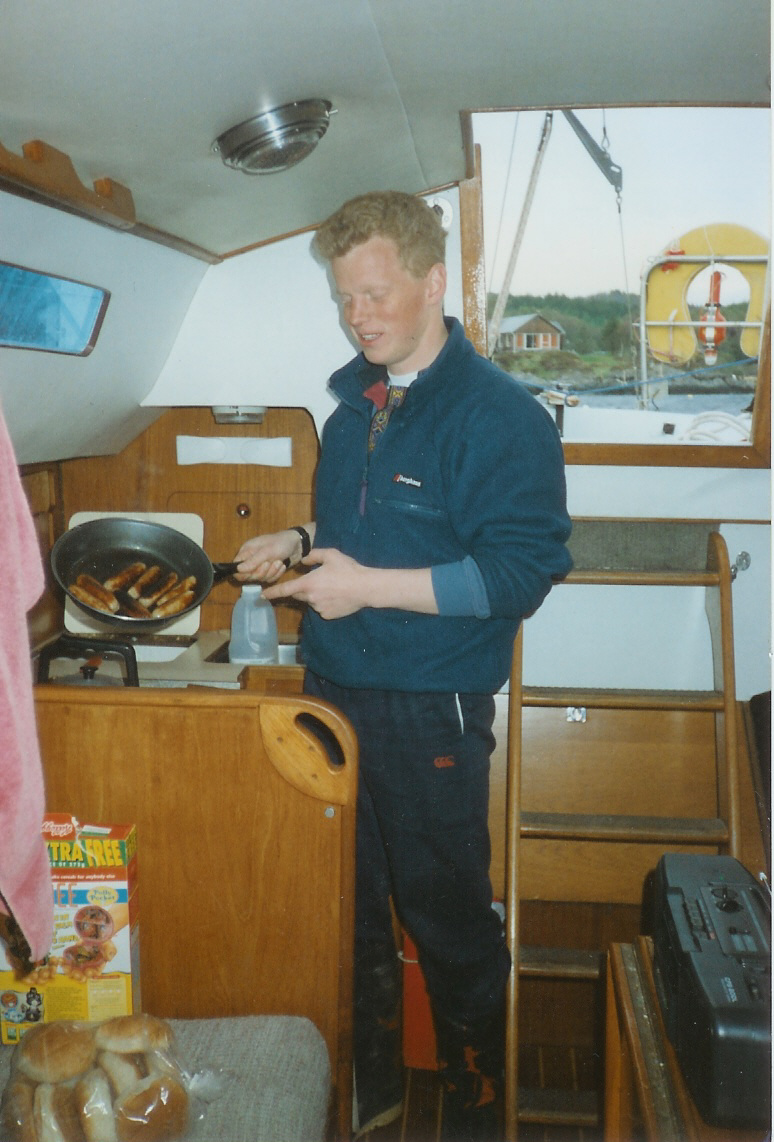 Guy cooking left-overs
Saturday 14th May
0645 Left Crinan early as boat had to be returned by 0900. Motored into NE 10kn wind. Derek decided he was suffering kidney failure, and would never drink again.
0745 Arrived at Ardfern and tied up at pontoon. Left a note of all the breakages and departed before the owner arrived. End of cruise.
Derek Gibb, the Sick Skipper
Alastair Millar, the Fat Navigator
Guy Dean, the Drunk Cook
Gareth Davies, the Useless Engineer