1500 Arrived at Ardfern to pick up Triskellion (or "Trisky Lion" as Guy called it) - a 42-foot steel cutter. It looked like an old-fashioned, sleek, narrow yacht but is in fact just 2 years old. The designer had decided to keep to the old-fashioned theme below by installing cramped accommodation and no shower. However, the teak-laid deck was covered with expensive modern equipment and looked superb, and Bob from Islander Charters assured us it sailed well too.
1800 After storing all the food which Guy had bought (which consisted of 6 days worth of fresh food which had to be eaten today before it went off), the crew discussed plans for the week. Bob asked if we were sailing tonight, as the tide at the Dorus Mor was favourable. As we were keen to sail round Skye this week, it seemed silly not to take advantage of the long daylight, so we decided to skip the usual first night session in the Galley of Lorne and head off.
1810 Departed Ardfern in NW 20kn. Motored down Loch Craignish.
1845 Passed through Dorus Mor with the tide, then hoisted main, staysail and genoa and headed up the Sound of Luing.
2000 The catering crew (Guy and Dan) prepared salad rolls, to use up some of the fresh salad which had to be eaten today. Guy had given up tea and coffee, but had brought a variety pack of exotic herbal infusions. The dandelion and raspberry concoction smelled like cough mixture.
2130 The peaceful evening was suddenly broken by a school of dolphins (or were they porpoises?) playing around the boat. They swam with us for about 10 minutes, showing off to each other by surfing on our bow wave without being struck by 13 tons of steel.
2210 Arrived at Puldoran to find the small anchorage filled with 36 boats. It turned out there was a Northshore Yachts Rally taking place - you could practically walk across the bay on Fishers and Vancouvers. We dropped anchor in the middle of the narrowest part of the entrance, just to annoy them, and started on the gin and tonics.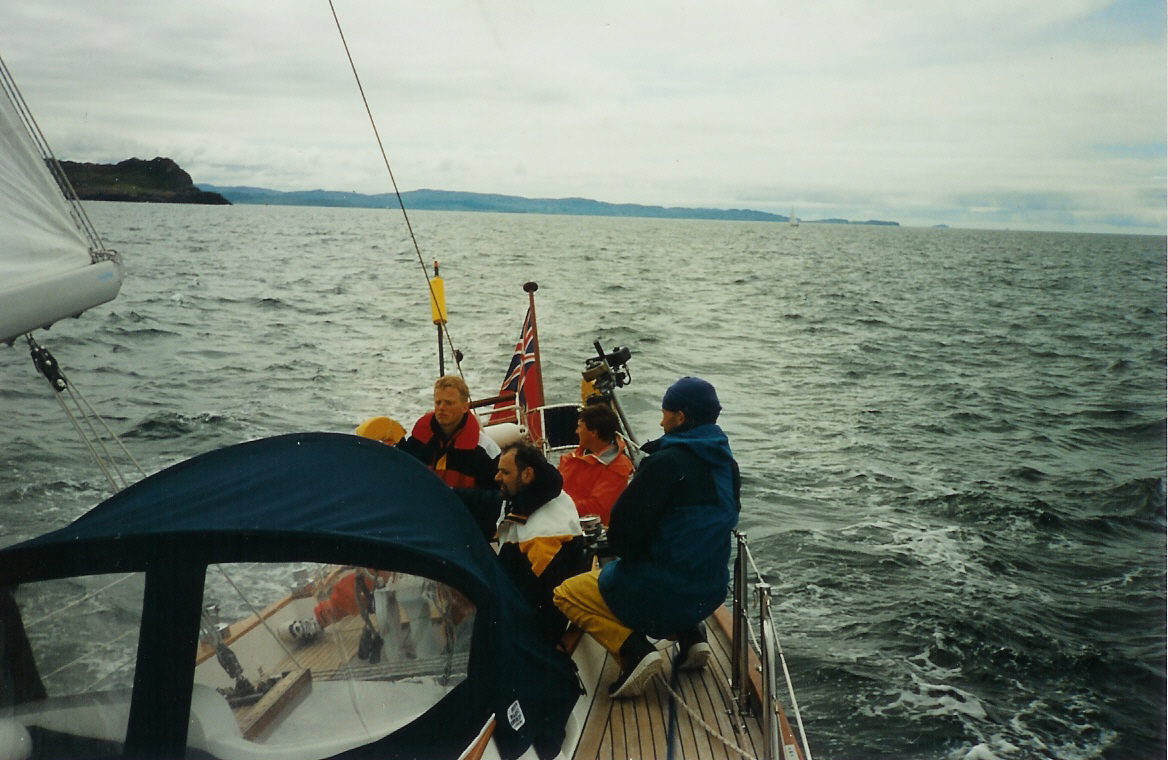 The crew on Triskellion
Sunday 23rd June
0700 Departed Puldoran before all the Northshore boats in NNW 12kn. Motored into the wind up the Sound of Mull.
0800 First brew-up. Guy had elderberry and pineapple brew which smelled like aftershave.
1000 Passed Duart Castle, and Alastair told the same story he tells every year about meeting Sir Charles Maclean there once.
1045 Dan cooked a massive fry-up for breakfast, which was eaten down below so that Guy wouldn't notice we were sailing past Tobermory - in 17 previous sailing trips, he has never before passed Tobermory without stopping at the Mish Nish hotel.
1215 Rounded Ardnamurchan point and hoisted sails. Sailed past the east side of Eigg and headed towards Skye.
1830 Wind died, so we dropped the sails and motored up the Sound of Sleat.
1930 Anchored in Isleornsay, which was quite full of boats. Spaghetti bolognaise washed down with Spanish red wine for dinner.
2030 Went ashore to pub. Met a crowd from the Royal Bank of Scotland in Edinburgh who were sailing a Dehler 34 - very fast but not as classy as our 'gentleman's yacht'. It must have been a bit cramped with 7 of them on board.
2330 Returned to Triskellion. Guy found his guitar and played the 4 tunes he knows. Then he played them again. Derek banned him to the cockpit where he played them again until the crew of the nearest boat told him to drown himself.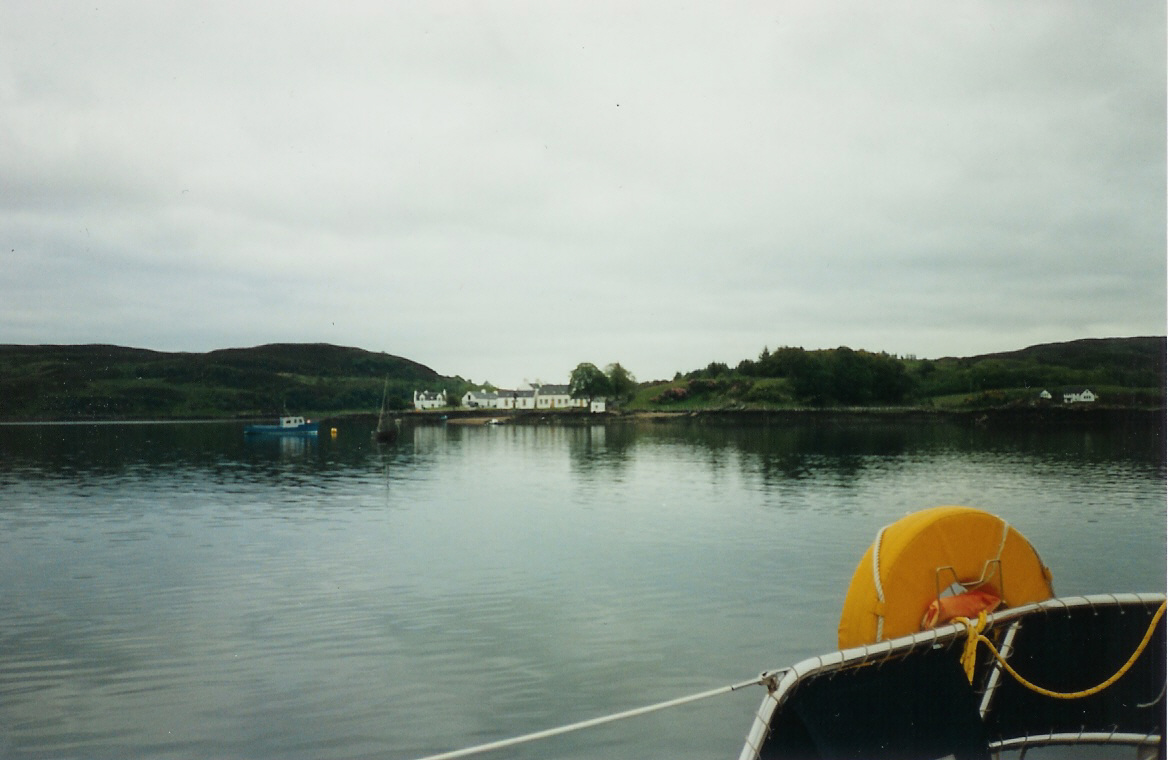 Triskellion in Isleornsay
Monday 24th June
0815 Departed Isleornsay in flat calm. Motored North up Sound of Sleat and through Kyle Rhea narrows with the tide. Managed to avoid the Glenelg ferry, despite its erratic course across the channel.
0900 Brew-up. Guy had banana and daffodil infusion which smelled like an abattoir.
1045 Motored under the new Skye bridge without paying a toll. Close up, the bridge is a rather drab concrete structure, and there didn't seem to be much clearance over the mast. Not much wind, but we hoisted the sails anyway and meandered past the Crowlin Islands, then between Scalpay and Raasay.
1300 Wind died as soon as Frank took the helm, so we motored along the Skye coast to Portree.
1500 Tied up at Portree. Went shopping for bread, milk and ice creams. The RBS Dehler was parked in front of us - it looked very small, compared to Triskellion.
1620 5 cream cakes later, left Portree in SSW 10kn. Sailed NNE towards Rona - the first time this trip the wind has been behind us.
1845 The pilot book says the entrance to the anchorage is marked by a white arrow on a rock, so we sailed up and down the coast of Rona, looking for a white-painted rock. Discovered that Alastair was the only member of the crew who could see beyond the bow of the boat. There will be compulsory eye tests for the crew next year. Eventually Guy gave up and used the GPS to guide us in.
1915 Anchored in Arcaseid Mhor, Rona - beautiful anchorage with only 2 other boats. One of them was a large sail training ketch Sea Spirit from Gordonston school, whose skipper knew Triskellion as Bob Fleck often brings her in here on skippered charters.
1945 McSween's steak pies with German Mosel wine for dinner. The fresh pies seem to have survived well. Dan and Guy decided to go ashore and make a camp fire while the others washed up. They promised to return shortly for Guy's guitar.
2000 A small launch from a nearby fish farm came along side to ask if we wanted to buy some crabs. We explained that we had just finished steak pies and Mosel, but they seemed unimpressed.
2015 Sea Spirit raised anchor and came along side, asking if we had a doctor on board - one of the school crew had been hurt diving off the boat. We explained that we had an estate agent, a systems analyst, an electrical engineer, a civil servant and a building contractor on board, but no doctor. Sea Spirit's skipper seemed unimpressed, and sailed off for Portree. The crab salesmen thought he should have called out the Portree lifeboat, as it would be quicker and would give the lifeboat boys some practice. They were probably right.
2100 The shore party had still not returned, and we could see no smoke from their fire.
2130 Dan and Guy eventually returned in failure, having been beaten back by the midges and lack of wood. Guy decided to play his guitar anyway. Frank suggested they should have taken it ashore and burnt it.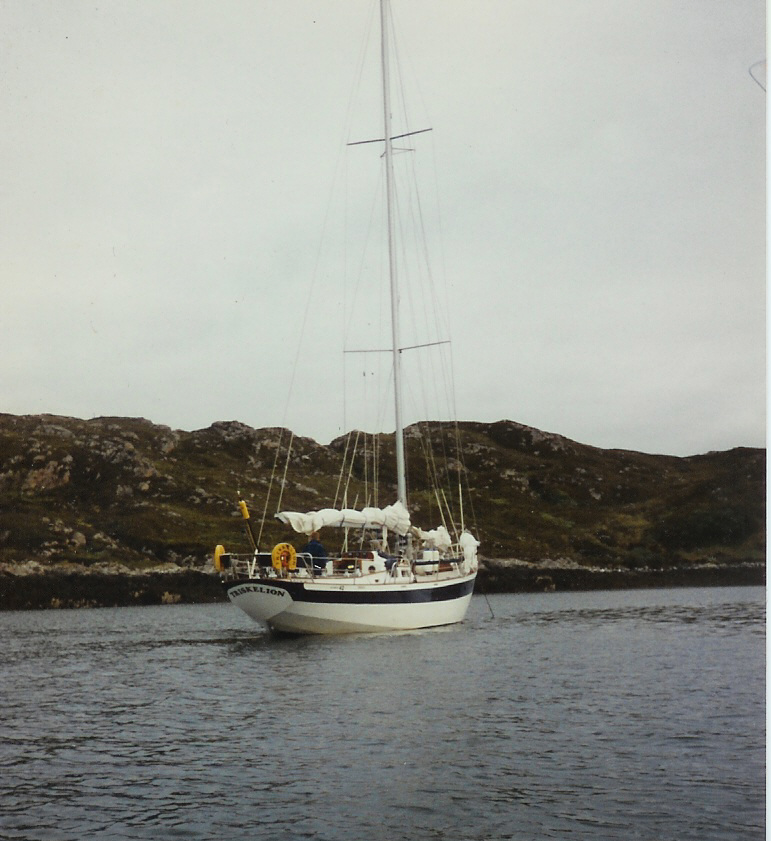 Triskellion in Arcaseid Mhor, Rona
Tuesday 25th June
0900 Left Rona in SW 15 kn. Hoisted all sails and reached across to north tip of Skye, passing Eilean Flodigary.
1000 Brew-up. Guy had nettle and tulip, which smelled like Gavin Hastings' jock strap. Guy started discussing plans for next year's cruise and decided he would charter his own boat with 4 female companions. The others doubted he could find 4 female companions in a year.
1215 Passed Eilean Trodday at the north end of Skye. Wind increased to 25-30 kn. Took one reef in main, and replaced genoa with storm jib, which turned out to be fluorescent orange - that should identify us in an emergency. Hardened up until we were close hauled, and headed westwards into the mist and drizzle to cross the Minch.
1500 Drizzle turned to rain. Triskellion handled well, but was pitching into choppy waves - very uncomfortable. The crew was cold, wet and tired, except for Guy who retired below and decided to bake scones instead. Some of the crew felt sick, others were sick. This is supposed to be a summer holiday.
1600 Guy produced his fresh scones, but unfortunately he was the only crew member who could face eating them. We realised we were getting close to the Outer Hebrides when we heard the VHF: "Helloo, helloo, helloo, this is Stornaway Coastguard calling civilization..."
1715 Sighted land through the mist and identified it as Loch Maddy on North Uist. Perfect landfall, despite some dodgy helming - must have been good navigation.
1800 Picked up the last free HIDB mooring on Loch Maddy, near the RoRo terminal. The crew immediately packed bags with changes of clothing and money, and rowed ashore as the outboard was knackered. The RBS Dehler arrived shortly after us - are they following us all over Scotland? Frank and Alastair entered the hotel, and dripped sea water all over their nice carpet until they agreed to our demands. The hotel was excellent - hot showers, drying room for waterproofs and wellies, good bar, friendly staff, and superb food (we recommend the venison hot pot and the mixed grill - all the cholesterol you can eat for £5).
2030 The RBS crowd arrived in the bar, and sat at separate tables not talking to each other - this confirmed our doubts about the wisdom of 7 people on one Dehler. Our crew had no such problems as we sat and listened to Guy's theories of life, the universe and surname etymology.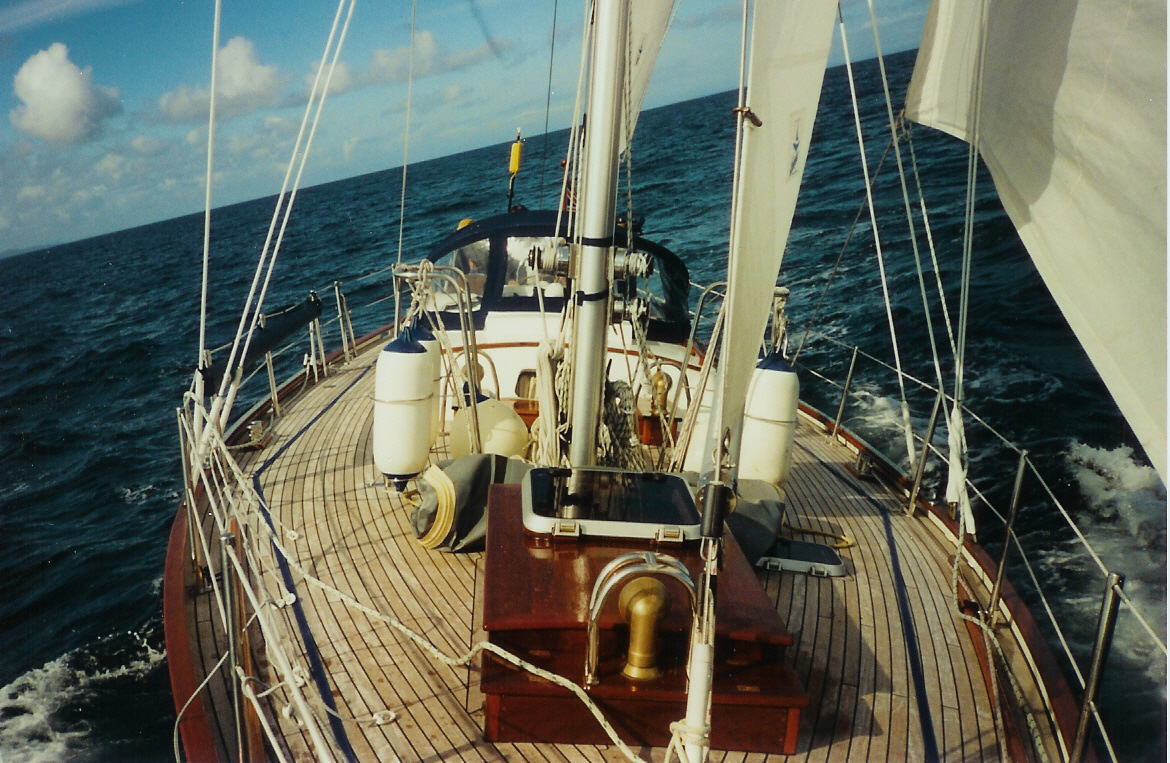 Triskellion crossing the Minch
Wednesday 26th June
1000 Late start. Left mooring and tied up at RoRo pier for water. Our tank took 15 minutes to fill. Derek went ashore to buy milk, bread and newspapers, but found there was none until the ferry arrived at 1130.
1025 Departed Loch Maddy in SW 15kn. Motored until Dan had finished cooking breakfast (bacon, egg and potato scone rolls), then hoisted all sails and headed SSW for Barra on close fetch.
1100 Guy expounded his theory about being able to detect the curvature of the Earth by scanning the horizon. The others decided this was an optical illusion, and wished that Guy was one too.
1830 Wind went completely haywire as soon as Frank took the helm - we kept getting headed no matter which tack we were on. This is what the forecasts means by 'cyclonic variable'. Sailed around aimlessly for a while. Guy discussed plans for next year again, and decided we should sail to St. Kilda. Derek thought it might be tricky to get there and back from Ardfern in a week.
2000 GPS showed us to be on top of a dangerous rock on the chart which provided mild consternation. Guy's curry was nearly ready, so we dropped the sails and motored into Castlebay, Barra.
2015 Bouyage in the bay bears no resemblance to chart or pilot book. As none of the crew except Alastair could see the buoys anyway, we just guessed where the ferry probably goes to avoid the rocks, and successfully entered the bay.
2030 Picked up HIDB mooring in bay. Ferry arrived immediately behind us and performed a graceful 180° turn in its own length at full speed, coming to rest exactly at RoRo pier. Show-off.
2040 Guy's special delayed action curry for dinner with Sainsbury's Bordeaux.
2230 Derek, Dan and Guy went ashore to pub. Alastair and Frank too old/knackered/ lazy to go, so stayed on board to finish washing up, writing log and watching the Castlebay nightlife, which seemed to centre around a mobile burger bar.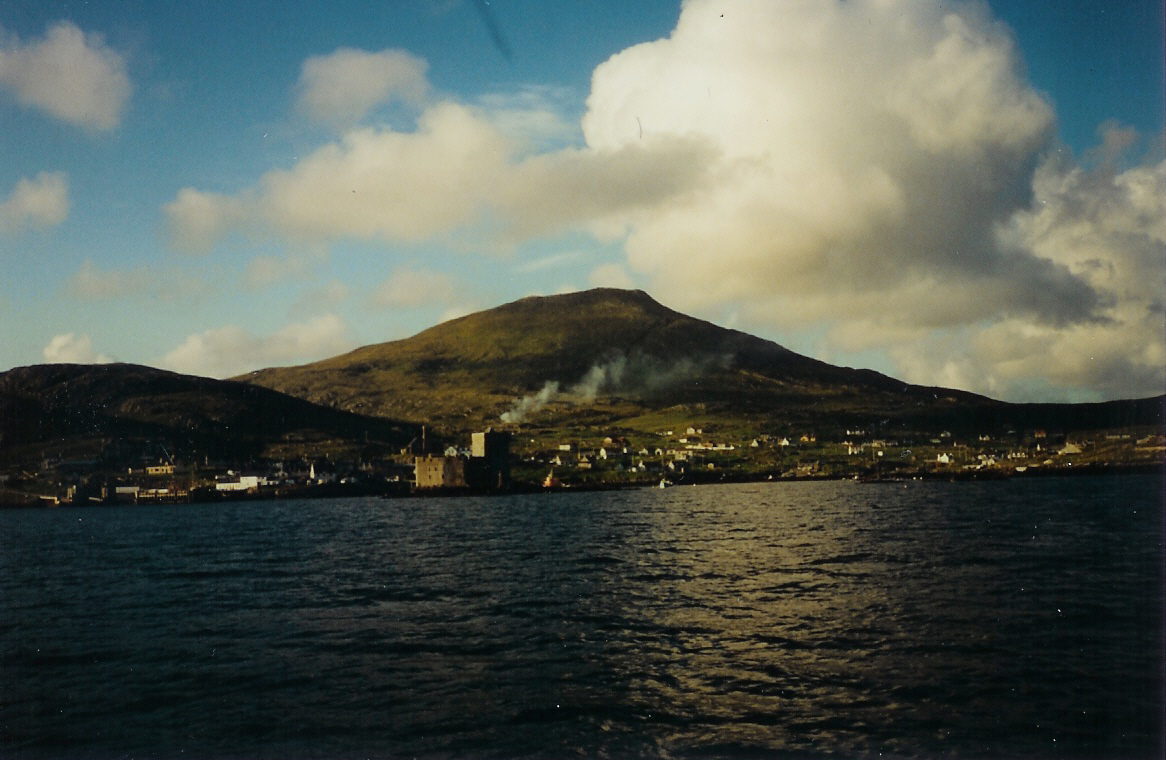 Castlebay, Barra
Thursday 27th June
0700 Departed Castlebay in SSW 14 kn. Hoisted all sails, and fetched SE to cross the Minch again.
0800 Wind increased to 18 kn. Guy decided we should go to Ireland for our cruise next year, as he'd done the Hebrides now.
1100 GPS put us 5 miles south of our DR position, which was a bit worrying. We established 4 possible reasons: a) crap helming; b) crap navigation; c) crap GPS; d) local magnetic anomalies. We settled on option d) as the most plausible. Decided to bear off to avoid hitting Coll.
1215 Passed north point of Coll, and headed for north point of Mull.
1500 Spotted "Jean de la Lune", the square rigger from Leith, coming round Ardnamurchan point.
1600 Arrived Tobermory. Very busy, and no HIDB moorings free, so spent half an hour looking for a space to anchor.
1630 Finally dropped the hook. After gin and tonics on board, we repaired to the Mish Nish hotel for showers, food, drink and folk music. The poor Irish folk singer made the mistake of asking for requests, so Guy and Dan made his evening a misery by asking for everything from the Monkees to Oasis. Heavy night.
0100 Outboard still wouldn't start, so Alastair had to row out to Triskellion twice. Guy couldn't row as he was too busy bailing out the dinghy with Derek's shoe.
Friday 28th June
0930 Crew gradually surfaced. Miserable morning - rain, mist, wind and cold. Gale warnings on VHF. Stayed put in Tobermory and had massive fry-up. Guy decided we should sail to the Canaries next year to get better weather.
1300 Rain stopped, so departed Tobermory in SW 15kn - no sign of the gale yet. Hoisted all sails and ran down the Sound of Mull.
1430 Wind increased to SW 20-25kn. Reefed main and dropped staysail.
1730 Dropped sails, and decided to motor through the Cuan Sound as the tide was with us - quite fun with lots of mini whirlpools. More gale warnings on VHF. Motored up Loch Melfort and looked into Kilmelford Yacht Haven. No pontoon berths available, and moorings looked very exposed in SW wind, so decided to turn round at head for Croabh Haven.
2000 Tied up at pontoon in Croabh Haven - not quite the berth we intended, but the wind proved better at propelling the boat than the engine. Had a little argument with the marina office as the marina toilets are kept locked, and a key requires a £10 deposit. Unfortunately, the office cannot return the deposit before 9am when it opens, and we were planning to leave at 7am.
2030 German sausage with Italian pasta and French bread for dinner, washed down with Macedonian wine - very cosmopolitan.
2115 Went to The Lord of the Isles, the marina pub - a great barn of a place with all the atmosphere clinically removed, and run by Londoners.
Saturday 29th June
0700 Started thinking about leaving Croabh Haven, but wind was pushing the boat hard onto the pontoon. Decided to wait another hour.
0800 Couldn't wait any longer as we had to return Triskellion to Ardfern by 1000. Performed interesting manoeuvre to reverse 13 tons of steel out of the berth with Guy and Dan pulling and pushing from opposite pontoons. Managed to depart without any serious damage, but nearly left Guy behind as Derek had engine at full throttle and wasn't going to stop for anyone. Out in Loch Shuna, wind was just NW 15kn - what force 8? Motored down Loch Shuna and round Dorus Mor (tide in our favour again).
1005 Tied up in Ardfern, 5 minutes after last check-in time. Spent the next hour unpacking all the food Guy had bought and never used. End of Cruise.
Derek Gibb, skipper
Alastair Millar, navigator
Ian Kernohan, chef
Guy Dean, assistant everything
Frank Spratt, chief washer-up