1130 Crew met up for the traditional food shopping in Morrison's in Fort William – what a good idea to buy a week's supplies in an over-crowded provincial supermarket on a Saturday lunchtime. In fact not so bad thanks to Quartermaster Desmond's precision planning.
1315 Crew had the traditional fish and chips at the Lochailort Hotel (Findus had the exotic, expensive version.)
1440 Arrived in Mallaig.
1505 Ferry to Armadale, watching the big lumpy waves and thinking how nice it will be in a small yacht.
1535 Arrived in Armadale and drove round to Isle of Skye Yachts pier. Mark and Charmian were there to greet us. The charter business was quiet, only 2 of their boats were out this week. Pocket cruise liner Hebridean Princess was parked at the end of the ferry pier, but soon left and headed north.
1645 Taken aboard Countess of Sleat, a newish Elan 434 – looked very big and comfortable. Charmian showed us everything she could remember about the boat, which took about 2 minutes.
1730 Tea and Derek's wife's banana bread while we had a safety briefing and discussed plans for the week. Alastair produced reams of forecasts which all said the same things – it will be wet and windy all week. We agreed not to be too adventurous.
1800 Departed Armadale and sailed north under jenny only. Wind S 15 to 25kn.
1940 Arrived at Isleornsay and decided to pick up hefty-looking mooring buoy marked "For patrons of the Duisdale House Hotel only" instead of anchoring, as it was quite breezy in the bay. Hebridean Princess was anchored in the bay, and Sleat Princess, IOSY's other charter boat, crewed by a young couple, was tied up on the next-door mooring, so they didn't get very far either. A nice yawl with a large American flag was anchored further inshore.
2030 Turkey Schnitzel and chips for dinner, then all except Alastair (who had a raging headache from worrying about the weather) struggled ashore as the dinghy's engine died. But Skipper (5 times Aberdour Junior Rowing champion) confidently sculled the crew to safety and the Duisdale House Hotel. Charged £15 for the mooring, which was a bit steep on top of the drinks prices, but it did include hot and cold running women. Turned out there was an American wedding at the hotel, which was livened up considerably by the arrival of 5 middle-aged balding men in wellies. Peter's impromptu wedding speech was excellent and set the tone for the rest of the evening. Several compromising photos later …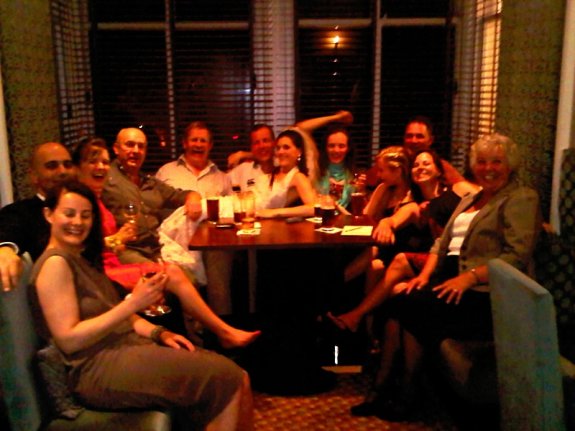 ... and then I kissed the bride
0130 Drunk crew arrived back on board (thanks to 5xAJRC) for more drink and cheese.
Sunday 30th August
0830 Crew gradually surfaced with sore heads (apart from Alastair whose headache had gone). Slow start as no-one wanted to move much. Dull grey morning, although wind had dropped a bit.
1015 Full cooked breakfast from new boy Peter, with sausages cooked well beyond prime.
1100 Sailed off mooring, wind now just 10kn from S, although it picked up in the Sound of Sleat. Decided to explore Loch Hourn, so sailed east into "loch of hell" in a futile search for the fabled "Whourn of Loch Hourn". Weather brightened and seals spotted in loch. Magnificent scenery all round but mountain tops in low cloud. Had a close look at the remote village of Arnisdale where Derek nearly bought a cottage last year.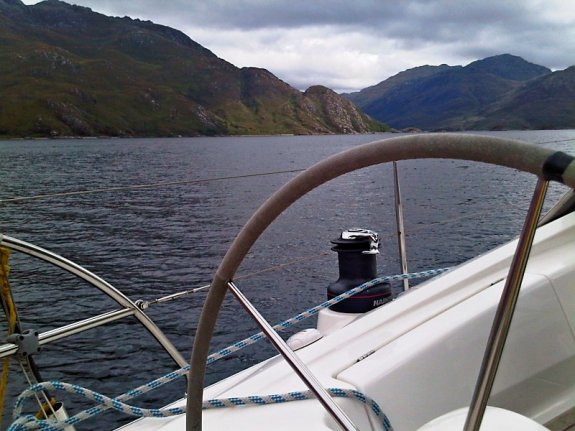 Countess in Loach Hourn
1400 Left Loch Hourn, past Sandaig, site of Gavin Maxwell's Camus Fearna where Mitch the otter is buried.
1415 Derek got a phone call from Mark at IOSY to say that a mysterious stranger had picked up his wallet, packed with cash, in the Duisdale House Hotel last night. Derek then phoned the mysterious stranger but was unable to establish exactly who he was. He got his address and arranged to pick up the wallet at the end of the week.
1430 Saw the twin dorsal and tail fins of a basking shark. Either that or two porpoises moving slowly, one just behind the other. Or possibly suffering double vision from last night's excesses.
1500 Motored through Kylerhea narrows with the last of the tide and very little wind. Motored through Loch Alsh and under Skye Bridge as sun came out – nice afternoon now. Headed north and saw Sleat Princess ahead of us.
1700 Followed Sleat Princess into Plockton and picked up visitor's mooring next to her – the young couple on board must think we're stalking them. G'n'T on deck while watching the world go by. Gordonstoun school's ketch Spirit of Moray was anchored nearby – we've often seen this boat on our voyages. The American yawl from Isleornsay motored in and anchored inshore, then a local fishing boat crewed by two barking dogs passed by.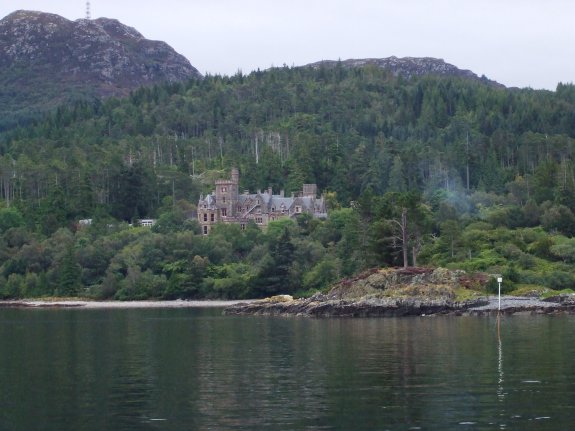 Duncraig Castle, Plockton
1830 Chicken curry followed by bakewell tart for dinner then ashore to Plockton Hotel for Hebridean Gold from Skye and local brew Plockton Crags. Ian beat all comers on the pool table. Post-prandial digestive issues from some of the crew ensured a lively atmosphere.
1130 Back on board for port and cheese, a very civilized way to finish a day.
Monday 31st August
0900 Slow start. Flat calm, cloudy but warm morning.
1030 Sausages for breakfast (cooed to perfection by Dan), then ashore to pay £12 for the mooring at the village shop!
1100 Motored out of Plockton in misty drizzle and no wind. Headed west for southern tip of Applecross then north into Caolas Mor between Applecross and Crowlin Islands.
1215 Suddenly surrounded by a large shoal / school / fleet / congregation / plenary session of porpoises, leaping past us on their way south.
1330 Turned into the narrow bay between the two largest Crowlin Islands, Eilean Mor and Eilean Meadhonach, and dropped anchor, lowering it by hand as the electric windlass didn't seem to work. We later found a cut-off switch which Charmian had omitted to tell us about. Ashore to bag a new island from Hamish Haswell-Smith's list. Not a very interesting island, wet and boggy, although there are occasional reminders of former habitation.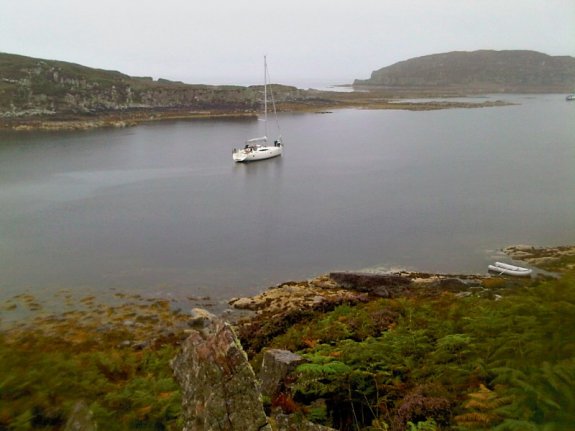 Countess in Crowlin Harbour
1430 Departed Crowlin Islands in rain, mist and poor visibility. Still no wind so motored west.
1530 Wind appeared briefly, just 10kn but enough to sail round south end of Rasaay. Churchton Bay, where Rasaay House had recently been severely damaged by fire, was a hive of industry – cranes, portacabins, scars across the land. Seems to be a new harbour or pier, perhaps replacing the small ferry pier at Suisnish.
1730 Arrived at Portree and picked up a visitor mooring. Guess who was moored next door – Sleat Princess again. Within minutes of arriving, a launch from Portree Harbour Association appeared to demand £10 for the mooring. Clearly, the west coast harbours have become much more mercenary in their approach to visiting yachts since our last cruise two years ago. G'n'T in cockpit spoiled by noisy jet skis rampaging about the bay.
1830 Ashore for dinner. Wandered around Portree looking for somewhere good to eat, then settled on Caledonian Hotel which we had visited in 2002. Turned out to be a good choice – free round of drinks with good pub food and excellent service from local barmaid/waitress/law student Ann-Marie Macrae (voted 8.5/10). Then onto Isles Inn (which we had visited in 2005) for live (but rather quiet) music.
Tuesday 1st September
0930 Another late start. Bacon and tomato for breakfast. Eagles spotted overhead.
1100 Departed Portree. Planned to go alongside pier for water and shopping, but there were too many fishing boats at the pier. A big cruise liner, MV Columbus was anchored in the bay, with a fleet of launches ferrying tourists ashore for genuine Skye experience and tartan tat shopping.
1130 Hoisted sails with one reef as wind now SW 15-20kn, and ran up Sound of Rasaay. Wind was changeable all day, up and down between W and S with showers and some heavy rain bursts between clear bright intervals.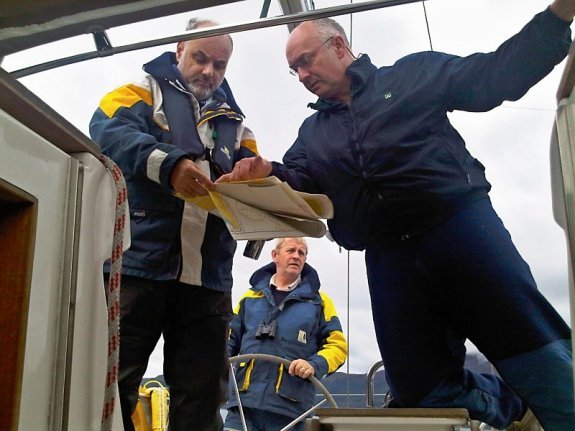 Where the hell are we?
1400 Past north end of Rona. Spotted Sleat Princess in the distance heading up coast of Skye – going to a different destination from us at last! Sun came out, so nice reach across to Gairloch, wind still quite variable. New boy Peter decided to impress us by baking scones, but unfortunately he didn't actually have a recipe and the boat's oven wasn't very reliable.
1615 Entered Loch Gairloch, past Badachro where we have anchored before and headed for Flowerdale Bay as the pilot books indicated there was a new pontoon there.
1730 Rounded ferry pier and saw pontoon which was full up with small boats. Wind quite gusty and not much room to manoeuvre in the bay so we made a quick decision to tie up on inside of the pier, which we managed on the second attempt! Walked to the harbour office where the harbour master noticed that a boat had just left the pontoon, and suggested we should take that space as it would be more comfortable than lying against the pier. Sprinted (in the balding, middle-aged, wellied sense of the word) back to the boat and motored off the pier and onto the pontoon before someone else took the space. Very nice sheltered spot. Had showers at Gairloch Boat Club. Spag Bol and garlic bread with Rioja then cherry pie and custard on board.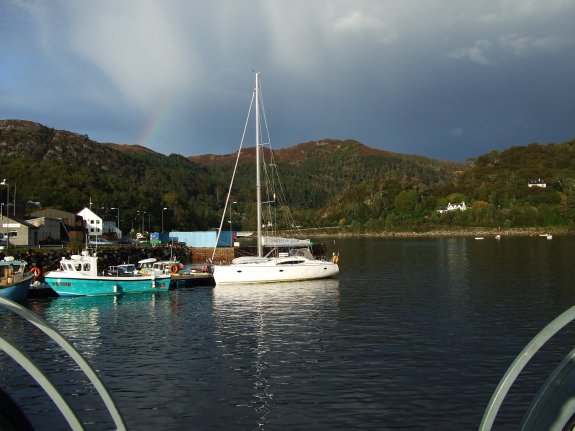 Countess in Flowerdale Bay, Gairloch
1915 Nice looking old wooden boat came alongside, but crew of 2 couples and a dog didn't seem to know what they were doing and didn't tie up very well. As soon as they went ashore for dinner, we re-did their warps and put out extra fenders.
2000 Ashore to Old Inn for good selection of beer served by a Kiwi barman from Waikato who was dead impressed that Dan was wearing a Waikato rugby jersey (actually it was his old school rugby top which happened to be the same colours.) Crew from wooden boat were there just finishing their dinner, so we talked to their schnauzer and explained we had adjusted their mooring ropes.
Wednesday 2nd September
0830 Nice morning, sunny and bright but not much wind. Ashore for shopping. Wooden boat had left early.
1000 Departed Flowerdale Bay, hoisted full sail and headed out of Loch Gairloch. Wind SW 15kn, lovely sail north up coast.
1045 Saw another basking shark in the distance. Peter told the crew the story of how he had signed on board a trawler at Leith as a summer job when he was a student. The crew spent the first few days drinking steadily until the boat reached the fishing grounds near Fair Isle, then sobered up for long enough to haul in the nets and process the fish.
1230 Off Rubha Reidh lighthouse, where coast bends eastwards, and gybed round towards Summer Isles. Wind dropped slightly, but still nice sail. Past Loch Ewe and Gruinard Bay.
1600 Drizzle arrived and wind died, so dropped sails and motored through the Summer Isles towards the largest, Tanera Mor.
1630 Dropped anchor in east bay, Tanera Mor, beside a fish farm and just off the landing stage. Watched the tourist launch pick up a dozen grockles with bobble hats and tackety boots. Nice views of Stac Polly, Suilven, Canisp and Quinag. Went ashore in the rain to bag another island and visit the tearoom / post office where Derek's parents sometimes visit for a working holiday. Had tea and scones served by Holly, one of just 7 island residents, who is about to leave for Canada. Walked around the island then met the ferry operator who turned out to be the island's owner!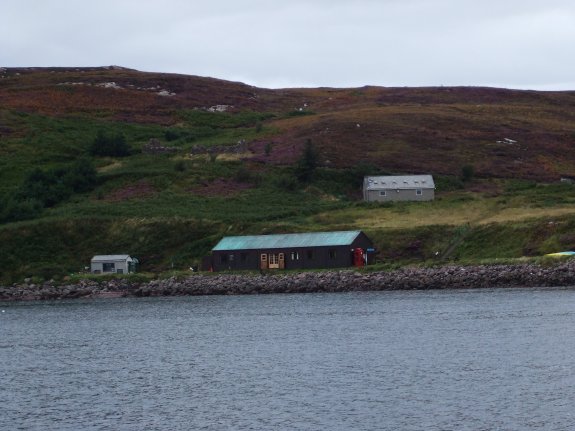 Tanera Mor Cafe and Post Office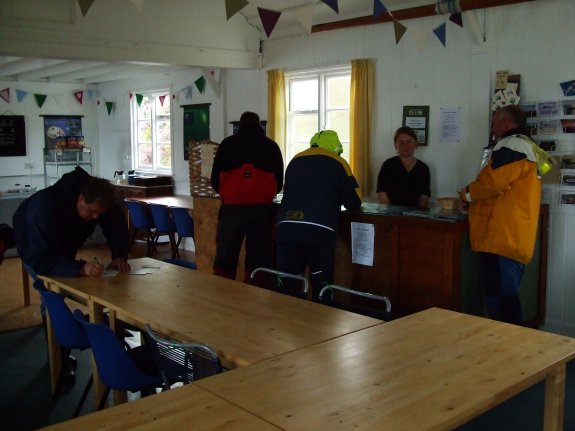 Writing postcards in Post Office
1900 Party night on board Countess of Sleat! Crew dressed up and dined on bacon fajitas with lots of wine. Weather cleared up, beautiful evening at anchor with twinkling lights from the few houses on the island and bright stars in a clear sky.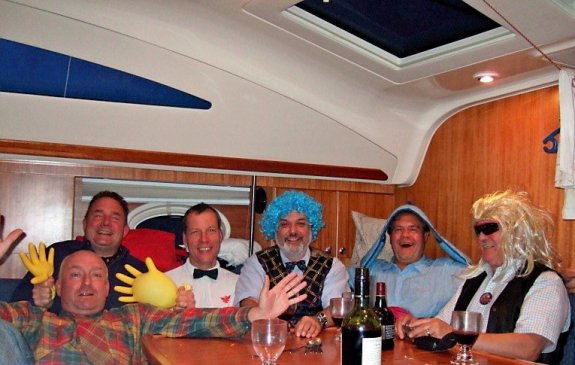 Party night on Countess
Thursday 3rd September
0715 Early start as we had decided to head south before the weather turned nasty again. Motored out of the Summer Isles in a flat calm, weather overcast.
0840 Spotted a slow-moving curved dorsal fin on a large black back, coming towards us with a rolling motion – probably a Minke whale!
1015 Round the corner at Rubha Reidh in drizzle and just 5kn wind. Motored south along coast.
1145 Off Loch Gairloch, rain now more persistent.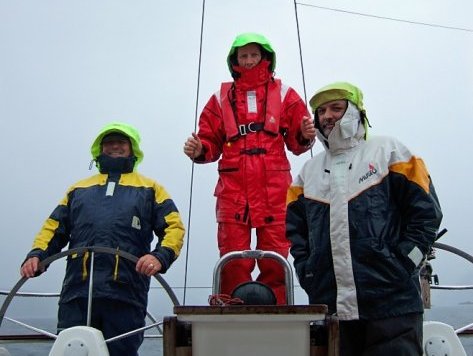 Wet crew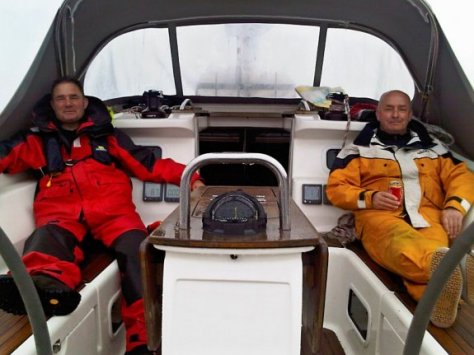 1430 Wind up to 10kn from north-west. Hoisted sails and ran down Inner Sound, past Applecross to port, Rona and Rasaay to starboard.
1715 Rain finally cleared as we motored under Skye Bridge and tied up at the Kyle of Lochalsh pontoon. Showers ashore at Kyle's award-winning public cludgie, and emergency shopping for gin.
2000 Dinner at the Waterside seafood restaurant in the old waiting room on the railway station platform – busy little place and good food.
Friday 4th September
0830 Departed Kyle of Lochalsh. Dull grey day. Motored through Kylerhea with 5-6kn tide, max SOG 12kn. Breakfast underway, with all food left on board fried.
1000 Wind W-SW 10-15kn. Hoisted sails and sailed on close fetch down Sound of Sleat.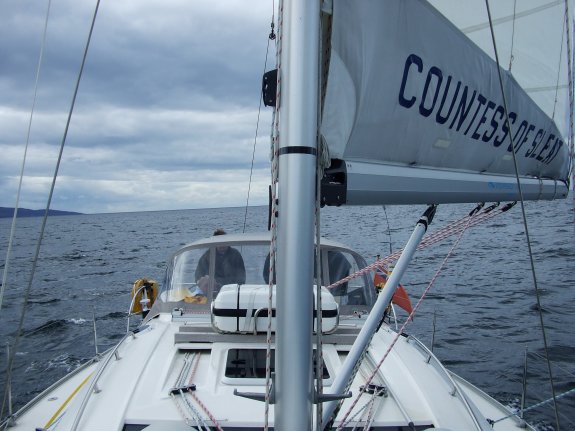 Countess under sail
1200 Wind veered to NW and picked up to 20kn. Took 2 reefs in main, while flailing jib-sheet caught the end of the significantly under-sized boat hook and snapped it in half. Beat round Point of Sleat towards Rum. Fastest sailing of the week.
1315 CG forecast warned of F6 and more so we abandoned plans to visit Rum as we had a table booked at the Old Forge. Turned east and reached into Loch Nevis.
1500 At the mouth of Loch Nevis, saw a basking shark close inshore being shadowed by a small motor boat.
1600 Picked up visitor mooring in Loch Nevis with half a boat hook and some difficulty. Our old friends on Sleat Princess were here, but soon left to head back to Armadale. Perhaps they were more sensible than us, as the forecast was for W F6, and Inverie isn't the most sheltered anchorage from that direction.
1900 Cleaned boat then ashore for drinks and dinner at the Old Forge Inn. Usual good food – scallops, sea bass, venison burgers and Eton pudding, all served by friendly Geordie lass who communicated with Richard in their own quaint but indecipherable argot. Back on board for wet and windy last night.
Saturday 5th September
0645!! Very early start. Departed Inverie. Cranked up diesel to 11 and crossed Sound of Sleat in strong headwind, large waves, driving rain and thick mist – absolutely bloody miserable.
0800 Picked up IOSY mooring at Armadale. Colin and Derek went ashore in dinghy so Derek could drive up the road to pick up his wallet from the mysterious stranger. Amazingly, he returned with the wallet and all his money! Crew quickly offloaded by IOSY launch. Coffee and bacon rolls in the pierhead cafι while waiting for ferry back to mainland. End of Cruise.
Derek Gibb (Skip)
Alastair Millar (Nav)
Ian Kernohan (Dan, Desmond, whatever)
Colin Mackay (McPhail)
Richard Slipper (Findus)
Peter Smolka (Smolks)