1000 After buying food and drink for the week, Derek, Frank, Ian and Alastair left Edinburgh for Crinan (stopping at Inverary for lunch). We had decided to go cruising later in the year than usual in the hope of better weather (see last year's log). Unfortunately we chose the equinoctial gales instead.
1430 Arrived Bellanoch basin on the Crinan Canal, where "Marna IV", our Moody S38, was waiting for us. Loaded food and gear on board and were shown round by James from Argyll Yacht Charters. Boat seemed to be in good nick.
1545 Departed Bellanoch and motored gently through the canal towards Crinan. Swing bridge and lock no. 14 were magically opened for us.
1630 Tied up in Crinan Basin behind old puffers "Duke of Normandy" and "Vital Spark". We had to wait here for our 5th crew member, Jeremy, who was driving up from Birmingham. Got into holiday mood with ice creams from the tea shop.

Crinan Basin
1700 Jeremy arrived and was told the bad news that he was sleeping in the saloon with the snoring skipper.
1900 Dinner on board then repaired to the Crinan Hotel for a few drinks to discuss cruise plans. Alastair was keen to head south to Ireland, but the forecast was for south-westerlies which didn't really help the plan.
Sunday 21st September
0930 Entered sea lock at Crinan, and motored out to the Sound of Jura. Forecast was SW 4-5 so we decided to head north. This is relaxed cruising – throw the plans away and go where the wind takes you.
1020 Through the Dorus Mor and hoisted sails. Wind SW 15 kn, occasional rain. Overcast, cloudy. Nice reach up Sound of Luing at 7-8 kn with the tide.
1215 Rain started in earnest, but still nice run with wind and tide behind us. Passed by "Lord of the Isles" and two official-looking Norwegian vessels.
1400 Wind died by Lady Rock, so motored up Sound of Mull.
1510 Wind picked up from west giving a close reach up final leg of Sound of Mull.
1620 Picked up visitor mooring in Tobermory. Oh no, not here again ! How come we always land up in Tobermory when we hate the place ? Ian cooked Beef Stroganoff but forgot the soured cream. Attempted to go ashore, but the outboard engine wouldn't start and we couldn't be bothered rowing in the cold rain. Anyway, it gets dark early at this time of year, and the pubs in Tobermory are rubbish. Miserable wet squally night.
Monday 22nd September
0920 Forecast promised horrible weather for the rest of the week. Big white breakers from the north-west visible outside Tobermory harbour. Bacon rolls for breakfast. Outboard still knackered so Derek, Ian and Jeremy rowed ashore for papers and fresh rolls and to see what effect "Balamory" was having on the town.
1500 Bored of Tobermory, so despite the weather, we decided to leave and head back south. Hoisted full main but no genoa and ran down the Sound of Mull surfing at 8.5 kn!
1600 Arrived in Loch Aline and dropped anchor in a sheltered bay just north of the sand quarry. Rowed ashore to the Loch Aline Hotel. Pub was full of lorry drivers and quarry workers - English, Germans and even Russians, but not a single Scot. Excellent dinner in the hotel restaurant then Jeremy cuffed the Russians on the pool table.
Tuesday 23rd September
1000 Departed Loch Aline. Nice sunny morning. Forecast indicated westerlies for the rest of the week, so we decided to head south again. Ran down Sound of Mull under full sail in NW 10-20 kn. Clear weather but dark clouds in the north.
1200 Wind increased and backed SW. Sailed round SE corner of Mull onto close reach. Still clear bright day but squalls ahead over Colonsay.
1300 Hit by wet and nasty squall. Reefed main and jenny.
1330 Hit by another squall. Took in second reef, boat still doing 7.5 kn. Jez on helm and loving it – he thinks he's on an offshore racing sled. Wind up and down all day from 10 to 25 kn with lumpy seas.
1520 Reached the lee of Colonsay and sailed down the west coast.
1610 Tied up at Scalasaig on north side of Ro-ro pier. Nice and snug, sheltered from strong SW wind. Jeremy cooked pasta bolognaise followed by chocolate and custard. Went ashore to pub which has been redecorated since we were last here 4 years ago – tartan carpet and faded wallpaper replaced by bland anodyne decoration and flush-mounted ceiling spot lamps. Hotel full of German tourists and Canadian staff.
Wednesday 24th September
1000 Still very windy. Went ashore to hotel for coffee and showers. Canadian waiter tried to charge us in dollars until he remembered what country he was in. Derek took the outboard engine apart and found grit in the fuel pipe. He then broke the starting rope trying to test the thing.
1150 Cal Mac ferry arrived – huge excitement. Cars had been appearing all morning as visitors and locals all tried to get off the island. Ferry disgorged cargo of middle-aged middle-English ramblers in bobble hats and hiking boots.
1230 Departed Scalasaig. Wind SW 20-25 kn. Hoisted half genoa only and followed ferry towards Rubha a'Mhail lighthouse at north end of Islay.
1330 Entered Sound of Islay and motored slowly against 3 kn tide past some of Islay's distinctive distilleries – Bunnahabhain, Caol Ila, Port Askaig.
1540 Left Sound of Islay, hoisted full genoa and gybed round South end of Islay.
1720 Picked up visitor mooring in Craighouse. Went ashore to Jura Hotel for excellent bar food and drink. Played pool with two lads who thought they were hustlers but were just amateurs compared to Ian and Jeremy. One of them claimed to be a silversmith with a shop in Leith. They told us we should stay for the weekend when there is a music festival in Craighouse.
Thursday 25th September
1145 Still strong winds from SW so late start. Departed Craighouse in SW 20 kn. Hoisted three-quarters jenny and reached across to mainland, hitting 8.1 kn!
1315 Entered Loch Sween, dodging the MacCormaig Islands, and ran north past Castle Sween.
1415 Dropped anchor in Tayvallich. Lots of moored yachts, all very close together. Rowed ashore to shop for fresh meat, milk and rolls. Nice man in shop offered us his parents' boat's mooring to avoid being anchored too close to moored boats.
1600 Raised anchor and picked up nice man's parents' boat's mooring, nearer pub. Fajitas for dinner. Very heavy rain all evening, so decided to skip the pub and have an early night. We must be getting old.
Friday 26th September
1000 Nice sunny morning, long breakfast.
1125 Departed Tayvallich. Wind NW 10-15 kn. Reached down Loch Sween with reefed main and jenny. Lovely day with clear skies – why do we have to wait until the last day for nice cruising weather? Turned north and tacked up Sound of Jura. Lots of boats heading south – to the Jura Festival perhaps?
1535 Entered Loch Craignish.
1610 Tied up at pontoon in Ardfern. Cleaned boat and filled water tanks. Went ashore for showers then to Galley Of Lorne for end-of-cruise feast. Long night in pub.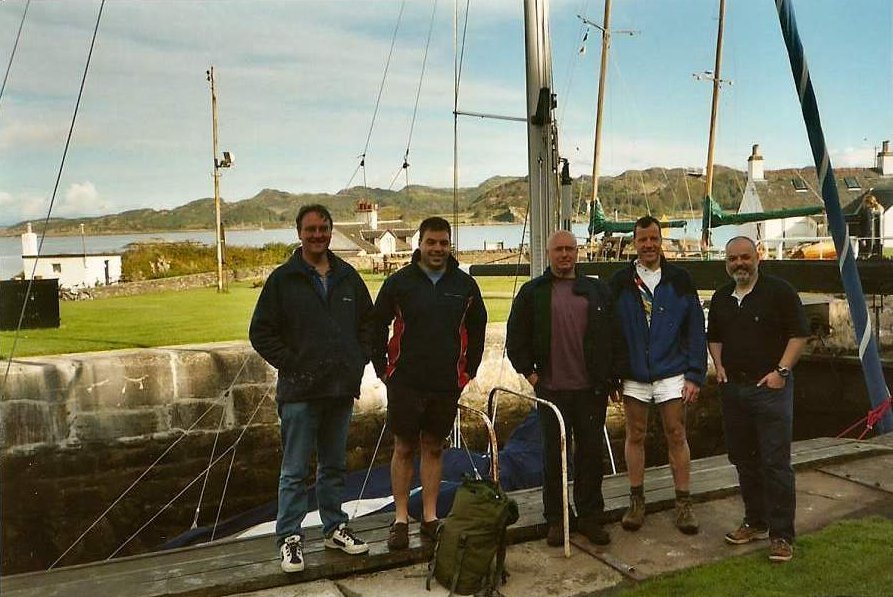 The crew at Crinan
Saturday 27th September
0830 Earliest start of week. Departed Ardfern and motored down Loch Craignish.
0945 Entered Crinan sea lock with three other boats. Jeremy and Ian jumped ship at Crinan to go home in Jeremy's car. Derek, Frank and Alastair motored on through canal. Nice female lock-keeper had to cycle hard from Crinan to get to swing bridge before us.
1120 Tied up at Bellanoch basin and handed boat back to Tony of Argyll Yacht Charters. End of cruise.
Derek Gibb, skipper and snorer
Alastair Millar, navigator
Frank Spratt, washer-up and book-reader
Ian Kernohan, chef
Jeremy Cresswell, race helmsman and pool hustler