1500 Arrived at Ardfern to pick up Jeni Be Good - a one-year-old Moody 38 with all mod cons, although only 2 of the 4 cabins had en-suite shower facilities. Found Bob putting the anchor winch back together after it had seized, while Brian was looking for the leak in the water system. Bob then demonstrated the in-mast reefing, which got stuck, and the engine, which wouldn't start because Brian was replacing the drained batteries. Apart from that, the boat seemed excellent, so we unloaded our gear and discussed bunk arrangements - Derek claimed the fore cabin on medical grounds and Alastair claimed the fat, sorry, aft cabin on size grounds. Went to the pub while Bob tried to persuade the GPS to work and Brian removed the wind instruments for repair.
2000 Discussed plans for expedition in the pub. Guy wanted to head south to Islay and Jura, so we decided to go north instead. Princess Anne had been here the night before, but had gone sailing in her Rustler 36 and missed seeing us.
Sunday 30th April
0900 Left Ardfern in SE4. Timed Dorus Mor perfectly - tide dead against us. Turned north and sailed up Sound of Luing. Dan made the coffee. Guy started telling stories about Stoney's boat again, so we decided to fine him £1 every time he mentioned S's B or DG.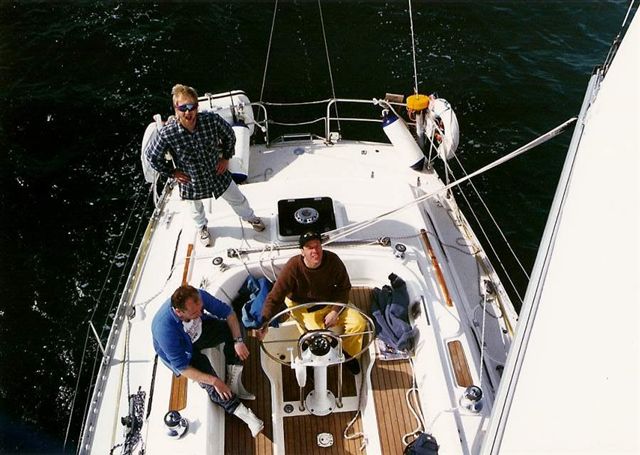 Perfect cruising conditions
1630 Arrived at Tobermory and picked up ABDC visitors mooring. Gus cooked spag bol with chilli peppers.
1900 Rowed to the nearest point ashore (a pile of boulders by a building site), then went to the Mish Nish Hotel for quiet drink. Discovered that this was the last day of the Tobermory International Folk Festival, and the Mish Nish was packed with underage locals drinking bottled Becks. Wedged ourselves in a corner to watch an excellent Irish band. Dan and Guy joined in enthusiastically, and were immediately signed up for next year's festival. Derek had a headache, so went for a walk for some fresh air, but only got as far as the next pub down the street.
0000 Found the tide had gone out, so the dinghy had to be carried over miles of boulders in the dark with only one torch.
0010 Guy fell out of dinghy while practising his act for the folk festival. Luckily, he still had the torch on, so Derek was able to locate him underwater and fish him out.
Monday 1st May
1045 Left Tobermory in SE4-5, and reached across to Ardnamurchan, then towards Coll. Guy wanted to go west to Canna, so instead we turned east between Eigg and Muck and headed toward the mainland. Dan made the lunch while Gus tried to see how close he could sail to the shore of Eigg before Derek had heart failure.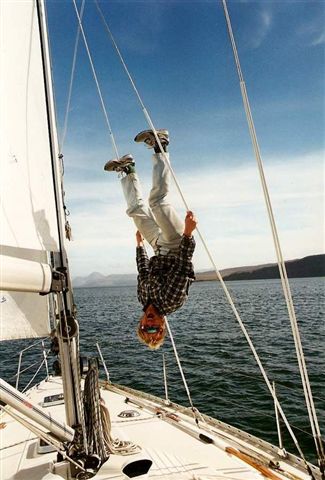 Gus practices Australian sailing
1400 Wind increased, so we reefed both main and genoa. Guy said he liked these long passages best, and promptly went below for the rest of the day.
1600 Entered Loch nan Ceall and navigated the notorious south channel with a healthy 1.8m on the depth finder, then picked up a mooring at Arisaig.
1800 Gus cooked Pasta Choice with chilli peppers.
2000 Rowed ashore to pub. Guy told stories about coming here in S's B - his fines now stood at £25.
2330 Wind had increased to 6-7, making the row back to Jeni very interesting, particularly as the anchor light (along with the rest of the navigation lights) wasn't working. Fortunately, Gus had stayed on board, and as the chilli peppers were having some effect on him, we steered for the aft toilet light.
Tuesday 2nd May
0900 Woken by a thunderstorm, so decided to stay put. Dan made breakfast, coffee and tea.
1200 Weather still horrible, so decided to stay in Arisaig for now.
1230 Gus cooked something vaguely related to salmon, with chilli peppers.
1400 Weather brightened up a little, so left Arisaig. Timed it perfectly - navigated the south channel at low tide with all the rocks showing. Guy wanted to go west to Coll, so instead we headed north for Skye, sailing past Ben's beach to the tune of "Going Home".
1800 Arrived at Isleornsay and picked up mooring buoy marked NIAID. Gus had run out of chilli peppers, so we went ashore to eat. Locals in the pub said that the owner of the mooring wouldn't mind us using it. Pub was full of American tourists eating strange Gaelic food like "Stapag". Eventually most of them left, so Gus said "At least we got rid of the Americans", only to find two of them still sitting behind him. Gus beat Alastair at darts, while Derek and Dan sorted out some of Guy's personality disorders.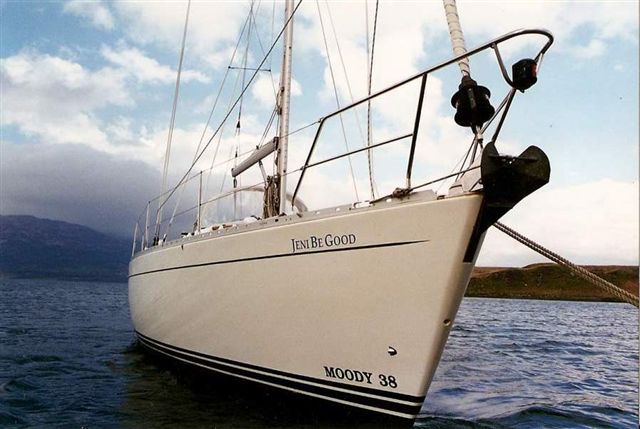 Jeni in Isleornsay
Wednesday 3rd May
0845 Woken by the owner of the mooring plus dog on a courtesy visit. Oblivious to local opinion, he asked in his local Yorkshire accent if we were enjoying his mooring. Gus told him very politely where to go, while Guy swam round boat wearing his tightest lycra number, as it was such a nice morning.
0900 Decided to fill our water tanks at the little pier. Unfortunately, the hose was just too short as the filler was on the wrong side of the boat, so Guy casually turned the boat round, and reversed it alongside the pier. As he ran it aground, we noticed the depth finder read 1.5m, and realised there was no offset. Glad we didn't know that yesterday.
0935 Left Isleornsay under engine as there was no wind.
1145 Tied up at fish pier in Mallaig for supplies. Derek decided to find a doctor to cure his week-old headache. The crew suggested a holiday might help. The harbourmaster charged £5.85 to tie up, but he did give us a weather fax from his waste bin. Derek returned, and advised us not to be ill in Mallaig on Wednesdays as the surgery is closed.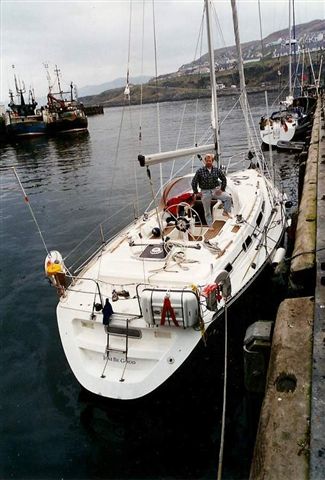 Jeni in Mallaig
1215 Left Mallaig in S3-4. Guy wanted to go to Barra, so instead we headed for Rum. Dan spent the day in the galley, tidying up a bit.
1430 Sailed into Loch Scresort on Rum (Guy wanted to know why there was a ski resort on Rum) to view Kinloch Castle. A number of figures appeared out of the castle to see us, so Derek performed a crash gybe to impress them, but forgot to tell the crew. Left Rum in a hurry.
1700 Arrived at Canna and went ashore on a church crawl as there are no pubs on Canna, but 3 churches. Found they were all derelict, but Guy decided he would like to get married in the smallest one.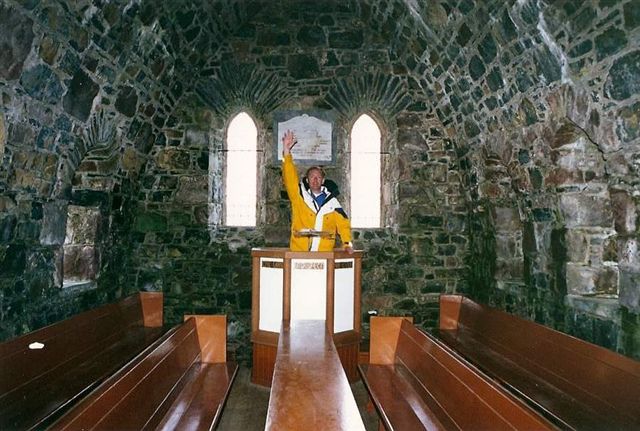 Derek sermonising in the smallest of Canna's churches
1930 Galley crew (Gus and Dan) decided to cimb Compass Hill, so Derek cooked steak pies without chilli peppers.
2300 Fishing fleet arrived.
Thursday 4th May
0300 Fishing fleet departed.
0730 Left Canna in S4-5 and mist. Motored round the west point of Rum, then hoisted sails and tacked towards Ardnamurchan, trying to avoid Eigg and Muck in the mist. Navigated using GPS (Guy Positioning System). Guy went below for the rest of the day, as this was one of those long passages he likes so much.
1300 Wind veered to SW and visibility improved, so we headed down the Sound of Mull. Dan made lunch and also washed up as he hadn't done anything domestic all day.
1500 Alastair suggested going to Port Ramsay in the mistaken belief that it had a pub.
1700 Wind died. Guy wanted to go to Puilladobhrain, so instead we motored to Loch Aline.
1825 Dropped anchor off the sand mine at Loch Aline. Guy thought he had probably been here on DG, which raised his fines to £65. Gus cooked bacon, eggs, sausages and spaghetti with chilli peppers.
2000 Went ashore to be honorary members of the social club, as the pub has been converted into a very nice holiday cottage (compact and bijou with southern aspect and sea view).
Friday 5th May
0650 Woken by enormous coaster being filled with sand from the quarry.
0930 Bow of the coaster now completely clear of the water, as most of the hillside had been loaded into the stern hold.
1000 Left Loch Aline. No wind, so motored down the Sound of Mull.
1100 Wind SSW2. Hoisted sails and sailed south of Lismore and north of Kerrera.
1215 Tied up at north pier in Oban for cream cakes and newspapers.
1245 Left Oban after sailing round the fine old schooner Spirit of Scotland - sponsored by Scottish Nuclear. Not for much longer, according to the newspapers. Motored down the east side of Kerrera, then sailed down to Sound of Luing. Buzzed by very low flying jet - Tornado or Spitfire or Messerschmitt or something. Timed it perfectly - tide against us all the way, so had to motor through Dorus Mor.
1740 Arrived at Ardfern. Princess Anne's Rustler 36 was at anchor, so we'd missed her again. Derek jumped ship as he was sailing at Port Edgar regatta the next day, headache permitting. The crew cleaned the boat and went to the pub, where Guy refused to pay his £100 fines, on the spurious grounds that he was out of a job, his depth and his mind.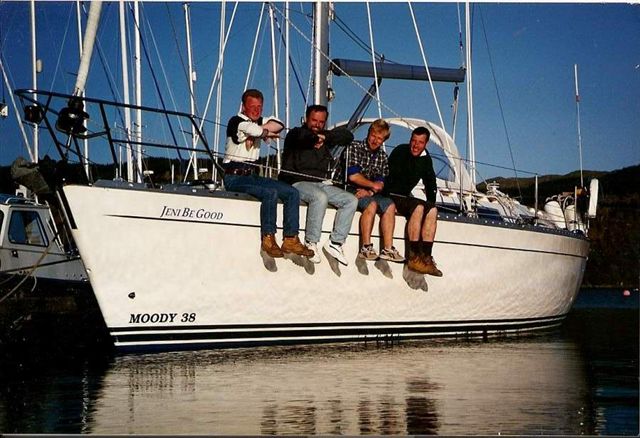 Sun-tanned crew at the end of the cruise
Saturday 6th May
0830 Emptied the boat. Guy decided he was addicted to chilli peppers, so took the remainder home. Dan cleaned the boat again, as it hadn't been done for nearly 12 hours. Managed to pack 4 people plus their gear plus Guy's Canadian cherrywood guitar into Guy's British diesel Escort - not recommended.
0930 Left Ardfern. End of cruise.
The Sick Skipper (Derek Gibb)
The Fat Navigator (Alastair Millar)
The Deaf Cook (Angus Forsyth)
Domestic Dan the Handyman (Ian Kernohan)
Roger the Cabin Boy (Guy Dean)