0915 Left Edinburgh to drive to Mallaig. After years of chartering from Ardfern, we had decided to try somewhere different (well we were bored of Tobermory), so this year we were chartering an Oyster 39 ketch from Sleat Marine Services at Armadale on Skye. We had to get the 3.15pm ferry from Mallaig.
1515 Ferry due to depart, but we were still somewhere between Arisaig and Mallaig, driving at breakneck speed because we had decided to stop in Fort William for more shopping. Fortunately the ferry was late as well, due to an earlier delayed train from Glasgow. It was news to us that Cal Mac's timetables were in any way related to Scot Rail's.
1525 We finally arrived in Mallaig.
1545 Ferry finally departed Mallaig.
1605 Ferry arrived in Armadale, but our boat Interval wasn't ready yet, as the previous crew had lost a reefing line inside the boom. Eventually, we got on board to discover that the Oyster 39 wasn't quite the luxurious palace we were expecting, as it was 23 years old. It was probably state of the art in its day, but now it looked tired, worn, big and heavy. Charmian from Sleat Marine Services showed us round the boat and its equipment. The VHF set was one of those big green metal boxes with handles on the front, like you see in WW2 movies, and the GPS must have been the first model ever built, for Noah.
1900 Departed Armadale in Interval with the wind from the NE 25kn, and motored northwards. The rough plan for the week was to circumnavigate Skye anti-clockwise, which meant we had to get through the tidal gate at Kyle Rhea narrows before 2200 tonight when the tide turned south.
2030 Entered Kyle Rhea with the last of the northerly tide and got through easily. As we entered Loch Alsh, the wind died and the weather brightened.
2130 Tied up at the new pontoon below the Kyle of Lochalsh Hotel. Dan cooked an excellent Beef Stroganoff for dinner. We had decided we would each cook one meal on this trip, and go ashore to eat the rest of the time. This was a risky strategy as Dan was the only one who knew his way around a kitchen. After dinner we went for a quick pub crawl around Kyle of Lochalsh.
Sunday 10th June
0900 Charmian from SMS appeared on the pontoon with an outboard engine bracket, which should have been on the boat. Great service - but what else had we forgotten?
0920 Departed Kyle and motored under the Skye bridge. A bright clear morning with no wind.

The Royal Navy declares war on Skye
0950 The frigate HMS Monmouth passed us while transmitting dire warnings on the VHF for all traffic to keep clear as she went under the bridge. As there was still no wind, we motored between Scalpay and Raasay in the Inner Sound.
1120 Picked up a mooring in Churchton Bay, Raasay, and were nearly boarded by pirates. On closer inspection, they turned out to be a bunch of kids on a raft from the adventure training centre at Raasay House. It was a beautiful warm morning, so we went ashore for a wander round the grounds of Raasay House and the old gun emplacement which is guarded by 2 stone mermaids. Back to the boat for lunch in the cockpit.
Skipper inspecting a mermaid at Raasay House
1400 Departed Raasay. Wind now NW 15kn, so we hoisted sails for the first time in the trip. The wind died immediately. Motor-sailed north between Skye and Raasay.
1515 Wind picked up again to 15kn, so we hoisted all 3 sails and stopped engine. Suddenly several porpoises appeared round the boat and played chicken under the bows for about 10 minutes - absolutely fantastic.
1600 Message on the VHF from Range Control reporting a submarine in difficulty in the Sound of Raasay, and asking yachts to keep clear. Fortunately we were past the submarine exercise area, so we carried on.
1645 Wind died off north end of Rona, so we dropped the sails and motored NE.
1730 Rain started, poor visibility.
1840 Entered the narrow entrance to Loch Gairloch, and slowly picked our way into Badachro Bay at LW. Decided to pick up a mooring which looked spare. Went ashore for an excellent meal at the Badachro Inn, which specialises in local seafood.
Monday 11th June
0900 Big cooked breakfast, and late start.
1050 Departed Badachro.
1130 Hoisted sails at the mouth of Loch Gairloch. Wind W 10kn. Sailed north up the mainland coast.
1300 Wind died while Derek made lunch, so we dropped sails and motored towards the Summer Isles in the mouth of Loch Broom.
1545 Dropped anchor in a small lagoon between Tanera Beg and Eilean Fada Mor in the Summer Isles. Regular readers may remember that Derek is a disciple of Hamish Haswell-Smith's bible of Scottish Islands and is determined to bag all 165 of them. We therefore went ashore to explore Tanera Beg, including the impressive cliffs and the fresh water lochan in the centre of the island. However, there was no sign of the unusual pink coral sand which is supposed to be visible here at low tide. Back on board Interval for Frank's culinary experiment, a chicken curry, which was very good.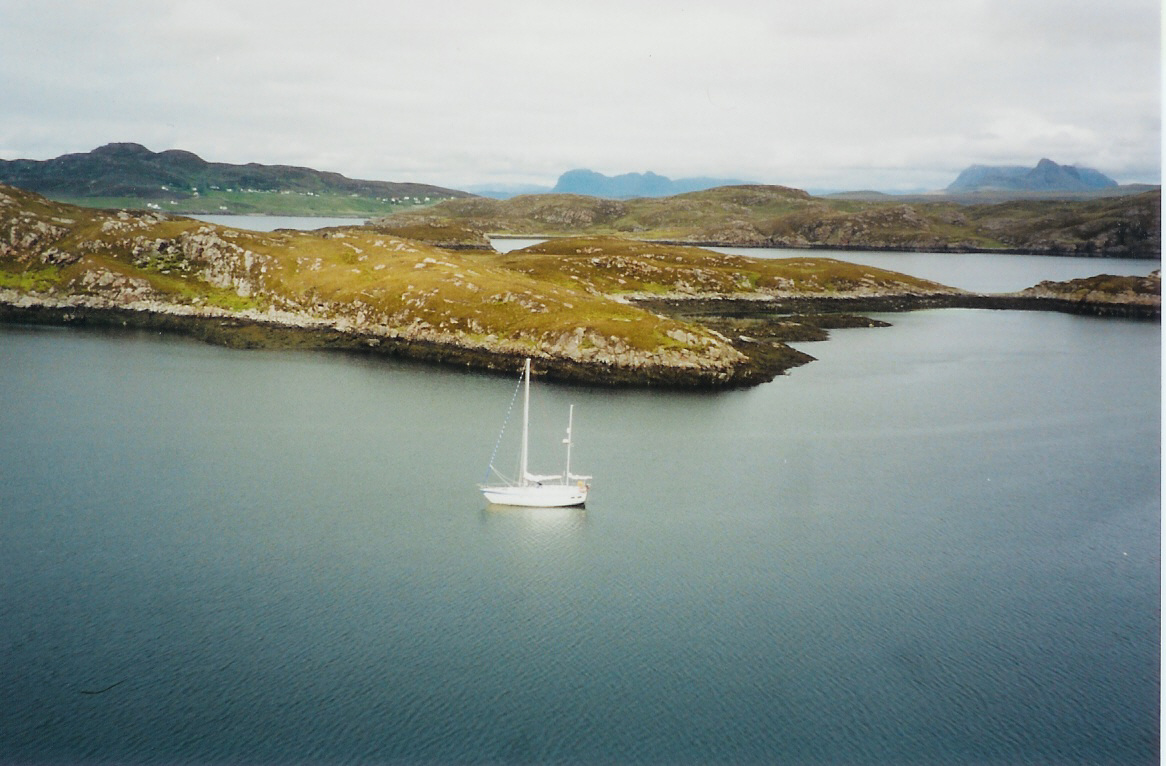 Interval in the Summer Isles
Tuesday 12th June
0915 Departed Tanera Beg in a clear hot morning with no wind, and motored west across the Minch. All this motoring meant there was plenty of time for reading. Frank had brought a large selection of tacky holiday reading with him. He had already finished the first book, a tale of adventure and romance set in the Crusades, and now started the second, a tale of adventure and romance set in the Royal Navy of the 19th century.
1415 Dropped anchor in the Shiant Isles, which are very spectacular, with huge cliffs and fluted basalt columns like the famous rock formations on Staffa. Lots of birdlife including fulmars, puffins, razorbills and guillemots. Had lunch in the cockpit then went ashore so Derek could cross another island off his list. The islands are uninhabited (except by sheep), but there is one cottage on Eilean an Tigh which is used occasionally by shepherds who come out from Harris. The islands used to be owned by Compton Mackenzie and he stayed in the cottage during the summer to write. We took the rubber dinghy through a natural arch in the rock at the north end of Garbh Eilean which is very impressive. The tunnel is about 10 metres high and 50 metres long, and leads from one side of the island to the other.

Interval in the Shiant Isles
1545 Departed the Shiant Isles and hoisted sails as the wind was now SW 12kn. Continued to sail westward to Harris.
1745 Wind died. Dropped sails and motored under the new bridge between Scalpay and Harris, and entered East Loch Tarbert.
1900 Dropped anchor in the narrow channel beside the ferry terminal at Tarbert.
1925 Cal Mac ferry arrived, heading straight for us, but turned just at the last minute to tie up at the Ro-Ro pier. Derek treated us to his Mexican chicken, which was very edible, then we went ashore to the pub. Tarbert was dead, the Harris Hotel was full of geriatrics too old for saga holidays, and the only other customers in the bars seemed to be the crew of the ferry. The barmaids all seemed to be very young (or perhaps we are getting older) and Derek decided to start collecting material for a new book, "Barmaids of the Western Isles".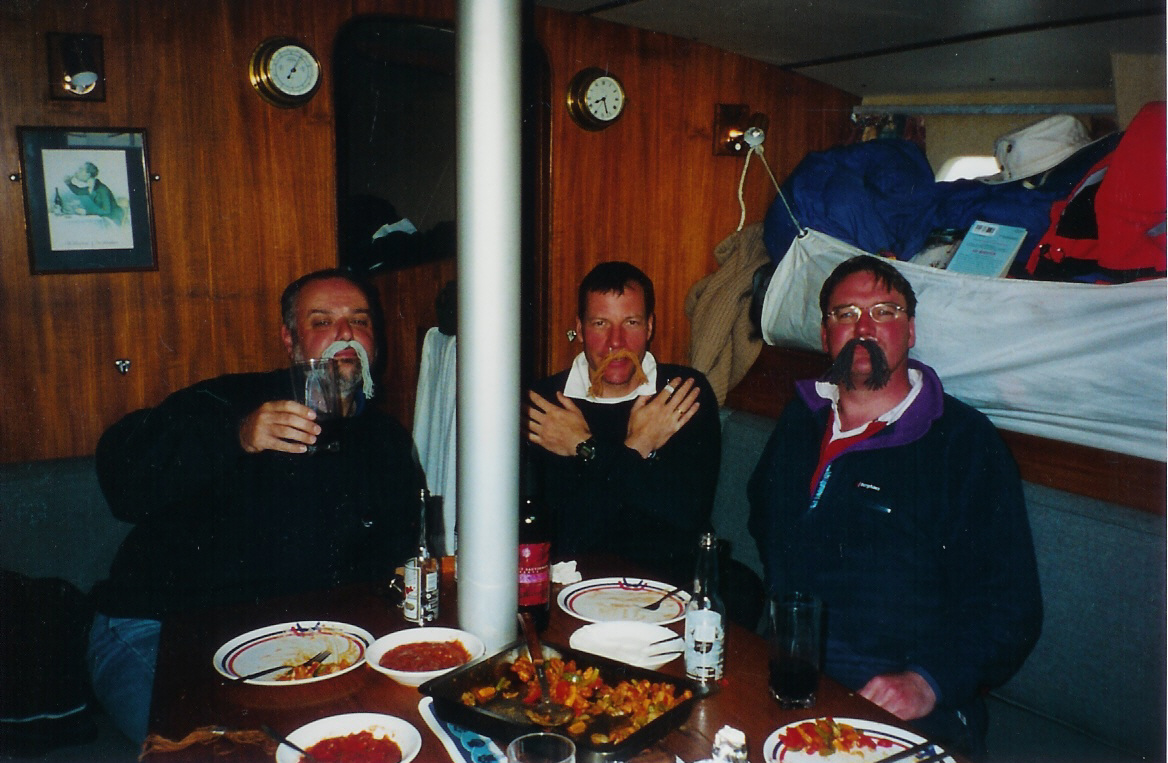 Mexican Night on board Interval
Wednesday 13th June
0930 Late start, cooked breakfast. Went ashore for showers at the Harris Hotel and shopping.
1150 Departed Tarbert in NE 15kn wind. Motored under the Scalpay bridge again, hoisted the sails and headed south - a pleasant broad reach all day. Weather was cool and cloudy, but no rain.
1600 Wind increased as we approached Skye.
1745 Entered Loch Dunvegan and finally dropped sails.
1845 Anchored just off Dunvegan Castle, which looks like a large council house from the sea. Two boats were already at anchor, and a German couple arrived just after us, shouting at each other. They dropped their anchor right on top of ours, and dropped back alarmingly close. Went ashore for food, which was a mistake. The lounge bar of the Dunvegan Hotel was horrible - a bare room with awful 1960's minimalist furniture and all the atmosphere drained out, with taped pibroch music in the background. Also, the beer was excessively fizzy, so we left after one drink. The Misty Isles Hotel was no better - a small, dirty pub with a pool table. The air was so thick with cigarette smoke you could cut it with a knife. At least there was a proper juke box instead of bagpipe music, so we stayed for fish and chips then left.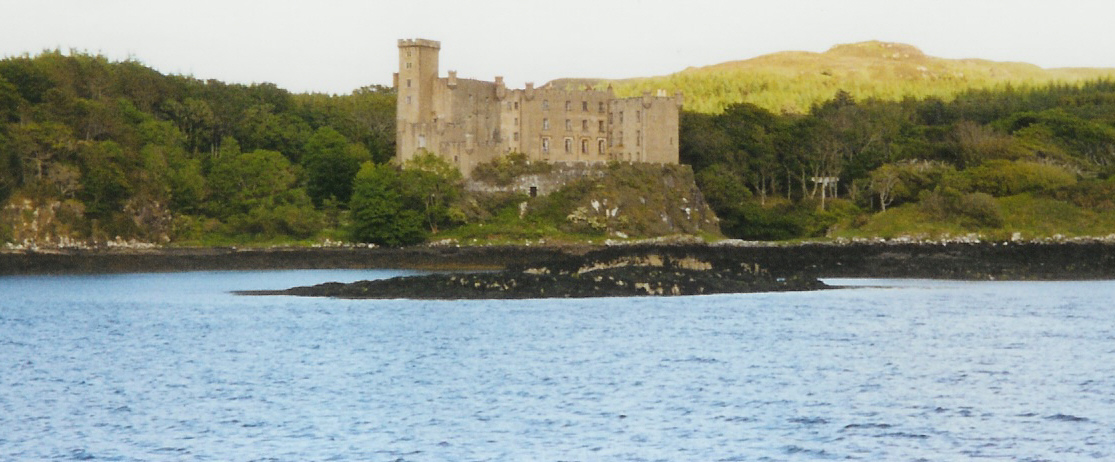 Dunvegan Castle
Thursday 14th June
1000 After a very windy night, we departed Dunvegan in NE 18kn. Close fetch up Loch Dunvegan under reefed main and genoa, then rounded Dunvegan Point and headed south. Another glorious reach under full sail all the way down the west coast of Skye, with the wind varying between 8 - 15kn all day. A clear, dry day and great Hebridean scenery all around - the Skye cuillins to port, the Rum cuillins ahead and the Uists away to starboard. Saw more porpoises in the distance, but they didn't come up to the boat. Frank finished his second book and started the third, a tale of adventure and romance set in Victorian England.
1715 Dropped anchor in Canna Harbour. Went ashore to see the old catholic chapel of St Edward's which has now been renovated. Back on board Interval, it was Alastair's turn to cook. After being shown where the galley was, he prepared his pork and mushroom pasta, which was surprisingly well received.

St Edward's Chapel, Canna
Friday 15th June
0730 Dan was woken by the shallow depth alarm - the NE wind had increased and the anchor was dragging ! We managed to get motoring just before hitting the rocks and re-anchored safely.
1030 Departed Canna in NE 20kn. Motored east into the wind round the north end of Rum, then hoisted reefed main and genoa for a fetch to the south end of Skye. Weather was cold and misty but not actually raining.
1300 Rounded the Point of Sleat, and tacked up the Sound of Sleat to Loch Nevis. Amazingly, this was our first tacking of the week.
1645 Picked up a visitor mooring at Inverie on Knoydart - lovely little village, which claims to be the most remote in Britain. Went ashore to the Old Forge Inn for food, which was excellent, exotic (smoked alligator, ostrich steak), and expensive. The place was very busy with yachtsmen and climbers, and later on, a group from a climbing club in Stirling produced guitars and started an informal sing-along. They were soon joined by an accordion player, and eventually Alastair borrowed a guitar and subjected the pub to a couple of songs. A very late night.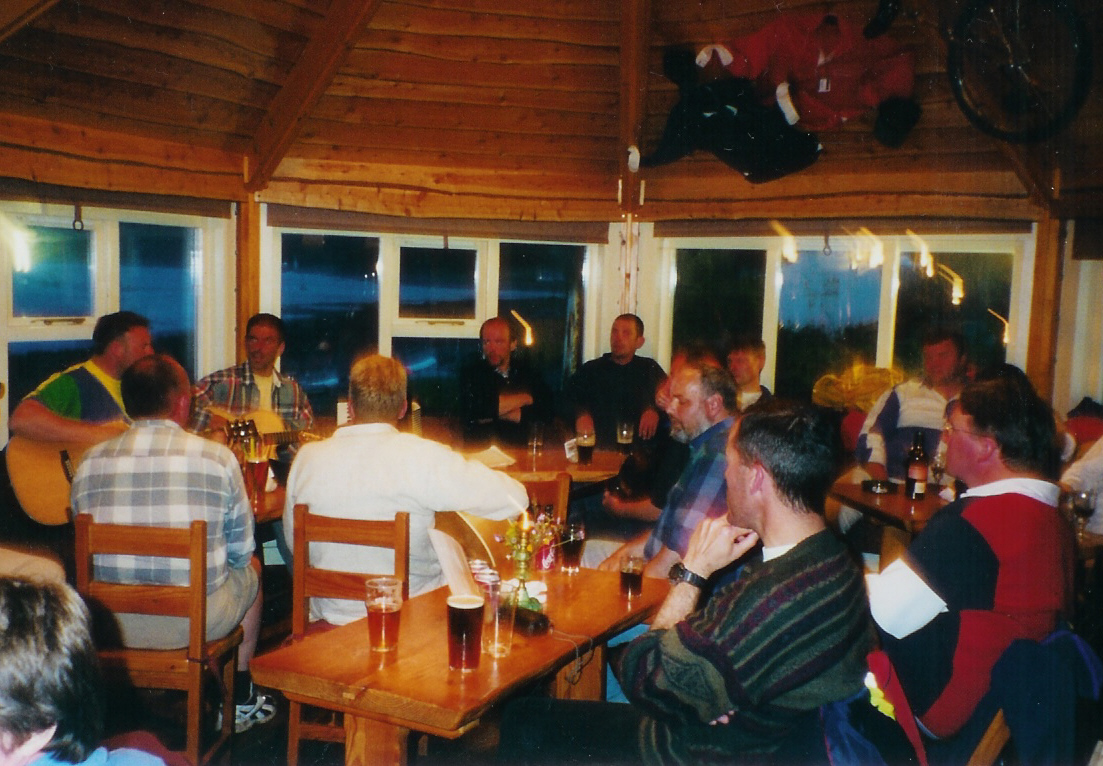 DIY entertainment in The Old Forge Inn, Inverie, Knoydart
Saturday 16th June
0630 Early start as we had to return Interval to Armadale by 9am.
0720 Departed Inverie and motored out of Loch Nevis and across the Sound of Sleat, packing up and cleaning the boat on the way.
0830 Arrived at Armadale, and waited for the Sleat Marine Services launch to take us ashore. Eventually they turned up and got us to the pier just in time to catch the 0925 ferry to Mallaig. End of cruise.
Derek Gibb, skipper
Alastair Millar, navigator
Frank Spratt, tactician
Ian Kernohan, chef