1130 Crew met up at Morrison's in Fort William to buy food for the week, which took 1½ hours as the supermarket was very busy.
1330 Arrived at Lochailort Hotel for lunch and discussed strategy for the week. Forecast was for gentle NE winds due to ridge of high pressure over Scotland.
1445 Arrived in Mallaig to find the 1505 ferry was fully booked, so we set off for a crawl of Mallaig's tea-rooms (mmmm, lots of crumpet).
1625 Got the next ferry to Armadale, where the old pier was full of hippies and a film crew waiting to board a replica clinker West Highland Galley. We were quickly taken aboard Sandpiper, which seemed to be in good shape two years after we last sailed her.
1800 Departed Armadale and decided to head south this year. Nice evening, hoisted sails and enjoyed a gentle run down the Sound of Sleat.
1920 Round Point of Sleat, reached at 8kn in 20kn wind towards Rum.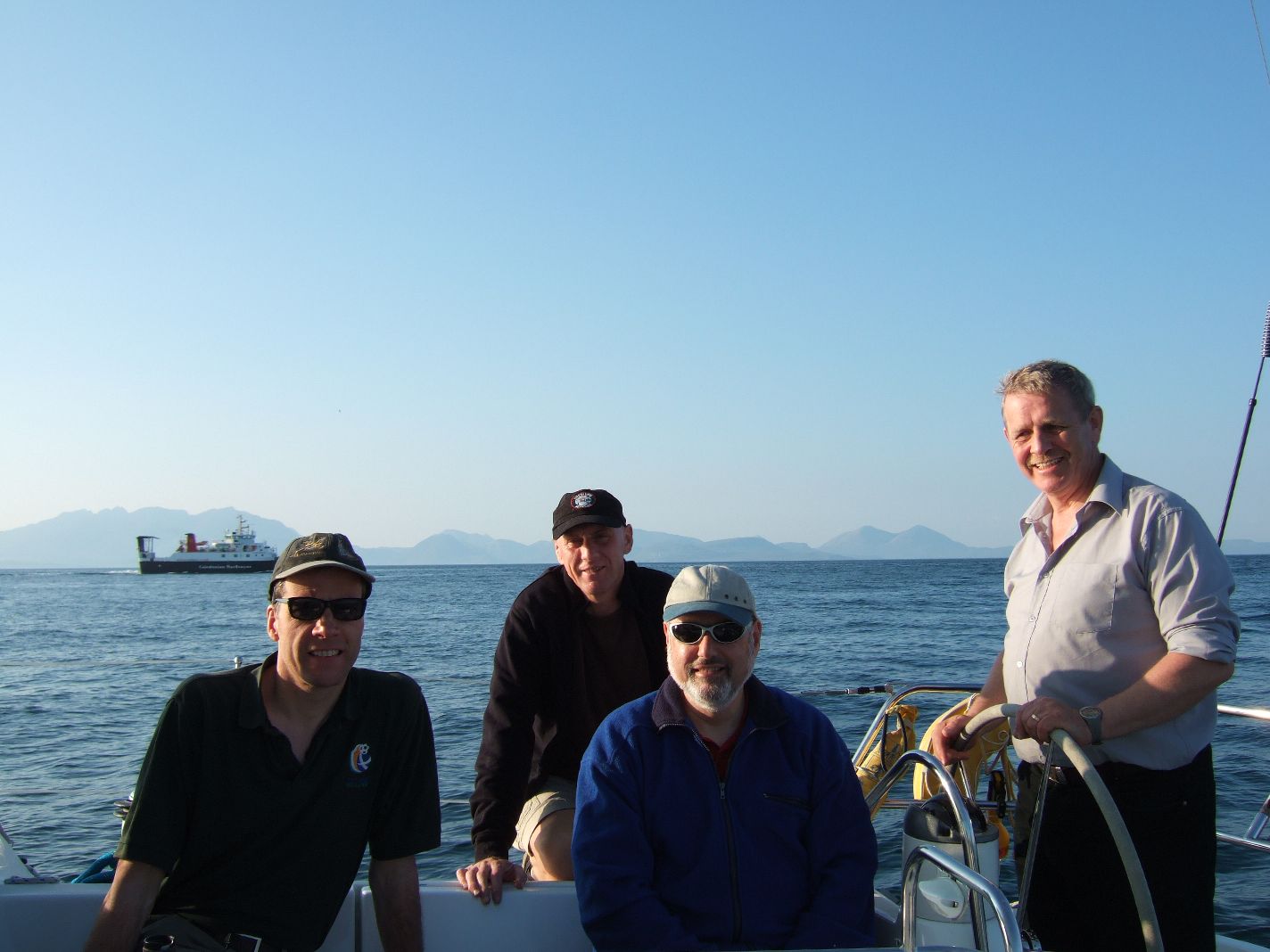 The team heading for Rum
2030 Dropped anchor in Loch Scresort, Rum. Lovely warm evening, so had dinner on deck – steak pie and lots of red wine.
Sunday 10th June
0800 Coffee. Beautiful hot morning – shorts and T-shirts weather. Tam went for his morning dip amidst the seaweed / jellyfish / effluent. Amazingly, he did this every morning regardless of weather or sea temperature, but could not persuade anyone else to join him.
0830 Ashore to look around Kinloch and Bullough's folly. Taken for a walk round the village by a small dog. Lots of hippies in the hostel at the back of the castle. The castle is now open to visitors every afternoon, so we really ought to come back one day at the right time.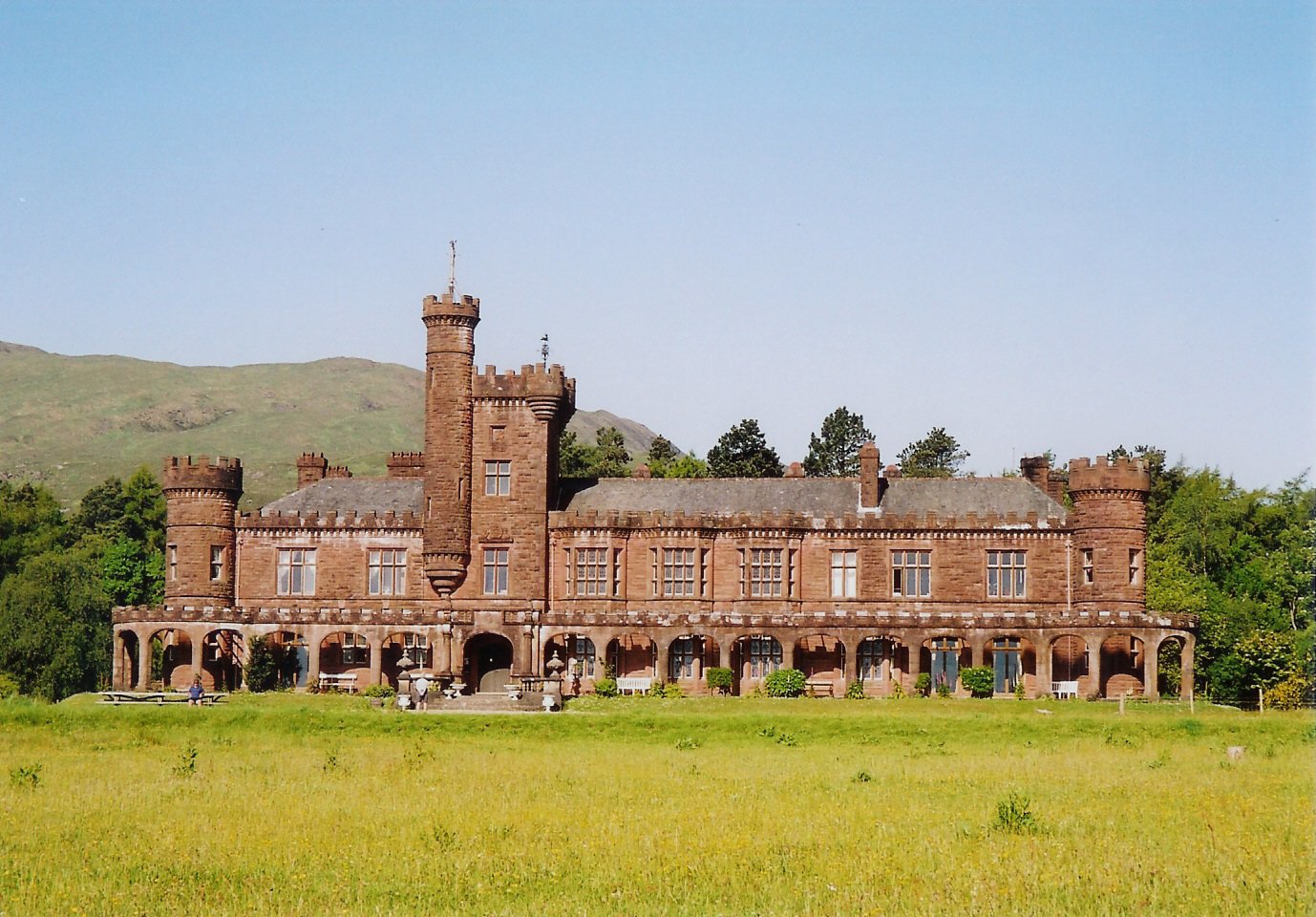 Kinloch Castle ...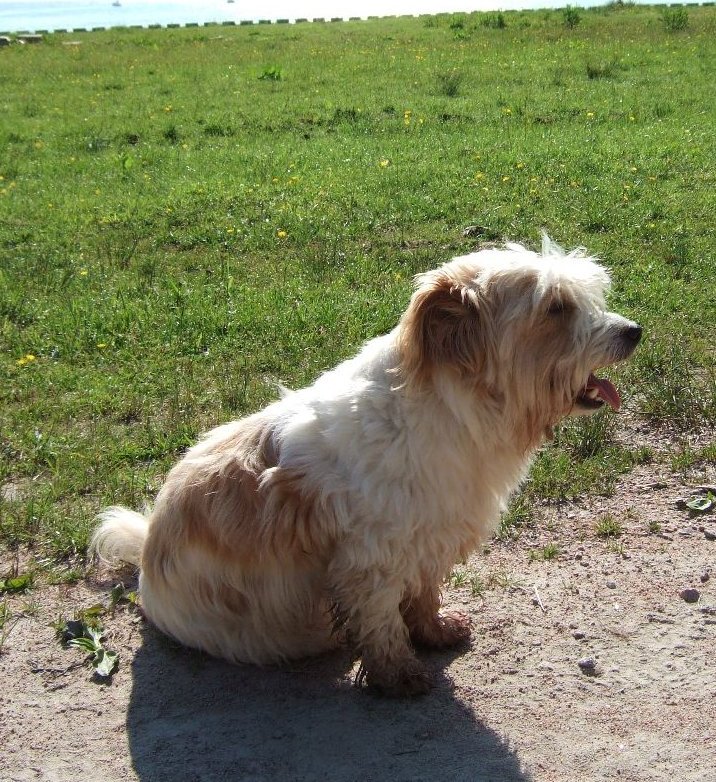 ... and the Rum Dog
0930 Back to Sandpiper for full cooked breakfast.
1045 Departed Loch Scresort and headed north to Loch Scavaig on Skye, an anchorage we had always wanted to visit. Wind on the nose, so motored under autopilot.
1200 Approached Soay just off Skye and were hit by katabatic winds from the Cuillins.
1215 Entered Loch Scavaig. Scary navigation as the loch is narrow and full of rocks. The charts in two pilot books are a little different which doesn't help. Luckily Tam spotted a rock which wasn't quite where we were expecting it!
1245 Dropped hook in Loch nan Cuilce – amazing tiny pool with sheer cliffs all round. Sleat Queen from IOSYC was already there and both boats were constantly spun round by the wind funnelling down from the mountains. Went ashore for a quick walk to Loch Coruisk in the heart of the Cuillins. Considering this is supposed to be a remote spot, it was surprisingly busy with climbers, walkers, campers, twitchers and tourists. A launch from Elgol appeared, dropped off some rubberneckers and picked up others. Lots of birdlife, including sandpipers, appropriately.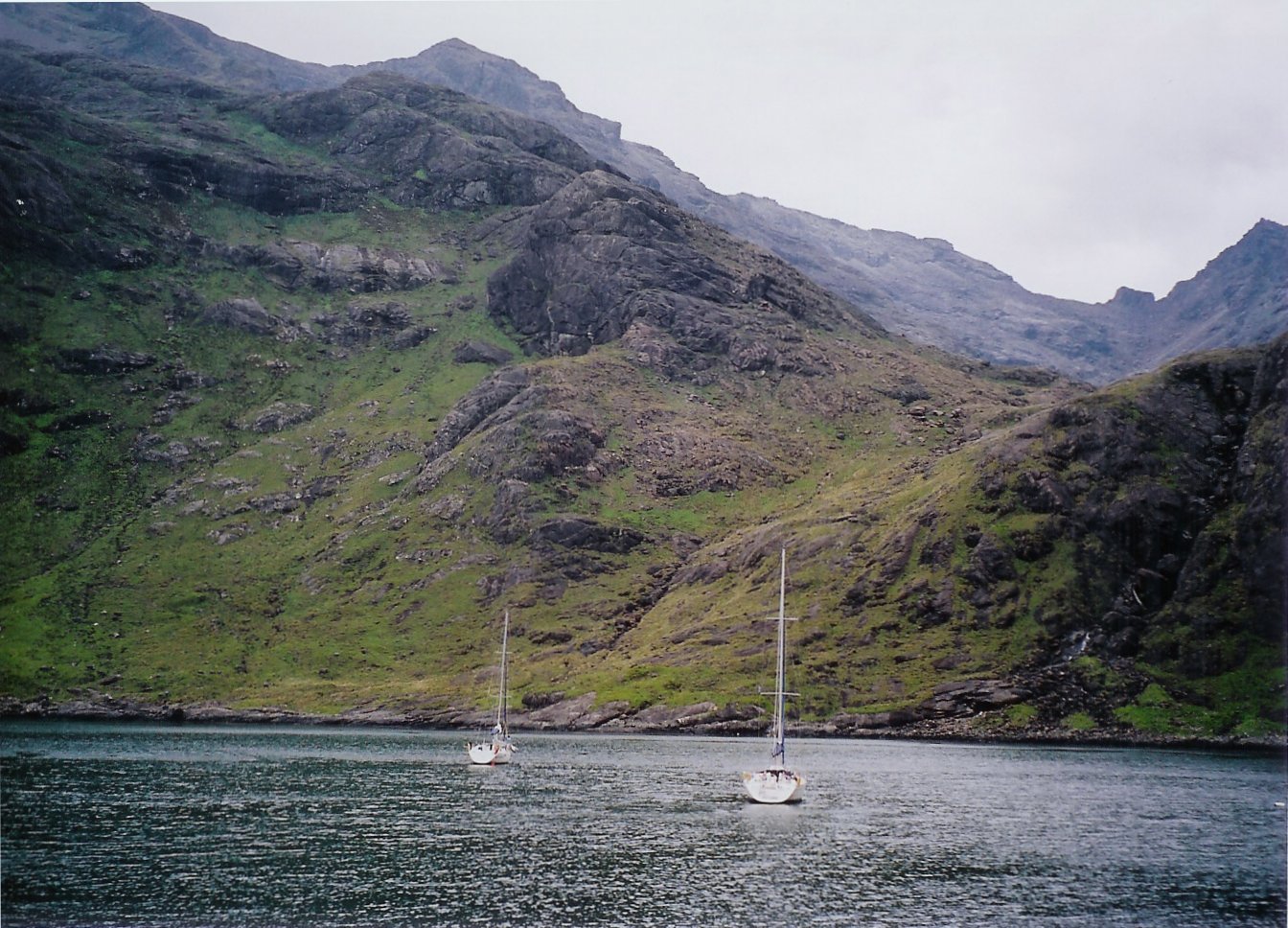 Sandpiper and Sleat Queen at anchor in Loch nan Cuilce
1355 Lunch on deck.
1440 Departed Loch Scavaig, following Sleat Queen out to avoid the rocks. Turned west into Sound of Soay.
1530 Entered Soay harbour through very narrow entrance over shingle bar – just 0.5m under keel! Team navigation, with Derek steering, Alastair calling direction on transits, Colin calling depth, Ian and Tam spotting rocks.
1545 Anchored in middle of small natural harbour and rushed ashore to bag the island before the tide went out and sealed off the entrance. It has been some years since we bagged a new island, and Derek was determined to make up for it this year. Saw the abandoned huts and machinery from Gavin Maxwell's shark-fishing venture which nearly wiped out the basking shark population in the 1940s. Scruffy brown Soay sheep gazed at us from the hillsides.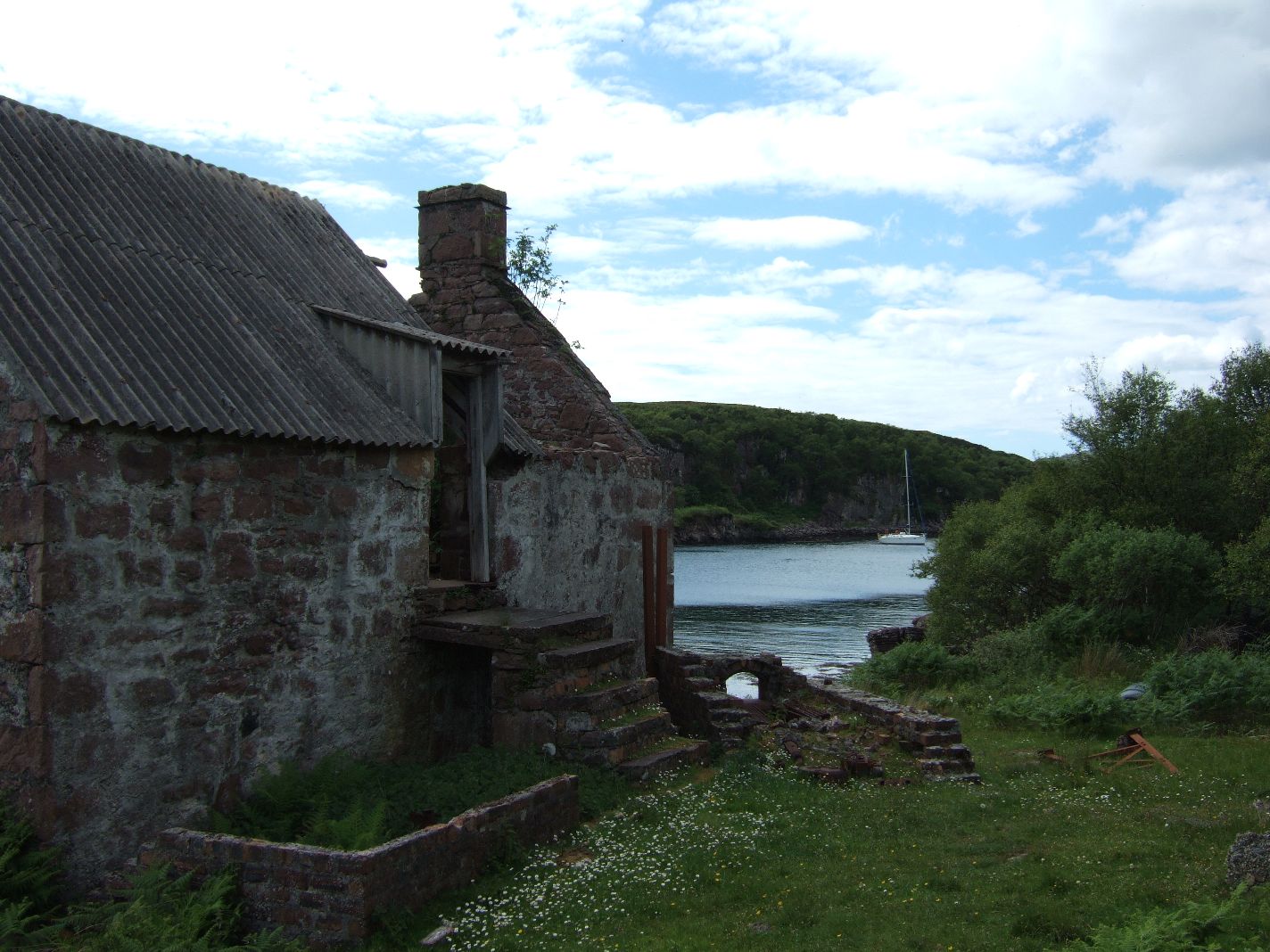 Derelict cottage on Soay
1600 After very short visit, raised anchor and left in a hurry. Hoisted sails and ran west through Sound of Soay and up west coast of Skye at 6–7kn – very nice sailing.
1700 Wind died, so motored. Colin relieved the boredom by relating a selection of really bad schoolboy jokes.
1730 Wind picked up again from north, so sailed close-hauled along coast.
1840 Entered Loch Bracadale then turned into Loch Harport and motored 3 miles up loch – very picturesque with wooded hillsides all round and Cuillins in the distance.
1930 Dropped anchor in steeply shelving bay off village of Carbost, as all the visitors moorings were taken. Ian went ashore to visit his nephew who lives nearby, while Tam cooked up chicken curry for dinner. Wind got up during the night, but boat remained secure.
Monday 11th June
0700 Couldn't get the morning forecast – must be in radio shadow from the Cuillins.
0900 Departed Carbost. Not much wind, but goose-winged slowly down Loch Harport. Continuing his fit of enthusiasm for island-bagging, Derek discovered that the small island of Wiay in the mouth of Loch Bracadale had an entry in HH-S's bible, so decided to pay a visit.
1040 Dropped hook in a wide bay on the west side of Wiay and went ashore to claim it for Queen and country or something. Rather dull island, littered with fishing floats, boxes and other debris. Back on board for bacon butties.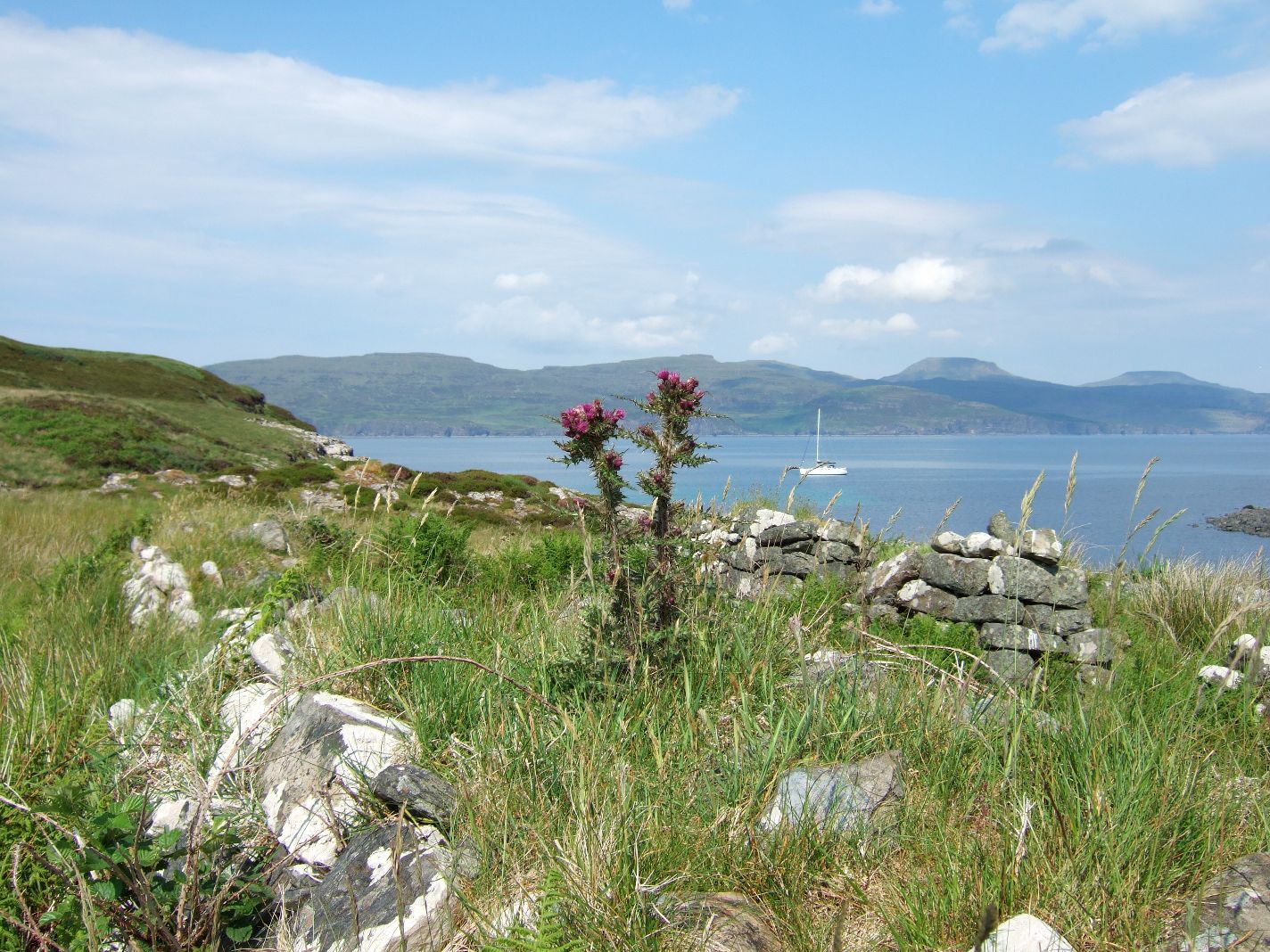 Sandpiper anchored at Wiay, Loch Bracadale
1150 Departed Wiay and motored north-west round coast of Skye. Bright, sunny day but no wind. The rock stacks on this coast are very impressive, particularly 'McLeod's Maidens', although from a certain angle they look more like Queen Victoria and some of her many children, possibly Arthur Duke of Connaught and Princess Beatrice of Battenburg.
1330 Off Niest Point lighthouse. Wind suddenly came up from the north, so hoisted sails and fetched across the Minch.
1400 Wind up to 20kn. Took one reef in main.
1430 Late lunch on deck. Wind died again so hoisted the iron topsail. Had fun trying to identify Loch Maddy in grey featureless land mass ahead.
1530 Entered Loch Maddy on North Uist and navigated through ferry channel.
1600 Picked up visitor mooring next to Ro-ro pier then quick trip ashore to swap rubbish and recycling for beer and postcards.
1910 Evening forecast for tomorrow said NE 3-4 occasionally 5 – the same as yesterday.
1945 Ferry arrived – this is the most exciting thing that ever happens in Lochmaddy.
2000 Ashore for food, drink and showers at Lochmaddy Hotel – as good as ever. Anna the bar manageress was very efficient but a bit scary. Colin regaled Tam and Alastair with more of his dreadful jokes while Ian and Derek shot some pool next door in the almost deserted public bar. Then back to the boat for pudding (as we are a bunch of cheapskates and anyway we had bought too many Bakewell tarts.) Wind rose during the night.
Tuesday 12th June
0700 Morning forecast reported NE 5-6 with showers, which was a bit depressing.
0730 Ferry departed – this is the second most exciting thing that ever happens in Lochmaddy. Nothing to phone home about, which is just as well because there is no mobile reception and neither of the phone boxes (remember them?) worked.
1000 After sausages for breakfast, ashore for shopping then filled up water tanks at Ro-ro pier.
1100 Departed Loch Maddy. Wind NE 20-25kn. The original plan had been to work down the Outer Hebrides to Barra, but given the forecast, we didn't fancy crossing the Minch from Barra straight into a NE'ly tomorrow, so instead we hoisted double-reefed main and half jenny and headed straight back to Skye.
1215 Heard Mayday on VHF – a sailing boat in trouble off Cape Wrath.
1300 Off Niest Point lighthouse (again). Wind fell so hoisted full sail. Wind up and down all afternoon. Approaching McLeod's Maidens from the north, they look more like Britannia and a bunch of Munchkins.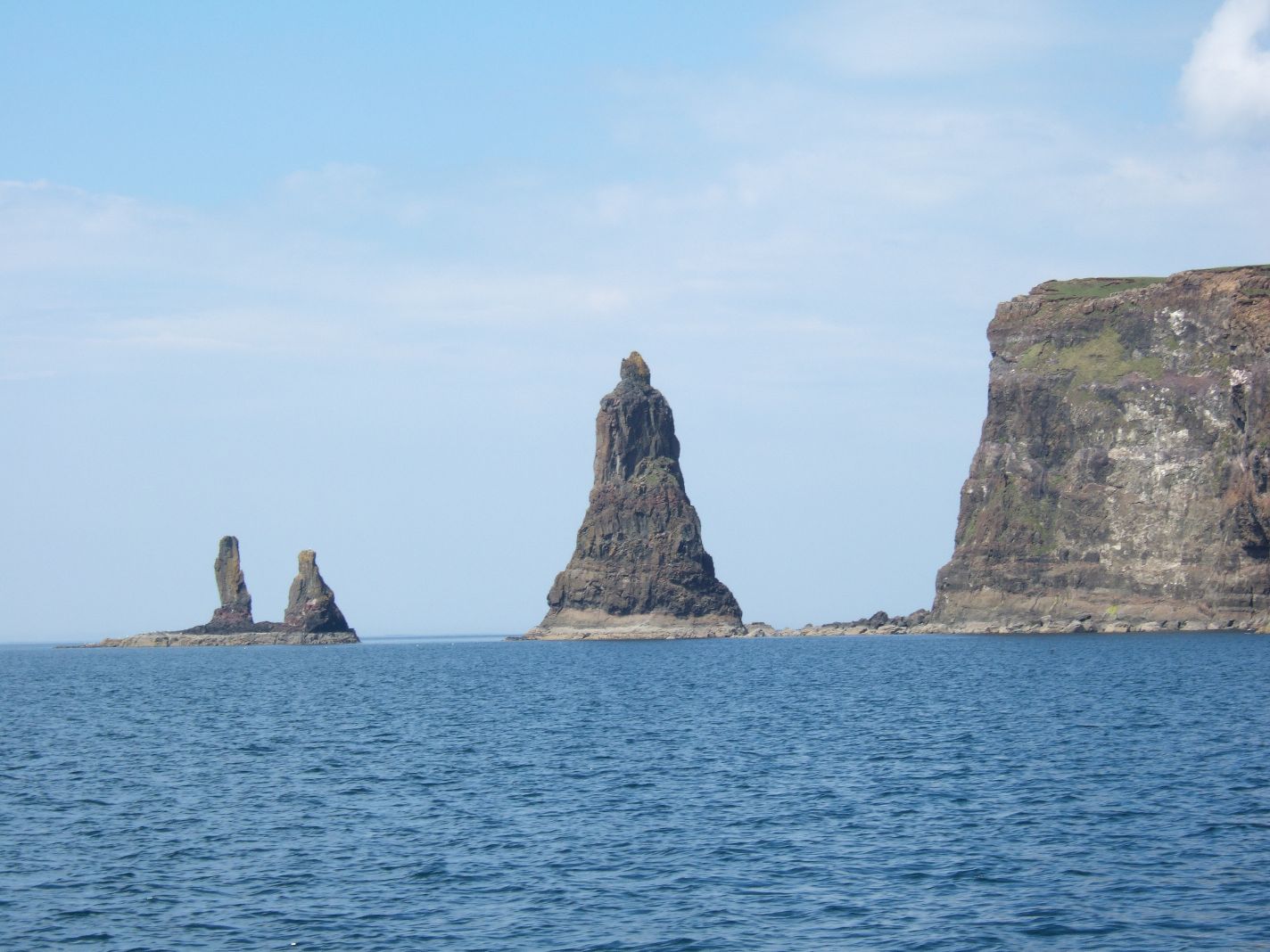 McLeod's Maidens
1430 Heard a second Mayday on VHF – a fishing boat on fire off Plockton.
1530 Entered Loch Bracadale and looked into various nooks and crannies for somewhere nice to anchor. But it all looked a bit unfriendly in the never-ending NE winds, so decided to go back to Carbost.
1730 Visitor moorings all taken (again), so anchored in a different spot from Sunday night, just off the Talisker distillery – much more scenic than last time. Ian then noticed we had only one horseshoe lifebelt on the back of the boat instead of two. No one had any idea how or when it had disappeared. Phoned IOSYC then Stornoway Coastguard to tell them. The girl at the CG was very helpful and chatty, but said it was nothing after the day they'd had with the Maydays. Sadly, she reported that a man had been lost overboard from the boat off Cape Wrath.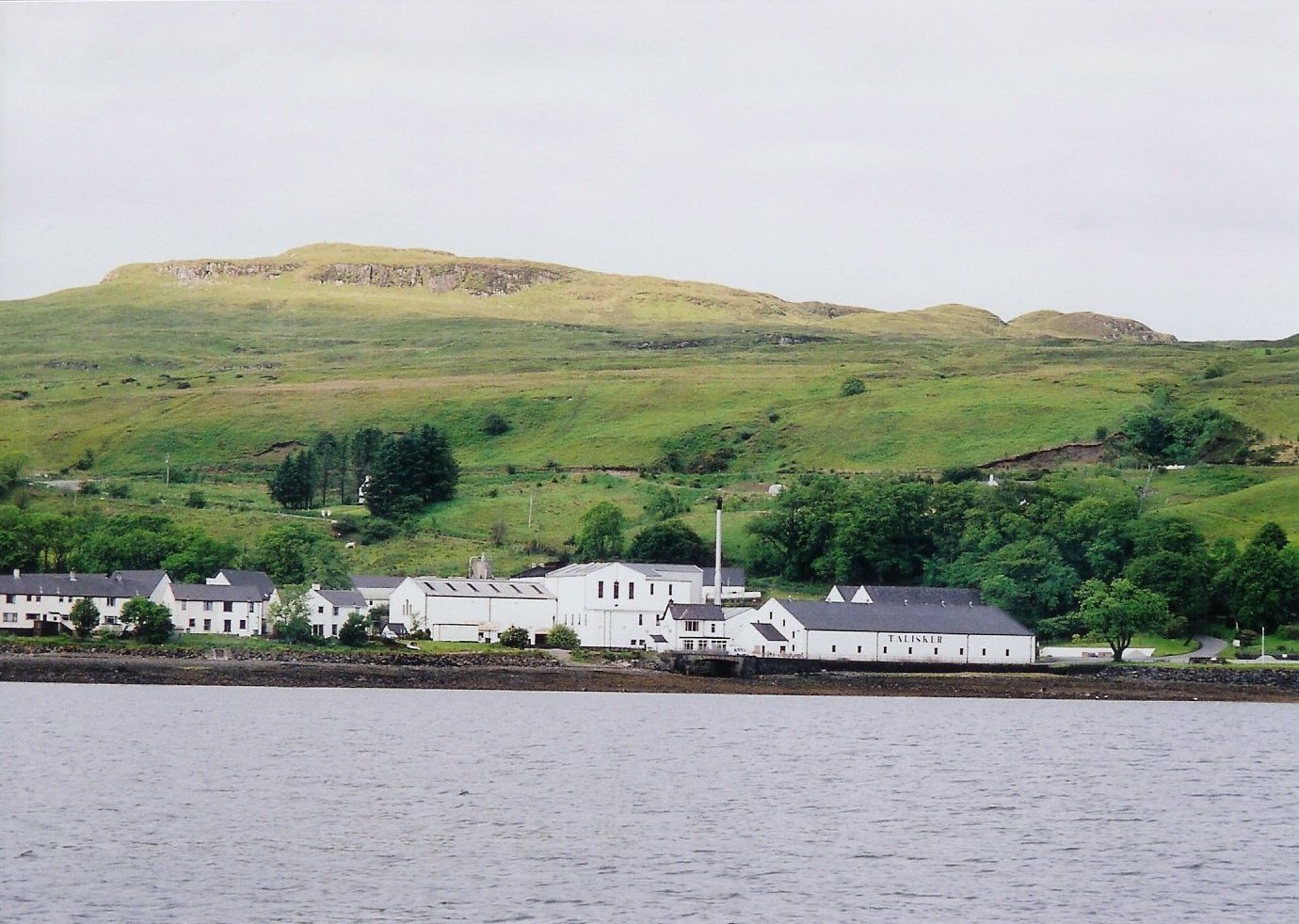 Carbost and Talisker Distillery, Loch Harport
2000 Dinner on board – pasta bolognaise followed by Tam's home-made apple crumble – splendid repast. Then ashore to the pub for a few pints of excellent Red Cuillin from the Isle of Skye Brewery. Nice pub with good atmosphere, busy with climbers, sailors, locals ... and midges. Someone even produced a fiddle and played a few tunes. Wet, drizzly night – the only rain of the week.
Wednesday 13th June
0700 Couldn't get the morning forecast (again), so back to bed.
0900 Up for a late breakfast then ashore for shopping.
1100 Departed Carbost and goose-winged slowly down Loch Harport (haven't I written this before?) Sailed SE down coast of Skye with wind all over the place between 0kn and 25kn. Headed a bit further offshore to avoid gusts off the cliffs.
1300 Buzzed by very low RAF Tornadoes. Lots of birds on water and on cliffs – puffins, guillemots, gannets, cormorants, etc.
1430 Wind came up from the east, so beat towards the Point of Sleat. Decided to visit Inverie tonight instead of the final night, so phoned ahead to book a table at the Old Forge. Colin's supply of atrocious jokes was at last running low, so he moved onto dodgy limericks.
1600 Tam baked scones for afternoon tea – this is a very civilized way to go sailing. Clouds cleared and sun came out.
1615 Round of Point of Sleat and turned towards Loch Nevis.
1745 Picked up visitor mooting in Inverie. The new pier is finished at last, and the old one completely demolished. Lovely warm evening.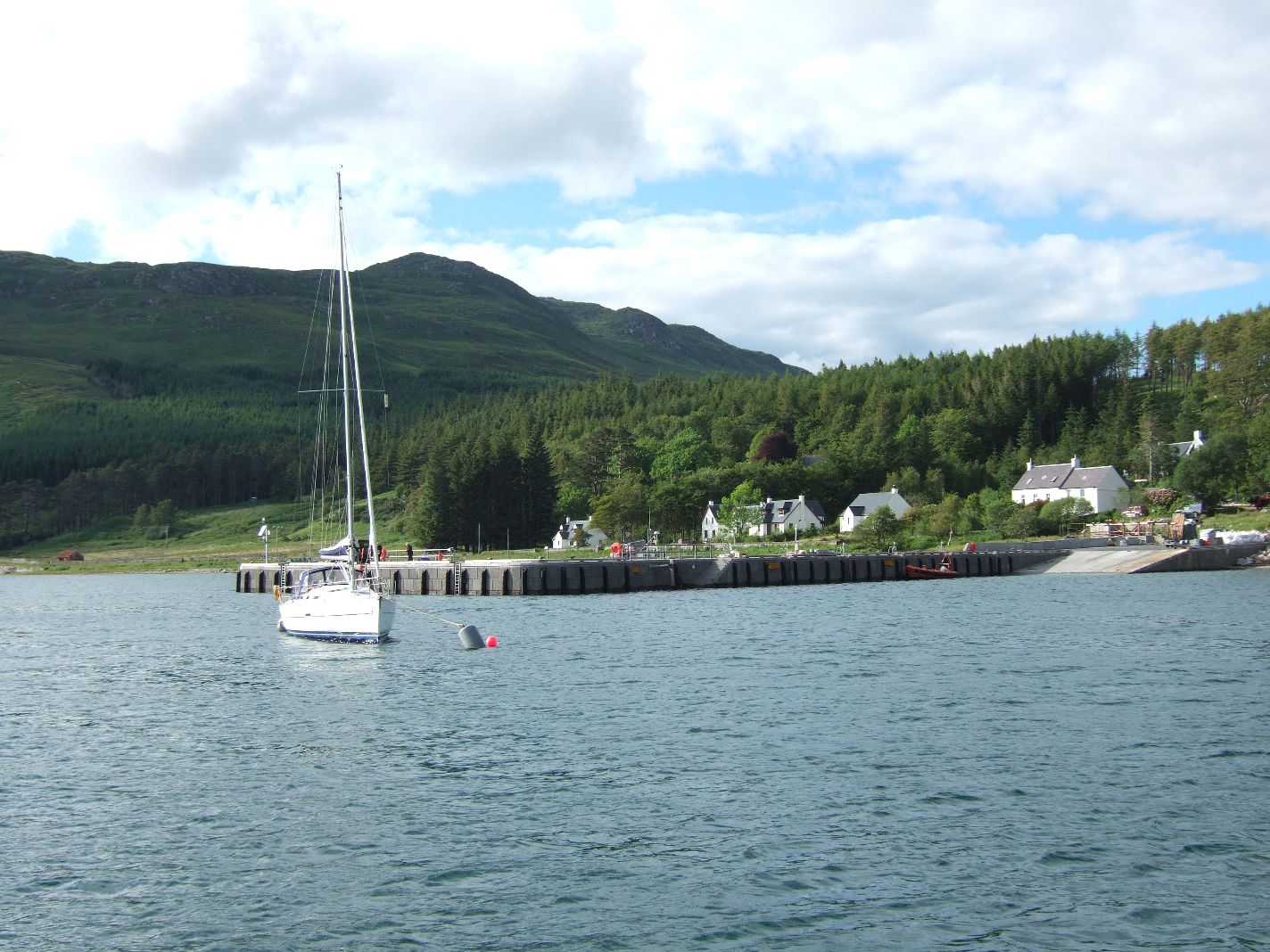 The new pier at Inverie, Knoydart
1910 Evening forecast for tomorrow said NE 3-4 occasionally 5 – the same as yesterday, and the day before, and the day before that. The Met Office seems to be stuck in Groundhog Day. Mind you, we also heard that the rest of Britain was suffering record-breaking rainfall and biblical flooding while we enjoyed gentle summery weather. Something's not right – this is the Western Isles, for goodness sake!
1930 Went ashore to inspect the new pier (very impressive) then dinner at the Old Forge (scallops, venison burgers) and more Isle of Skye beer (Hebridean Gold, Hobgoblin, Black Cuillin). Pub not as busy as previous visits at weekends. Back to Sandpiper for biscuits and cheese.
Thursday 14th June
0930 Slow start – bright but windy day. The plan was to head north and we didn't want to reach the Kyle narrows before 1300 when the tide turned north. Big cooked breakfast on board. RAF Hawk trainer jets zoomed round the hills. Watched a small ferry come in to the new pier to disgorge a load of bobble-hatted tackity-booted grockels and take another lot away.
1100 Departed Inverie. Wind NE 15kn, so ran down Loch Nevis. Some porpoises frolicked about behind us as we left the loch.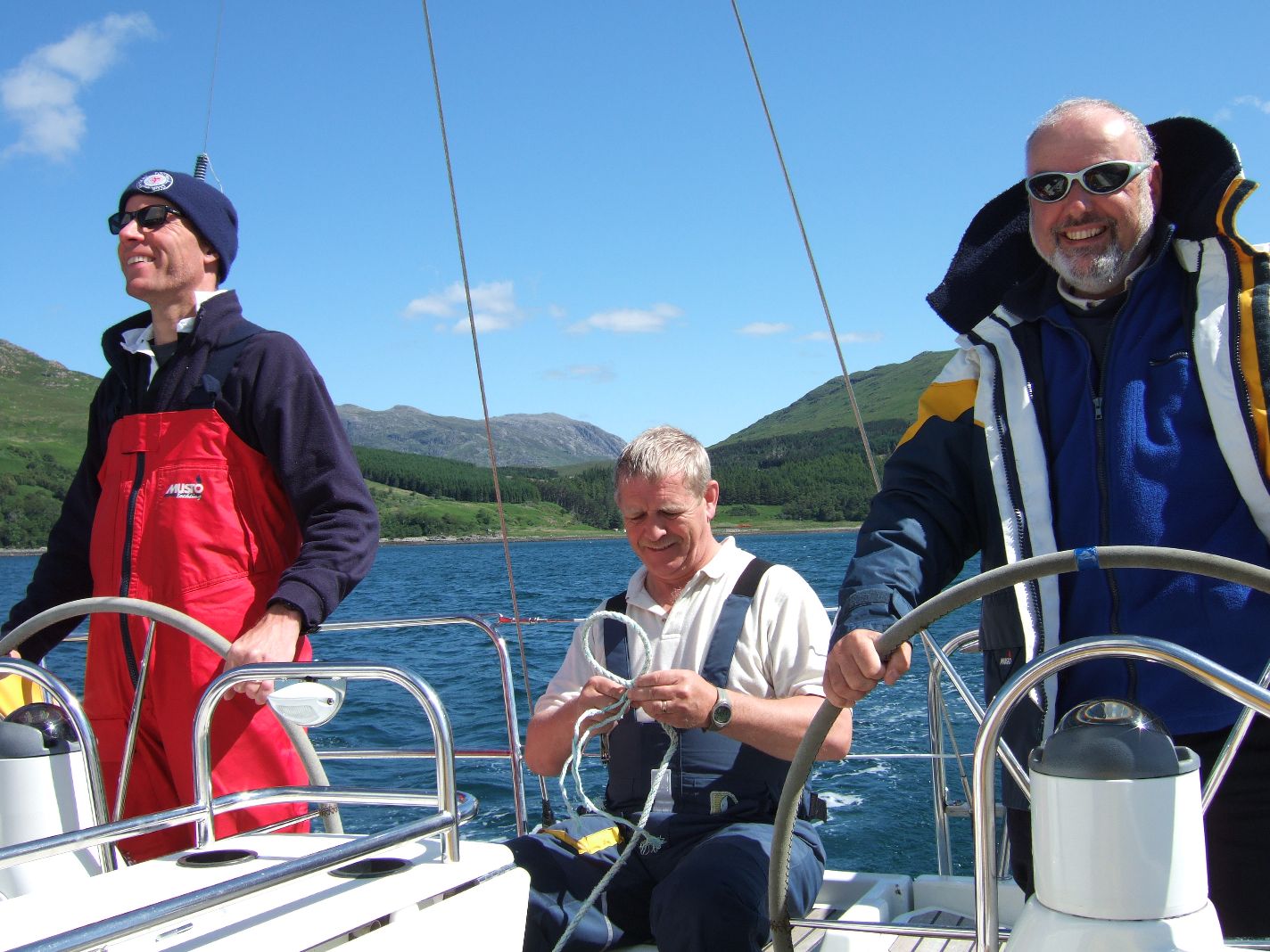 Twin steering
1145 Turned north into Sound of Sleat in bright sunny weather, and beat northwards – yes, we actually tacked! Eventually furled sails and motored through Kyle narrows with seals playing in the tidal whirlpools. Entered Loch Alsh and suddenly found lots of vessels manoeuvring around Kyle – fishing boats, tourist boats, diving boats, etc.
1440 Tied up at Kyle of Lochalsh pontoon for shopping and ice-creams.
1600 Left Kyle and motored under the Skye Bridge. Hoisted sails and ran before a gentle NE wind towards Raasay.
1730 Passed Sgier an Thried by Scalpay and gave it a wide berth.
1830 Picked up visitor mooring in Churchton Bay, Raasay. Saw (and heard) a gaggle of schoolgirls running around the outdoor centre at Raasay House. Magnificent dinner on board of prawn cocktail, chicken fajitas and strawberry tarts.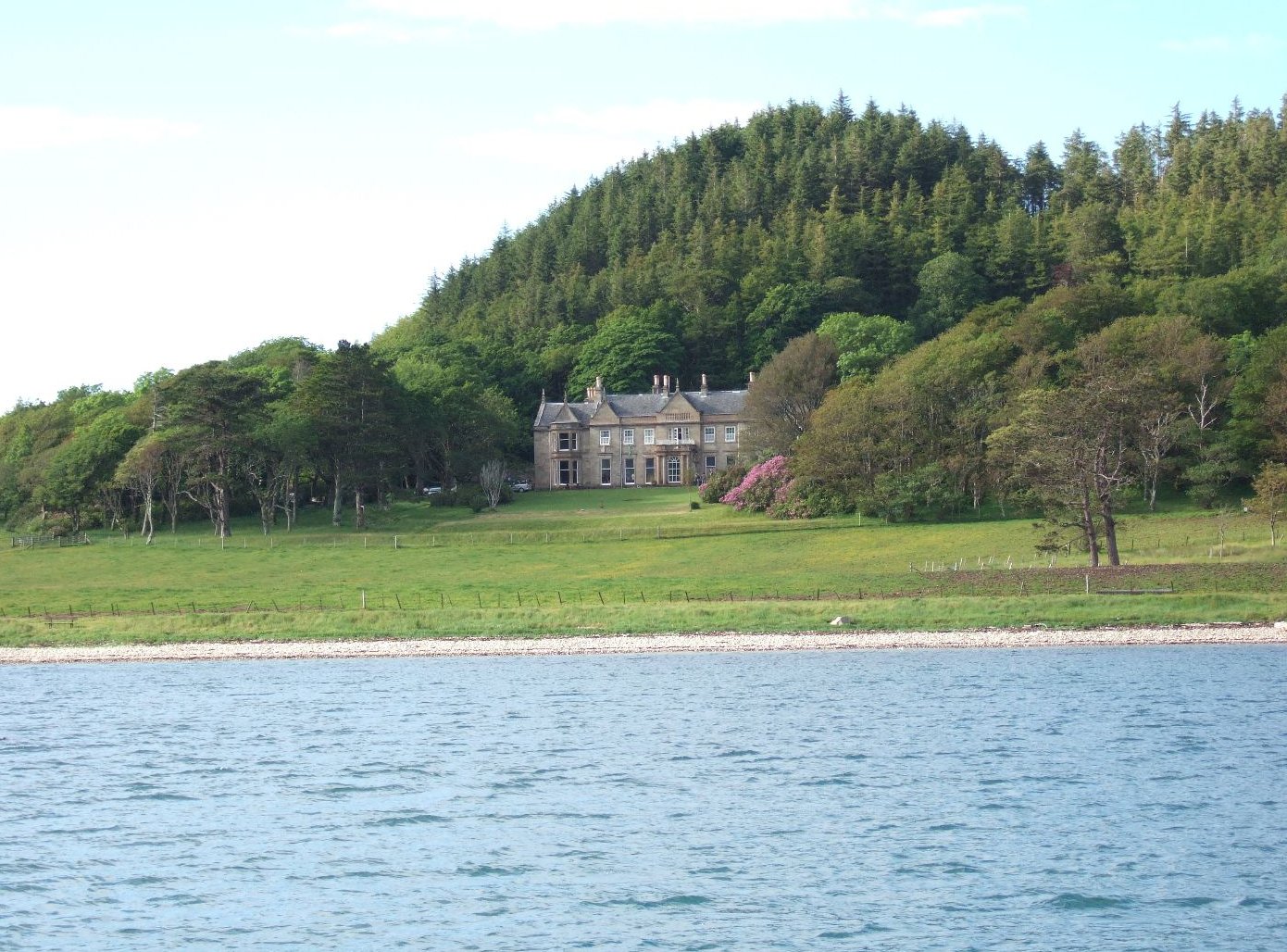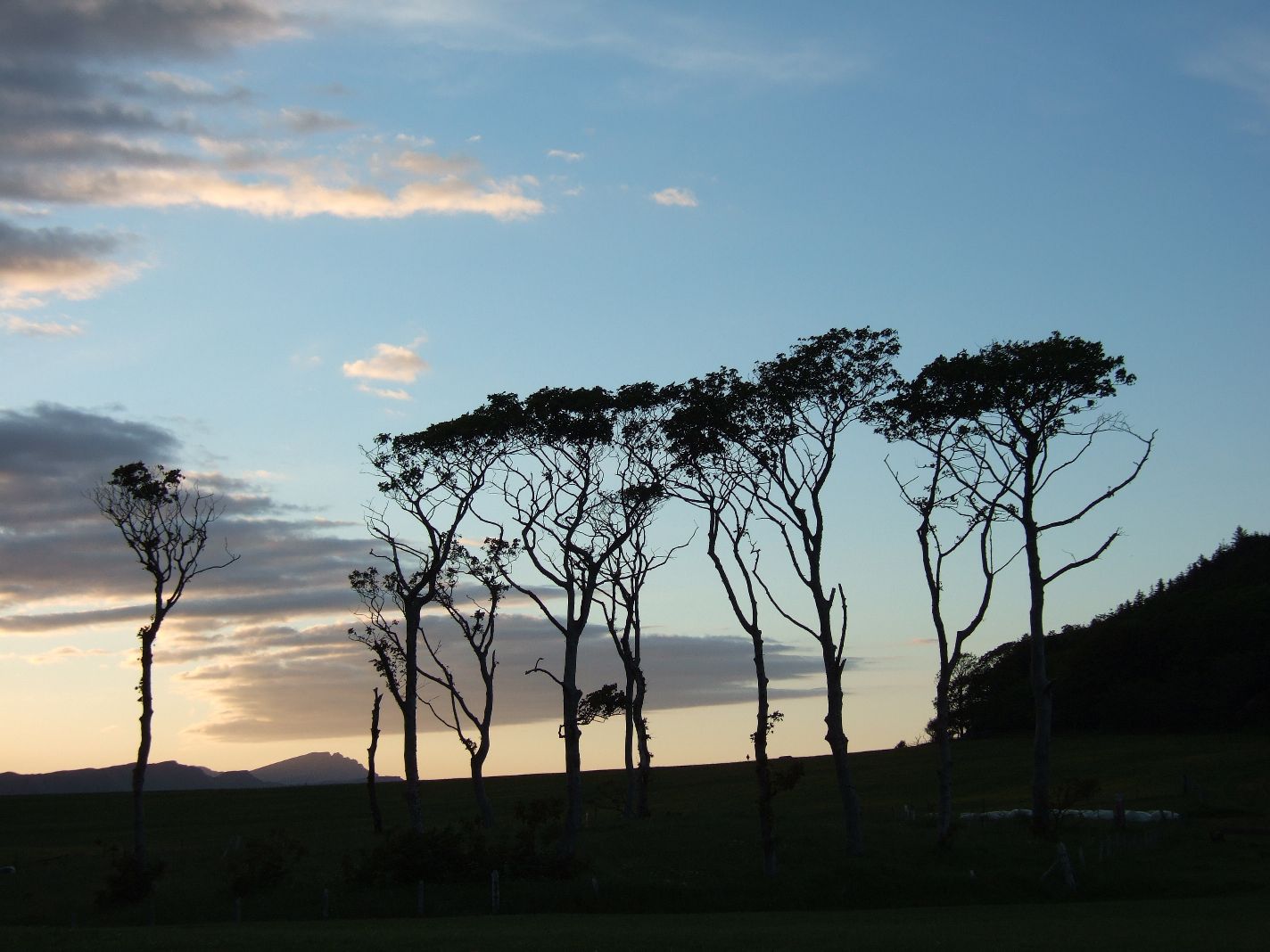 2100 Ashore for a walk to see the large-breasted stone mermaids and visit the pub at the Isle of Raasay Hotel, which was full of very young-looking geology students on a field trip from Plymouth University. Back to Sandpiper for a few more drinks and a few more terrible limericks from Colin.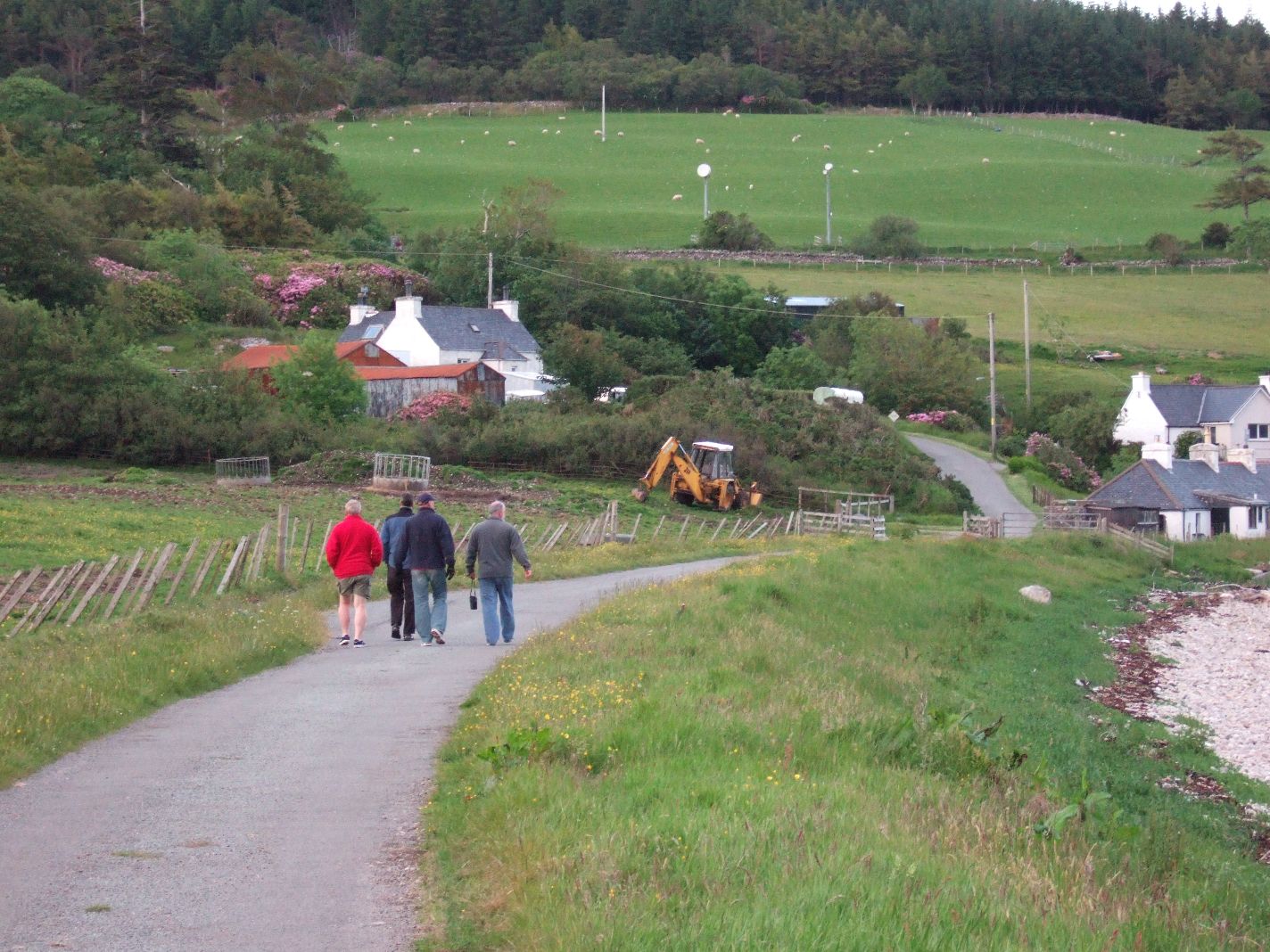 Friday 15th June
0745 Early start to reach Kylerhea before tide turned at 1330. Departed Raasay in SE wind, despite constant NE forecast all week. Motored back to Skye Bridge, taking the inside passage at Scalpay for a bit of variety. Dull, overcast morning with lumpy seas and cold wind.
0930 Arrived at Kyle and tried to tie up at pontoons on either side, but they were all full (both the Ocean Youth Trust boats were at Kyle of Lochalsh). Decided to keep going.
1000 Stormed through the Kyle narrows with 3kn of tide under us. Met a yacht motoring the other way, very, very slowly.
1045 Anchored in Glenelg for a break to warm up. The palindromic name of this village led inevitably to musings of our names spelled backwards (see below) and Tam was known as Mat Fud for the rest of the cruise. Went ashore where a local yottie told us of plans to build a marina at Glenelg and seemed just a little bit envious of the £8.5million spent at Inverie. Walked past ruins of Bernera Barracks then found the football pitch had been taken over by an American film crew making a romantic comedy, 'Maid of Honour'. Quick visit to the pub where the locals were outnumbered by film crew, roadies and drivers from Essex. Back to the boat for late lunch on deck in the sun.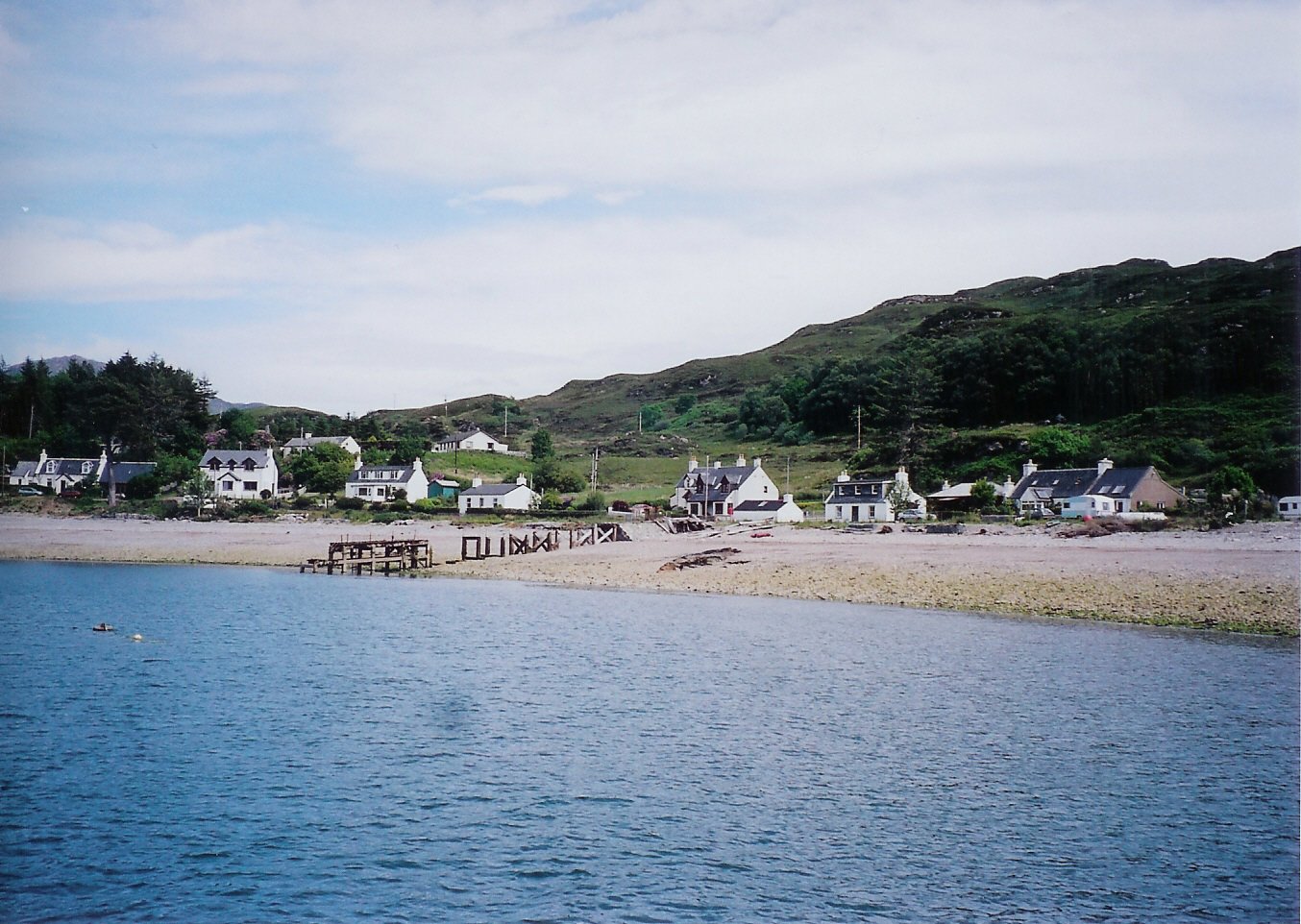 Glenelg
1500 Departed Glenelg. Wind now NE, so ran down Sound of Sleat under jenny only.
1625 Dropped hook in Isleornsay, a long way from the pub and a bit exposed, but that's the downside of this beautiful anchorage. Bounced around at anchor while doing the cruise accounts and dividing up the remaining food.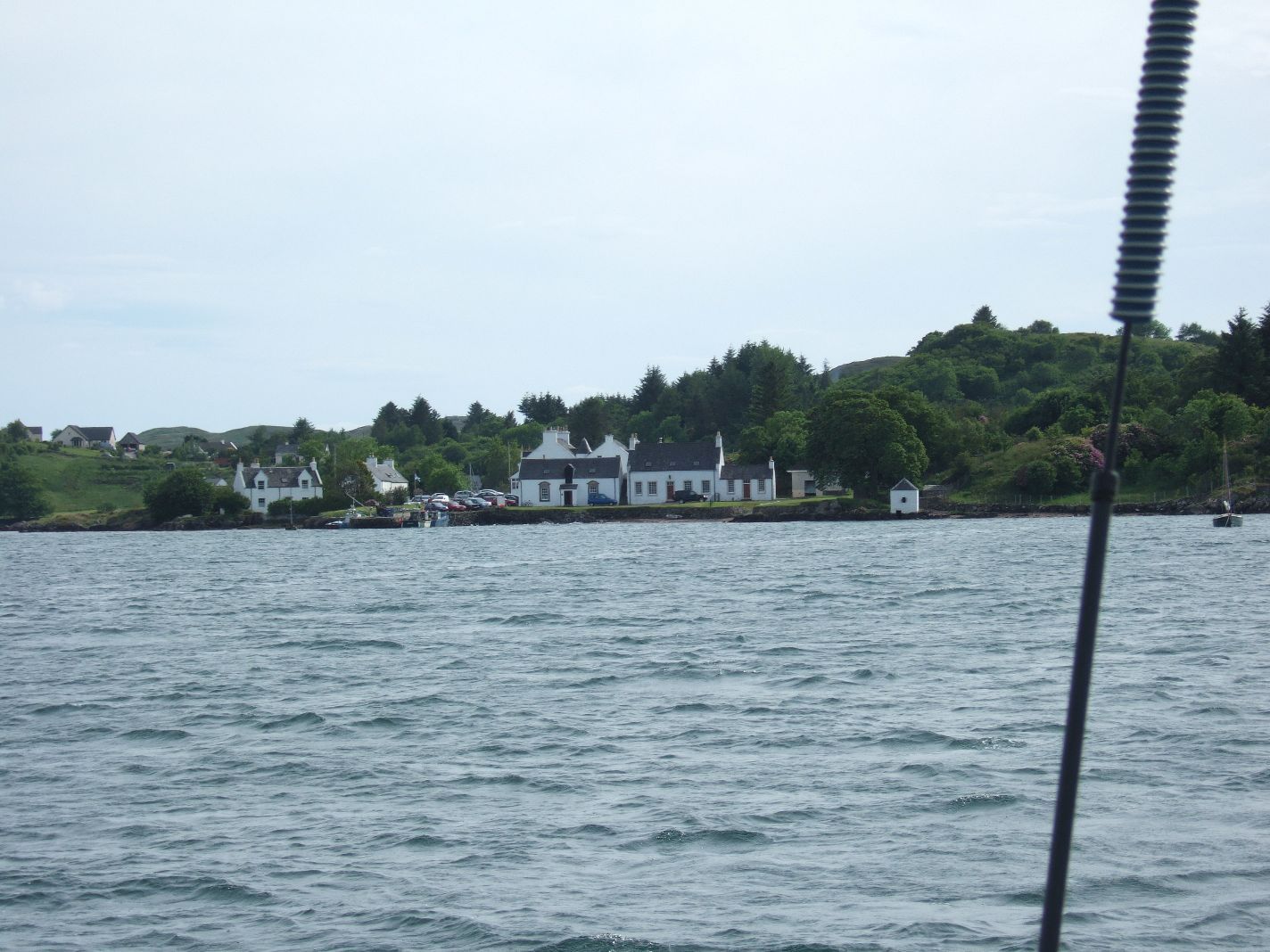 Isleornsay
1930 Ashore to pub, which was very busy with tourists. Had a drink outside while waiting for a table. Eventually the pub got quieter and we were served good quality pub grub by the loveliest barmaid of this year's (and many other years') cruise.
Saturday 16th June
0700 Early start. Departed Isleornsay and ran down Sound of Sleat under jenny while cleaning boat. Dull, grey morning but not actually raining.
0825 Picked up IOSYC mooring at Armadale and waited to be offloaded by launch. End of Cruise.
Kered Bbig (Derek Gibb)
Riatsala Rallim (Alastair Millar)
Niloc Yakcam (Colin Mackay)
Mat Ffud (Tam Duff)
Nai Nahonrek (Ian Kernohan)