0830 Left Edinburgh to drive to Mallaig. We left a little earlier than last year, to avoid rallying down the A830 to get the ferry on time.
1415 Arrived in Mallaig in plenty of time for the ferry. Went to a pub to watch Ingerland cuff Denmark.
1515 Ferry departed Mallaig.
1600 Arrived at pier in Armadale. Mild chaos at Sleat Marine Services - 3 crews trying to unload their gear from cars at once, non of the boats ready, and Charmian from SMS wandering round being polite to everyone.
1645 Finally got on board Contango, a Moody 376 centre-cockpit bus. It looked in good nick, which makes a change from the usual antiques we charter.
1830 After being given the official handover by SMS, we left Armadale. Wind SW 18kn, so we motored to the Point of Sleat then hoisted sails and fetched across to Rum. We had two new crew on board - Dan's brother-in-law Jeremy who recently caught the sailing bug, and Alan, a friend of Derek's who had never sailed before. We had a vague plan to use the forecast southerlies to sail to Barra or South Uist, then spend a couple of days wandering up the coast of the Outer Hebrides.
2130 Dropped anchor in Loch Scresort on Rum. The new Gordonston school training ketch Spirit of Moray was anchored in the bay. We had seen their previous boat Sea Spirit a few years ago, and this one looked even better. They must have a lot of money. Pasta Bolognaise with Moroccan wine for dinner.
Sunday 16th June
0500 Alan threw up all over the forward heads. Must have been the Moroccan wine.
0830 Crew surfaced. Horrible weather - rain, mist and cold wind. The VHF was issuing gale warnings for the Hebrides, so we abandoned plans to cross the Minch, and decided to visit Eigg instead, as it was the only one of the Small Isles we'd never bagged.
1115 After a late breakfast, we left Rum and sailed south to Eigg. Wind S 15-18 kn. Nice beat.
1445 Attempted to approach Glamisdale on the SE corner of Eigg by the narrow rocky eastern entrance at LW. After gently bouncing off an unmarked rock, we changed our minds, and retreated round the south end of Eilean Casteil.
1500 Entered the wide, easy southern entrance to Glamisdale and anchored. Went ashore for a quick look at Eigg. It was full of hippies drinking and flying kites, but the island looked quite attractive. The new tea-room/craft-shop/village hall was closed, but there was a notice outside inviting people to bring their own carry-outs to ceilidhs as the bar wasn't very well-stocked. When we returned to the dinghy, the hippies were all getting on board a small launch - it seems they were visitors, not locals.
1600 Departed Eigg, expecting a nice reach back up the Sound of Sleat, but the wind had died, which was strange as the coastguard had now upgraded the gale warnings to storm force 10 from the SW. We motored NE to find shelter inland.
2015 Still no wind. Rocketed through the Kyle Rhea narrows with 5 knots tide. Porpoises and seals were playing in the tidal whirlpools.
2045 Tied up alongside Gwenny's Rival (another charter boat from SMS) at the Kyle of Lochalsh pontoon. Both Kyle and Kyleakin were full of boats - everyone waiting for the storm. Alan demonstrated his culinary prowess by cooking Beef Stroganoff for dinner, then we went ashore for a few drinks at the Kyle of Lochalsh Hotel.
Monday 17th June
0330 The storm arrived! After a short burst of heavy rain, the wind started in earnest. Derek, Frank and Alastair got up to check the boat. We were being pushed hard against Gwenny's Rival, but our large fenders were coping OK. Poor Gwenny's Rival was not doing so well, smashing against the pontoon as her small fenders collapsed. Further up the pontoon, the Ocean Youth Trust's 70-foot ketch Alba Venturer was sitting pretty with massive fenders, heavy-duty warps and no one on board. Alongside it, a small Fisher 26 was suffering as she rode up over the ketch's gunwales in the waves. We doubled our mooring lines, and helped the crew of Gwenny's Rival to do the same. It had a crew of 5, but only two of the girls were doing anything - the boys stayed below.
0700 Along with the crew of the Fisher 26 and Gwenny's Rival, we went in search of more fenders, and found some old car tyres at the railway station. Once in place, these made life a bit more comfortable, particularly for the Fisher 26 and Gwenny's Rival. The wind was still increasing and the waves were surprisingly big, even in the shelter of Loch Alsh. We sat out the morning, taking turns to watch the warps and fenders.
0745 One of our bow lines just snapped - well it was a pretty old rope. There were no more warps on board, so we took the line off the kedge anchor and used it doubled-up as an extra mooring line. The wind was really howling now (up to 50 kn at one point), and there were frequent showers of heavy rain.
0900 An official-looking character in a Highland Council jacket came to see how we were getting on. Perhaps he's the harbour master.
1100 He returned with someone from the RNLI station to say they're going to launch the lifeboat and take us over to Kyleakin where relative calm reigned. We had thought about doing this ourselves, but there was no way we could have got our bows off the pontoon against the wind. The lifeboat took the Fisher first, then came back for us. This involved much jumping about, shouting and gung-ho action from the lifeboat crew and other locals as they all tried at once to undo our lines. Maximum panic and no plan at all - they certainly weren't interested in listening to us. After cutting one of our lines, and leaving 2 others on Gwenny's Rival, they finally towed our bows off the pontoon, leaving two of our crew ashore sprinting back from the public toilets. We motored over to Kyleakin, while the lifeboat went back to get Gwenny's Rival. Kyleakin was much calmer, and we tied up alongside a glass-bottomed passenger cruise boat. Gwenny's Rival arrived behind us and tied up to the Fisher. Eventually the lifeboatmen stopped shouting, got us to sign their visitors book and left, while we sorted out our ropes and fenders with Gwenny's Rival and settled down. It was still windy, but blissfully peaceful after Kyle of Lochalsh.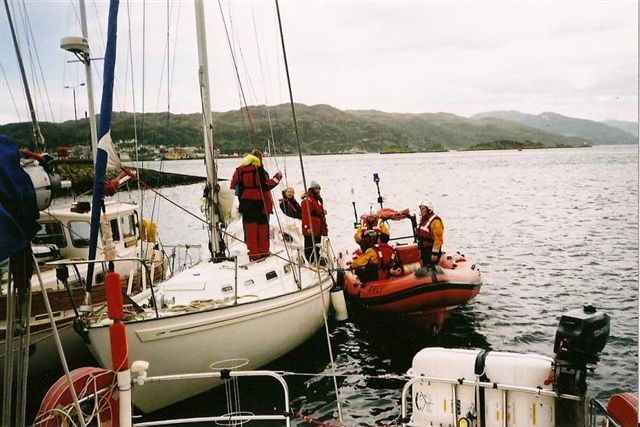 Gwenny's Rival and the lifeboat at Kyleakin
1230 Went ashore to watch the football in a pub - Brazil v Belgium. Jeremy (who is English) was cheering for Belgium, the rest of us for Brazil. After the match, Jeremy and Alan went on a pub crawl round Kyleakin with the boys from Gwenny's Rival. The forecast still said Force 7 - 9, and we could see wild seas beyond the Skye bridge, so we weren't going anywhere.
1830 Went to the King's Arms Hotel for dinner. Excellent food and nice Canadian waitresses, but we were the youngest people there by about 40 years, and that doesn't happen often these days. When the band started playing old-time dance tunes, we left.
Tuesday 18th June
0930 Late start after a much-needed peaceful night's sleep.
1100 Big cooked breakfast.
1201 The shipping forecast confirmed the wind was still 6-7 occasionally 8 with rain, so we abandoned any hope of leaving - this was supposed to be a holiday after all. Instead, we went ashore to watch South Korea v Italy in the pub - good match. Frank and Alastair went for a walk to the ruined castle above Kyleakin, while the rest of the crew played pool with a local prawn fisherman who was also stuck ashore. Lazy afternoon. Alba Venturer appeared from Kyle of Lochalsh and tied up to some wooden piles which used to support the old fishing pier.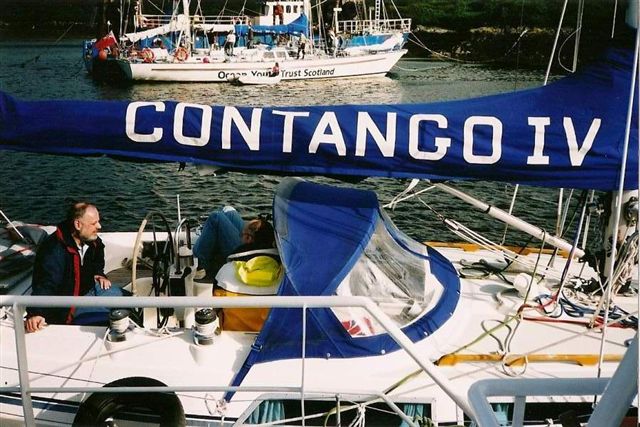 Contango IV in Kyleakin
1800 Chicken curry was cancelled when we took the chicken out of the fridge and discovered it had gone greenish and smelled a bit funny. Derek set off on a quick dash to the shops to get some tinned meat, or possibly a stray dog to celebrate Korea's victory. After dinner, we went back to the town's trendy pub, Saucy Mary's, where the staff relieve the boredom by firing water-pistols at the punters (try that one in the Central Bar, Leith Walk and see what happens!). The only decent record on the teenage-oriented jukebox was Stuck in the Middle With You, which seemed somehow appropriate. Jeremy tried to get off with Katherine, the nice blonde girl from Gwenny'' Rival. We discovered that all her crew were political activists for New Labour, which explained their lack of sociability.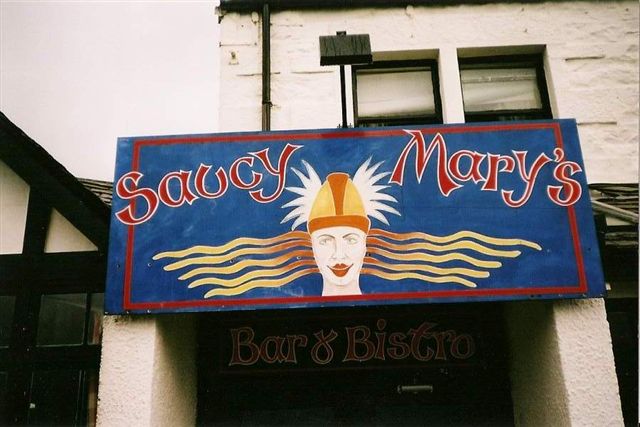 Kyeakin's trendiest pub
Wednesday 19th June
1110 Departed Kyleakin and motored back over to Kyle of Lochalsh to get fresh water and return the tyres to the railway station. Frank was due back in Edinburgh on Friday, but when he saw a train in the station, he decided to jump ship a day early.
1200 Down to 5 crew, we departed Kyle of Lochalsh and motored west under the Skye bridge. Hoisted main with 3 reefs and partially-rolled genoa. Wind SW 18-25 kn with gusts up to 30 kn. Reached north up the Inner Sound in big lumpy seas left over from the storm, rolling down the waves at speeds up to 11 kn. Jeremy on the helm was loving it - he sailed in the Fastnet race last year, and was now dreaming he was in the Southern Ocean on a Volvo Ocean Race boat with a crew of young, lithe, bronzed winch-grinders eager to jump to his every command. In reality he had to put up with a crew of pallid, balding, old farts who just couldn't be bothered.
1430 Wind became quite variable and annoying. As soon as we took out a reef, it picked up again. Just as we were thinking of putting the third reef back in, we discovered we had managed to lose the end of the reefing line inside the boom - very clever. Then the rain arrived - cold and miserable.
1610 Gybed round Rubha na Fearn and entered Loch Torridon.
1700 Dropped anchor by a steep wooded island (known locally as pincushion island) off Shieldaig in Loch Torridon - lovely spot, quite sheltered from the wind. We then spent 3 happy hours trying unsuccessfully to retrieve the third reefing line from inside the boom by hoisting one end of the boom up the mast to get a vertical drop. Perhaps not surprisingly, we somehow managed to lose the other two reefing lines inside the boom as well. Bad tempers and Mexican fajitas for dinner.

Shieldaig
Thursday 20th June
0900 Spent all morning fixing the reefing lines. Eventually we succeeded after removing the sheaves and locking levers from the end of the boom and making cunning use of whipping twine, bolt, string, safety pin, insulation tape, torch and screwdriver.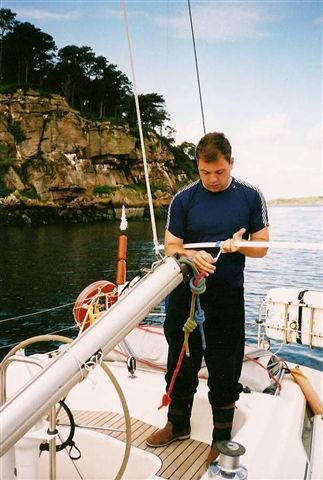 Jeremy tying himself in knots
1230 Departed Shieldaig in SW 18kn. Glorious sunny day. Looked briefly into Upper Loch Torridon, which is very impressive surrounded by steep mountains, then sailed out of Loch Torridon and headed west for the north end of Rona.
1500 Wind died. Motored round the top of Rona and down the Sound of Raasay.
1725 Picked up a visitor's mooring in Portree. On the skipper's orders, the crew dressed for cocktails on deck, to celebrate something or another. Went ashore for pub grub at the Royal Hotel, then checked out the Caley Hotel which we were told would be showing the England v Brazil match the next morning. Back to the Royal where a live band was plodding through Scottish and Irish folk classics to a coachload of Hungarians. Heavy night.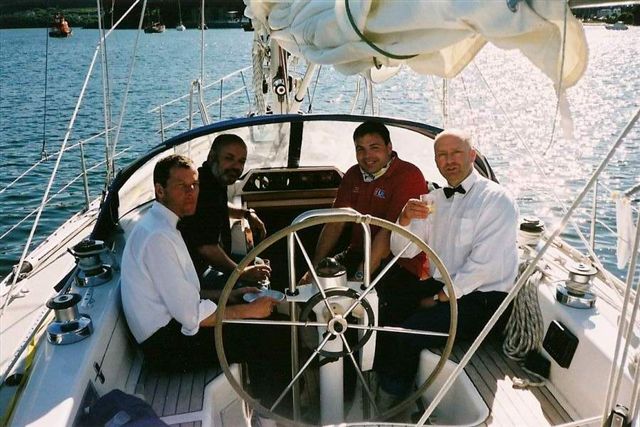 Captain's black tie reception
Friday 21st June
0630 Up and ready for the footy. Derek, Dan, Jeremy and Alan went ashore to watch Brazil stuff England accompanied by a full breakfast in the Caley Hotel (it was far too early to drink alcohol unless you were a Portree resident.) Alastair sensibly stayed in bed. Jeremy was not a happy bunny when he returned. What a shame.
1100 Departed Portree. Wind SW 20kn with mist and rain - horrible. Motored down Sound of Raasay into the wind, then north of Scalpay and back under the Skye bridge.
1430 Dropped anchor in Balmacara bay on the north side of Loch Alsh to wait for the tide to turn at Kyle Rhea.
1600 Left Balmacara and motored through the Kyle Rhea narrows and Sound of Sleat.
1915 Entered Loch Nevis and picked up the last visitor's mooring at Inverie, Knoydart. Went ashore to the Old Forge Inn, but couldn't get a table to eat as they were so busy. A pity, as they had zebra on the menu - presumably a local delicacy. Discovered there was another place to eat 20 yards down the road run by a couple of ageing hippies, so we went there and had excellent seafood and steaks in what looked like their front room. Back to the Old Forge for a few drinks.
Saturday 22nd June
0700 Left Inverie in mist and rain, and motored across to Armadale while packing up and cleaning the boat.
0815 Arrived in Armadale. Eventually the Sleat Marine Services people arrived, and got us unloaded in time to catch the 0925 ferry back to Mallaig. This must have been the shortest distance covered in a week since we started cruising the Western Isles 8 years ago, and also the worst weather. Next year, we're definitely going to the Med.
Derek Gibb, skipper
Alastair Millar, navigator
Frank Spratt, washer-up
Ian Kernohan, chef
Jeremy Cresswell, race helmsman
Alan Gray, landlubber