1130 Crew met up at Morrison's in Fort William – Derek and Colin from Strontian where they had been inspecting the skipper's country estate, Richard and Alastair from Edinburgh via Perth where they had picked up Tam off the train from Aberdeen. Spent £300 on food and booze.
1230 Lunch at Lochailort Hotel. Food took ages to arrive, probably because the proprietor had to hike 5 miles up the glen to shoot the venison burgers. We were now in danger of missing the 1345 ferry from Mallaig.
1320 Left Lochailort and rallied up the A830. Just before Arisaig, Richard's American-built German-designed Mercedes bus died with a warning light flashing on the dash. After consulting the handbook, Richard found that the light meant 'unsafe driving for the road conditions.' Well, yeah! Shipped all the gear into Derek's German-built German-designed Mercedes station wagon, and Derek and Alastair drove to Mallaig just as the 1345 ferry left the pier. Miraculously, Richard's car started again and the others followed to Mallaig. Waited for 1505 ferry.
1500 Drove onto ferry – Richard's car cut out again on the ramp, blocking all other cars. Pushed car onto ferry with help of Calmac crew. Managed to start car again to drive short distance to old pier at Armadale, where we unloaded all our gear into the launch to take us to our vessel for the week, Sandpiper – a 2-year-old Beneteau Oceanis 43 – very nice and very big. It even has 2 steering wheels.
1745 Departed Armadale in nice bright evening with no wind. Decided to motor to Inverie, then changed our minds halfway across and turned north to Isleornsay.
1900 Arrived Isleornsay and dropped anchor in still water. Gordonstoun school's latest training ketch Ocean Spirit of Moray was there, with kids diving off and swimming. We seem to keep bumping into these people on our cruises. G'n'T's then chicken fajitas with Spanish wine – very good. Ashore to pub – lots of good beer (Red Cuillin), friendly bar staff, heavy night. Bounced off all the moored yachts as we motored the dinghy back to Sandpiper. More drink in the cockpit while we looked at the fantastic array of stars. Quiet night.
Sunday 11th September
0900 Sore heads. New boy Tam went for an early morning swim, apparently expecting the others to follow. Er … no. Departed Isleornsay in drizzle. Wind SW 10kn. Hoisted sails and ran up Sound of Sleat.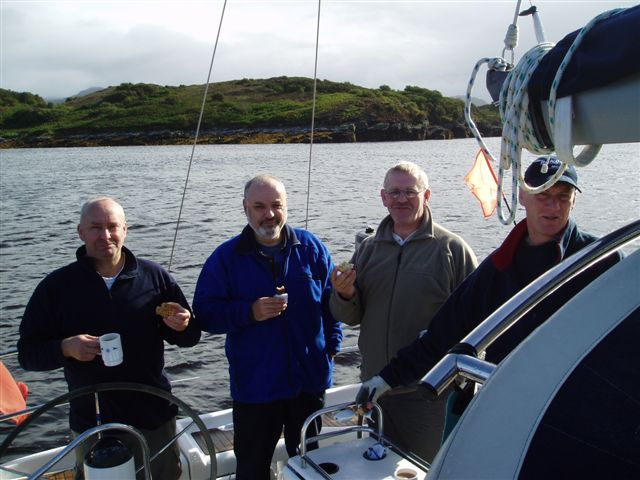 Tea time on board Sandpiper
1000 Passed through Kylerhea accompanied by inquisitive seals. Wind died in Loch Alsh, so we motored under Skye bridge. Wind picked up again so we hoisted sails and ran round mainland coast to Plockton. Skipper Derek usually suffers from some terrible ailment on our cruises, and this year he had a gammy left leg which he couldn't straighten. This was huge fun for the rest of the crew as he struggled to sit down, climb into the dinghy, put on his waterproofs, etc.
1230 Dropped anchor in Plockton harbour, after rescuing local fisherman whose prop had fouled. Should have claimed salvage rights. Wet, drizzly, dismal day in Little-Plockingham-on-Sea. Went ashore to pick up our final crew member from the train. Frank had been delayed in Edinburgh due to some mysterious but unspecified emergency. Alastair, Tam and Colin all produced tupperware boxes full of lovely home baking from their loved ones. Derek, Frank and Richard didn't – how sad.
1430 Departed Plockton and motored through thick mist and drizzle toward Crowlin Islands. Weather cleared, motored between Scalpay and Raasay. Finally hoisted sails and sailed up Sound of Raasay.
1845 Picked up HIE mooring in Portree. Ate on board – chicken curry and apple crumble. Colin, Alastair, Richard and Tam went ashore for a few drinks at the Isles Inn, where there was plenty of local colour. Richard and Tam drank Hoegaarden wheat beer, which looked (and tasted) like cloudy washing-up water. Two Dutch hikers at the next table saw this and greeted us with enthusiasm, explaining how wonderful this beer is with a slice of lemon. Pretentious foreign pratts. Back on board for cheese and biscuits.
Monday 12th September
0930 Nice morning, breakfast on deck.
1030 Went alongside the pier at Portree to fill up our water tanks, as someone had left a tap running on board!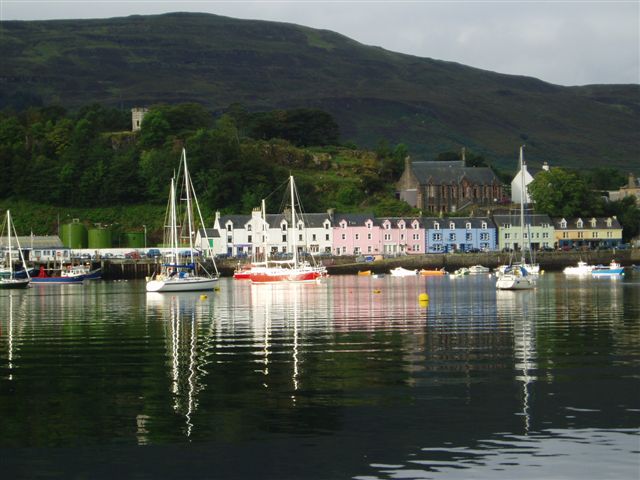 Portree Harbour
1100 Departed Portree. Wind SW 6kn, nice day, but forecast not good for next few days – storms and gales on their way. Hoisted sails and sailed north up Sound of Raasay. Wind built during day; nice sailing conditions. Richard (Findus the Fisherman) has impressed us all with his angling skills 5 years ago (see 2000 log) and was determined to do even better this year and actually catch a fish. He attached feathers and small weights to his line and unravelled it behind the boat which was now doing 6-8kn. Fish would have to be seriously keen on those feathers to bite at this speed. Sailed round top of Rona and headed for Loch Gairloch. Richard phoned his car fleet company to arrange for his Mercedes to be repaired. Operator in Birmingham wanted a street name and couldn't understand that the car was parked on an un-named road in a tiny village on an island.
1545 Picked up visitor mooring in Badachro Bay, Loch Gairloch. Ashore to Badachro Inn for beer (Beinn Dearg – very good) and excellent dinner. Martin the proprietor from Lancashire gets good marks for hostelry and Kirsty the barmaid gets 10/10 for service! Back to boat in heavy rain and rising wind for cheese and biscuits. Miserable night – swinging wildly at the mooring and heavy, noisy rain. Derek checked the boat and mooring every hour.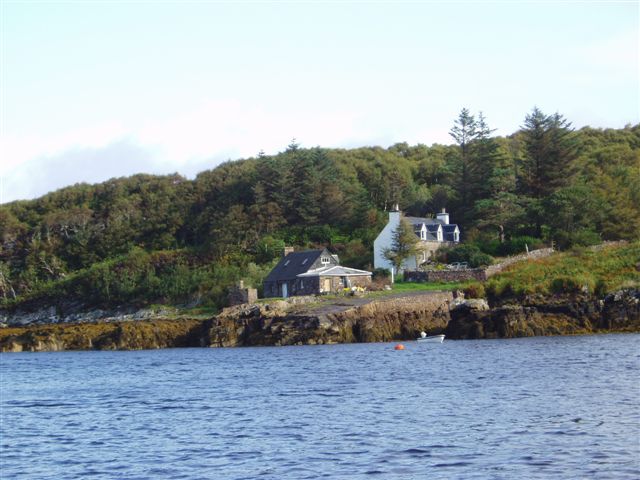 Badachro Bay, before the storm
Tuesday 13th September
0900 Big breakfast on board. Still raining hard and very windy, but more sheltered here than out at sea. Horrible, miserable, tedious day, so crew did nothing but read and sleep all day.
1700 Decided to start the engine to charge the batteries, but it wouldn't start. Colin (McPhail the engineer) got to work and established that there was a fault in the wiring – the engine battery was discharging into the domestic circuit. Eventually decided to take 2 batteries ashore to charge them. Tam and Frank drew the short straws and motored ashore in terrible conditions with two large 12v marine batteries. The river at the slipway was in flood so they could hardly land. Martin at the Inn put one battery on charge while Tam and Frank had a couple of drinks, and agreed to leave the other one to charge overnight. Fortified by alcohol, Tam and Frank returned with charged battery, which was re-fitted by Colin. Engine started! Decided to disconnect the engine battery when not in use to avoid it discharging.
2000 Spaghetti Bolognaise and chocolate cake for dinner with lots of wine.
2200 Anchor alarm on the GPS sounded. Mad panic as we leapt on deck in the dark and rain to see rocks looming close behind and a visitor's mooring buoy floating past the side of the boat. After some reflection, we realised we were still firmly attached to our mooring but had swung through 120° into the path of the other buoy. Decided to pick it up anyway so we were attached to 2 moorings. After that, we had a much quieter night.
Wednesday 14th September
0930 Quiet morning too – wind not quite so strong and rain had stopped at last. We were still attached to two mooring buoys, although we now saw in the light of day that we had dragged our mooring slightly when the wind swung round last night. Richard and Tam went ashore to get the second battery.
1115 Departed Badachro. White horses and lumpy seas out in Loch Gairloch. Wind W 15-20kn. Motored out of Loch Gairloch then unfurled half genoa and close-reached at 6-8kn down Inner Sound. Hit by a couple of rain squalls with gusty winds. Eventually the wind settled and we were able to hoist full main and unfurl the genny.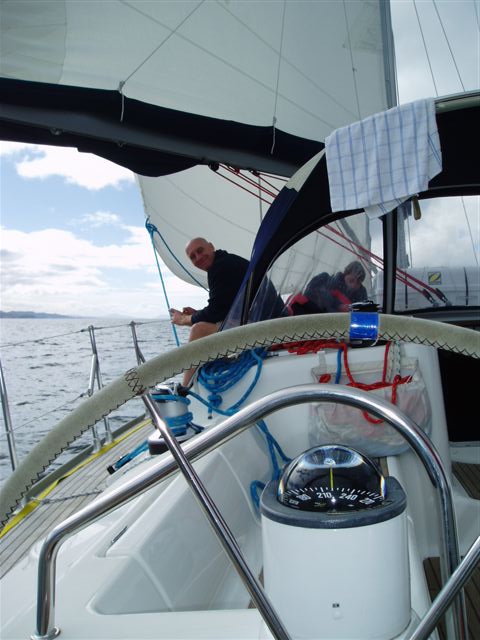 Tam and Frank on deck
1700 Tied up at Kyle of Lochalsh pontoon, as we wanted a quiet night's sleep. Ashore for shopping and showers, then dinner at Lochalsh Hotel – very good food served by Helen 'the melons', and comfortable sofas in lounge bar. Back on board to leer at unsuspecting hotel guests through their bedroom windows.
Thursday 15th September
0930 Nice bright morning. Kyle of Lochalsh seems to be a busy little port with various boats arriving and leaving the main pier and pontoon. Two crazy youths went swimming off the pontoon. Richard had still not caught any fish and decided he needed to improve his tackle, so went ashore in search of live bait. He came back with plastic worms from a joke shop.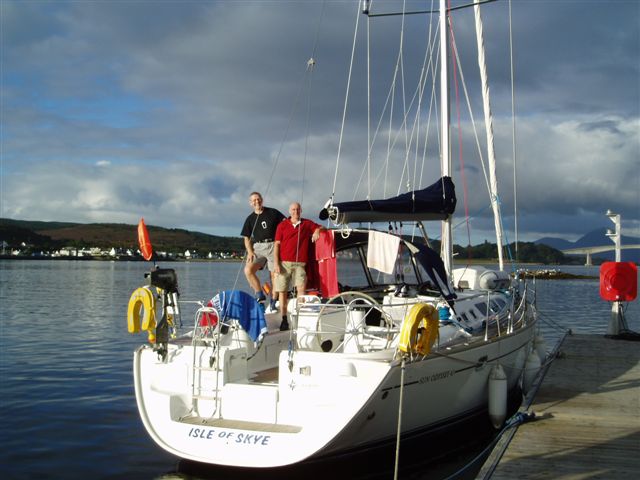 Sandpiper at Kyle of Lochalsh
1100 Departed Kyle of Lochalsh and motored through Loch Alsh and into Kyle Narrows. After Glenelg, hoisted sails and reached gently down Sound of Sleat in NW 8kn. Passed by Irish training square-rigger Asgard 2 under engine.
1230 We then passed Asgard 2 as they took ages to hoist their square sails – must be training a new crew. A school (kindergarten, university?) of porpoises frolicked (capered, gambolled?) past us.
1400 Rounded Point of Sleat, wind increased. Close reached round north end of Rum. Wind increased 18-20kn, boat speed up to 9kn. Took 2 reefs in main.
1700 Dropped anchor in Canna harbour. New pier still under construction – must be former crew-member Dan's influence from far away at the Scottish Executive transport department. Went ashore – Tam and Colin climbed Compass hill, while Derek, Richard and Alastair were taken for a walk along the shore by a local dog who wanted someone to play with. The bridge between Canna and Sanday was washed away in the January storms. Richard picked up lots of rusty old scrap iron to weigh down his fishing line in the vain hope of catching some fish. Back to the shop to buy T-shirts and tea towels for families. Met Iona Leishman, the local artist in residence who trundles her paint and canvases round the island in an old wheelbarrow.
2000 Windy evening, boat swinging at anchor. Let out 40m of chain and dropped second anchor as well. Dinner on board - prawn cocktail, steak pie, bakewell tart, wine and port. Derek and Frank fell asleep at the dinner table, so we went to bed.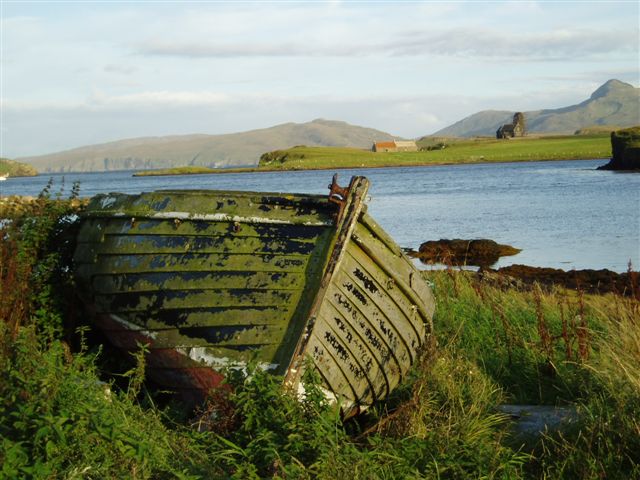 Canna Harbour with Rum in the background
Friday 16th September
0930 Tam went for a swim again. Don't know why he didn't shower in Kyle of Lochalsh like the others.
1110 Departed Canna. Hit by squall as soon as we were out in the open sea – 24kn wind with rain. As soon as we took 2 reefs in main and furled half the genny, the squall passed to be replaced by nice clear weather. Wind up and down all day. Richard enthusiastically attached his new bait and weights to his fishing line and dragged it behind the boat. 10 minutes later, the line was back on board minus all the new tackle which had fallen off. Just like 2000, he didn't get a nibble all week.
1615 Picked up mooring in Inverie and started packing up and cleaning boat. Ashore to see progress on new pier. When we were here a year ago they were pile-driving in the bay, now there is a major construction project behind a large coffer dam. Saw the plans for new ro-ro pier pinned on a noticeboard – very impressed with long-stay car park with space for 4 cars. Dinner at Old Forge – usual good quality fare, although atmosphere was slightly spoilt by drunken loud-mouthed cretins from Middlesbrough at next table. After dinner, a large Glaswegian bloke who was here last year started playing the guitar and sang the same selection of country songs he performed last time – and he only comes here once a year! After a while, Alastair was persuaded to take the guitar and lead the pub in a tuneless but enthusiastic rendition of Scottish-Irish folk classics. Then a quiet dark-haired lad sang a jewish lament – very strange.
Saturday 17th September
0700 Departed Inverie and motored across the Sound of Sleat in a horrible wet, windy morning with thick mist and no visibility.
0845 Picked up IOSYC mooring at Armadale and were ferried ashore just in time to catch the ferry to Mallaig and home. End of cruise.
Derek Gibb, skipper
Alastair Millar, navigator
Frank Spratt, anchormaster
Richard Slipper, fisherman
Colin Mackay, engineer
Tam Duff, chef