0750 Guy and Colin queued outside Sainsburys to buy ship's stores. The menu had been carefully planned the previous evening in the Cramond Inn with helpful suggestions from Keith Millar ("you need 200 cans of beer and some pot noodles"), Gus's wife ("how do you knock the weevils out of old Weetabix") and Guy ("will the Danish pastries stay fresh for 6 days").
1000 £400 later, Guy's Escort was packed to road-scraping point. At least the Sainsburys loyalty vouchers will help pay for new suspension.
1430 Arrived at Ardfern to pick up "Elan Adventurer", an Elan 43. This kind of boat doesn't have all those nautical things like decks, cabins and heads. Upstairs it has lots of floor space and a great big steering wheel, while downstairs there are 4 bedrooms, 2 toilets, a big kitchen and a nice desk for the maps. There were also lots of fun high-tech gadgets like GPS, EPIRB, weatherfax and desalinator, as the boat had done the ARC rally twice. Of course, none of it worked, including the fridge which Brian from Islander Charters spent 30 minutes trying to fix before Guy suggested trying a different a fuse circuit. Naturally, this worked immediately.
1720 Departed Ardfern in NW 15kn and sun. Hoisted main, genoa and spinnaker and reached down Loch Craignish while Guy and Colin packed the fridge with £400 of food and drink. We had decided to go south this year, so avoiding the Dorus Mor for a change.
1815 Wind backed to West so we dropped the spinnaker. Or rather Guy let the guy go so that we flew the spinnaker as a mast-head pennant for a while until Derek took control of the situation.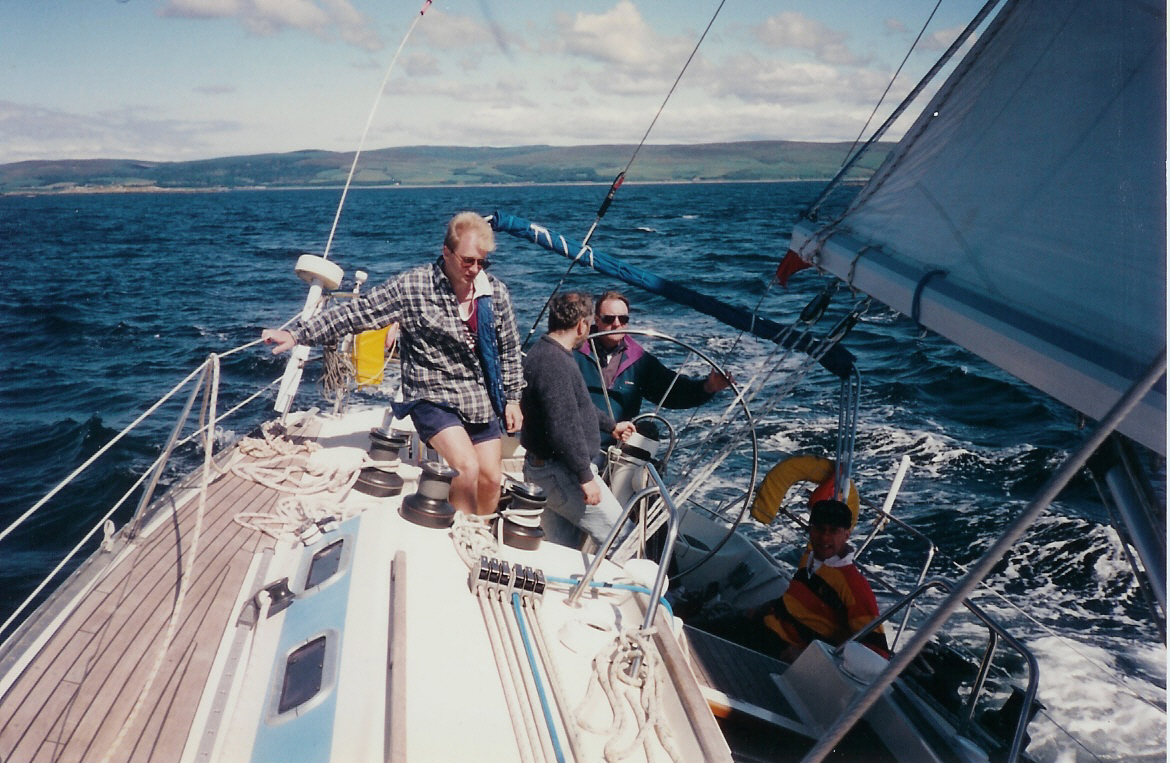 Elan Adventurer sailing briskly
1900 Colin appointed himself chief chef and served up outstanding chinese soup with stringy eggy bits and fresh coriander.
2000 Dodged the McCormaig Isles and entered Loch Sween. Wind was now a steady NW 10kn so we had a gentle fetch all the way up the loch.
2115 Passed Eilean Loain (Norman McKinnon's island), where Alastair camped with the Sea Scouts in 1973 (when he was very young).
2130 Arrived at Tayvallich, "perhaps the most perfectly sheltered anchorage on the West Coast" according to the pilot book. This is no exaggeration as the entrance to the bay is blocked by a rock shelf which is only passable 5 minutes either side of HWS.
2200 After ritual Gin and Tonics, the crew retired to the pub to plan the rest of the trip. Well, Alastair and Frank planned the rest of the trip while Guy and Gus discussed the menu, Dan gave Derek a few management training tips, and Colin talked to an old friend called Charlie who just happened to be in the bar.
0015 Back on board, Guy produced his guitar and played the 2 Jo Denver songs he knows, then Alastair played the 2 Oasis songs he knows. The others went to bed.
Sunday 15th June
0910 Left Tayvallich in NE 6kn and sailed back down Loch Sween.
0945 Wind died so we motored south down the Kintyre coast. Derek read the crew interesting and informative passages from his new book - "The Scottish Islands" by Hamish Haswell-Smith. This lists 165 separate islands around the Scottish coast, and Derek decided he would make it his lifetime's work to visit them all - a sort of nautical version of Munro-bagging.
1330 Arrived Ardminish Bay, Gigha and picked up HIE mooring. Had lunch on deck in tropical surroundings - bright sun, clear water, sandy beaches and noisy jet-skis thundering around the bay. Went ashore and bought postcards and genuine local goat's milk cheese from Seamus McSporran who runs the only shop. Further on, we were invited to join a party of drunk Glaswegains, one of whom got in a car and drove 200 yards to the hotel to get another bottle of whisky. Hope he steered clear of the local polis, Seamus McSporran.

The crew on Gigha
1550 Left Gigha in NW 14kn and sailed through the narrow channel of Caolas Gigalum, heeling the boat to avoid the submerged rocks.
1610 Rounded the south point of Gigha and headed west for Islay.
1800 Wind increased to 20kn. Navigated along the south Islay coast by reading the names on the distilleries - Ardbeg, Lagavulin, Laphroaig. Colin discovered the cooker was gimballed off-centre when his chilli spilled over every time the boat heeled to starboard.
1850 Arrived at Port Ellen and picked up HIE mooring. Went ashore to the White Hart Inn, where the barman treated us to a selection of crude jokes.
2230 Derek announced that this was his last pint.
2330 Derek announced that this was really his last pint.
0005 Derek realised it was now his birthday, so he had another pint.
0030 Barman went to bed and was replaced behind the bar by the owner and Guy, who played a selection of 70s hits on the CD player. Alastair discovered he was the only member of the crew who didn't know the words to all the Abba songs.
0130 It began to dawn on us that the bar wasn't going to close until we left. Derek had another pint then we left. Guy bet Alastair £5 that he would be awake for a 0700 departure.
0145 Derek tripped on the beach and cut his hand open on a rock. Luckily he was fully anaesthetised.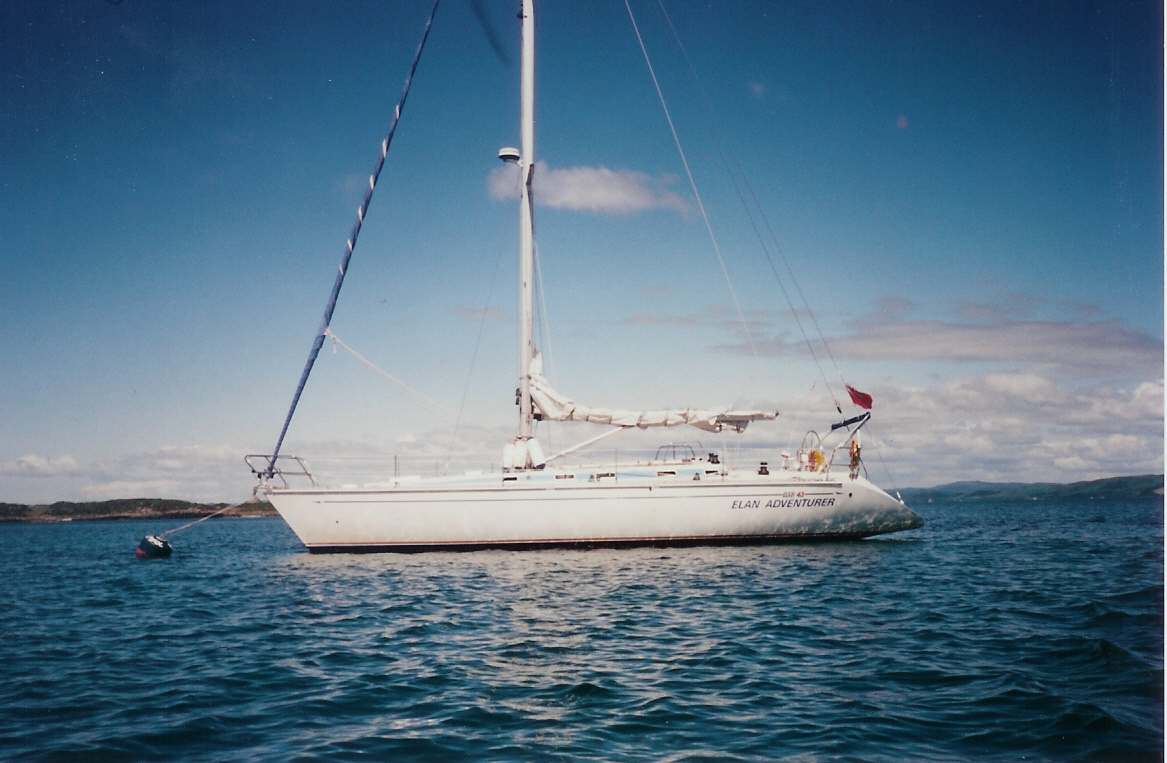 Elan Advanturer at Port Ellen, Islay
Monday 16th June
0730 Left Port Ellen in flat calm and clear skies and motored SE. We had decided to go to Ireland as the wind was forecast to come from the south tomorrow. No sign of Guy.
0945 Entered the North Channel traffic separation zone at shallow angle, as per ColRegs, and kept a careful lookout for other ships. However, the only floating objects we spotted were a seagull and piece of driftwood from the Marie Celeste. Still no sign of Guy.
1025 Wind appeared from NE 5kn, so we hoisted the spinnaker. Frank managed to have his usual mid-morning snooze with spinny sheet in hand.
1100 Guy appeared after an expensive lie-in.
1130 Wind died again, so we hoisted the iron topsail.
1140 Engine died in the middle of the traffic separation zone. This was serious - another ship could appear any week now. Guy appointed himself chief engineer and discovered that the fresh water cooling system was dry so he filled it up with Gin and tonic, and it worked fine.
1230 Passed Rathlin Island, and sunbathed all the way down the Irish coast. Frank had his usual afternoon snooze in full oilskins, gloves and Tilley hat.
1700 A combined effort from the crew finally finished all four crosswords in Saturday's Scotsman and Telegraph. Loud creaking sound from the starboard deck was traced to Frank snoring. The crew decided to turn him over so he cooked evenly on both sides.
1830 Entered Belfast Lough and tried to dodge the Seacats which ploughed in and out of the lough every 10 minutes.
1915 Arrived at Bangor marina, which we thoroughly recommend to anyone. It is large, well sheltered, secure and has all the facilities you need (except that the toilets are always closed for cleaning). It is surrounded by a newish waterfront development and some fine Irish pubs. The crew decided to impress the other yotties by loudly phoning home on Frank's mobile phone.
2200 After a late meal, entered the first fine Irish pub.
2245 Last orders was rung which we thought was a bit prompt, but the barman told us that the pub opposite would still be open.
2300 Entered the Crown - a proper Irish pub with an impromptu band of fiddle, tin whistle and bodhran playing in the corner. Strangely enough, they got their biggest cheer for playing Caledonia.
0030 Returned to the boat for a night-cap with guitar accompaniment. Derek opened a bottle of port explaining that he shouldn't really but a wee one would be OK.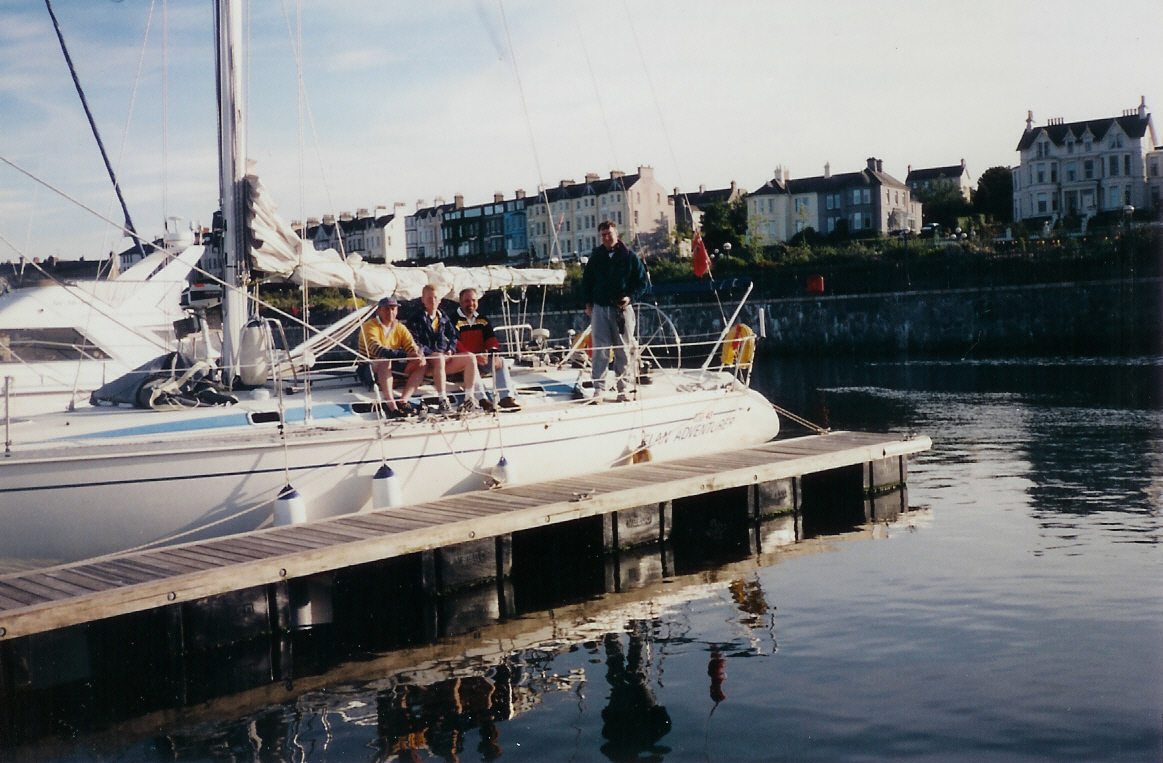 Elan Adventurer in Bangor Marina
Tuesday 17th June
0800 Derek awoke to an empty port bottle and decided that he was right - he really shouldn't.
0900 Guy went to buy Irish sausages and eggs for breakfast while the rest of the crew slowly surfaced and headed for the marina showers to sober up. A big electronic display on the marina office roof showed the forecast - S to SW 4 - perfect for heading north.
1040 Left Bangor in N 7kn. The engine died again as we left the marina, so we sailed gently across Belfast Lough while Guy and Colin fixed the plumbing. They discovered and repaired a leak in the fresh water cooling system, then another in the hot water pump.
1100 Wind shifted to the NE.
1130 Wind shifted to the NW. Where was the forecast southerly?
1245 Wind died completely, so we motored for the rest of the day.
1400 We had intended to go to Craighouse on Jura for the night, but now decided to alter course to Gigha which was closer, as we were bored of motoring.
1630 Passed a small flotilla of becalmed competitors on a three peaks race, going backwards with the tide.
1700 Chef Colin prepared spaghetti bolognaise with fresh basil, ciabatta and garlic bread, washed down with G'n'Ts.
2030 Wind picked up from the NE - wrong direction, wrong time.
2130 Arrived at Ardminish and picked up HIE mooring. Went ashore to the hotel which is owned by Seamus McSporran and staffed entirely by South Africans.
2300 Returned to the boat for a quiet night-cap - Colin opened a bottle of 16-year old Lagavulin, while Derek told Frank about his camping trip to Skye on a moped, Colin and Gus swapped near-death biking stories, and Guy and Alastair swapped guitar chords.
Wednesday 18th June
0830 Awoke to find the southerly wind had arrived a day late, along with rain. Colin awoke to find an empty bottle of 16-year old Lagavulin.
0930 Left Ardminish in S 18kn and ran north up the coast of Gigha.
1010 Rounded north point of Gigha and turned NW towards Jura.
1200 Entered the Sound of Islay with a 6 knot tide under us and were catapulted through the narrow channel between Islay and Jura. Hardly enough time to count the Distilleries as they flashed past - Caol Isla, Port Askaig, Bunnahabhain.
1300 Left the Sound of Islay as the wind shifted to E 8kn. Rain had now stopped. Sailed north up east coast of Colonsay.
1345 Wind died so we motored round the north end of Colonsay and hoisted Guy up the mast to try to fix the dodgy windex.
1430 Wind increased to SW 12kn, so we sailed towards the Ross of Mull. The crew were divided over the best route - Colin wanted to sail through the middle of the Torran rocks, but was outvoted 6-1.
1445 Someone suddenly remembered Guy, so we let him down again. The windex still didn't work.
1600 Passed very close to the rocks on the Mull shore to avoid the Torran rocks, then turned into the Sound of Iona.
1755 Passed Fionnphort and entered the Bull Hole, past the Dawsons' cottage (no sign of life) and dropped anchor just past the ferry's mooring.
1800 G'n'T followed by sausage casserole with fresh chillis.
2000 Decided not to go ashore as the nearest pub involved walking over slippery seaweed, rocky hills, marshy bog and sandy beach (and back). Instead we found a board game called "Mariner" on board, which is a bit like Trivial Pursuit for yotties. This kept us occupied for about four hours and I think we got 2 questions right.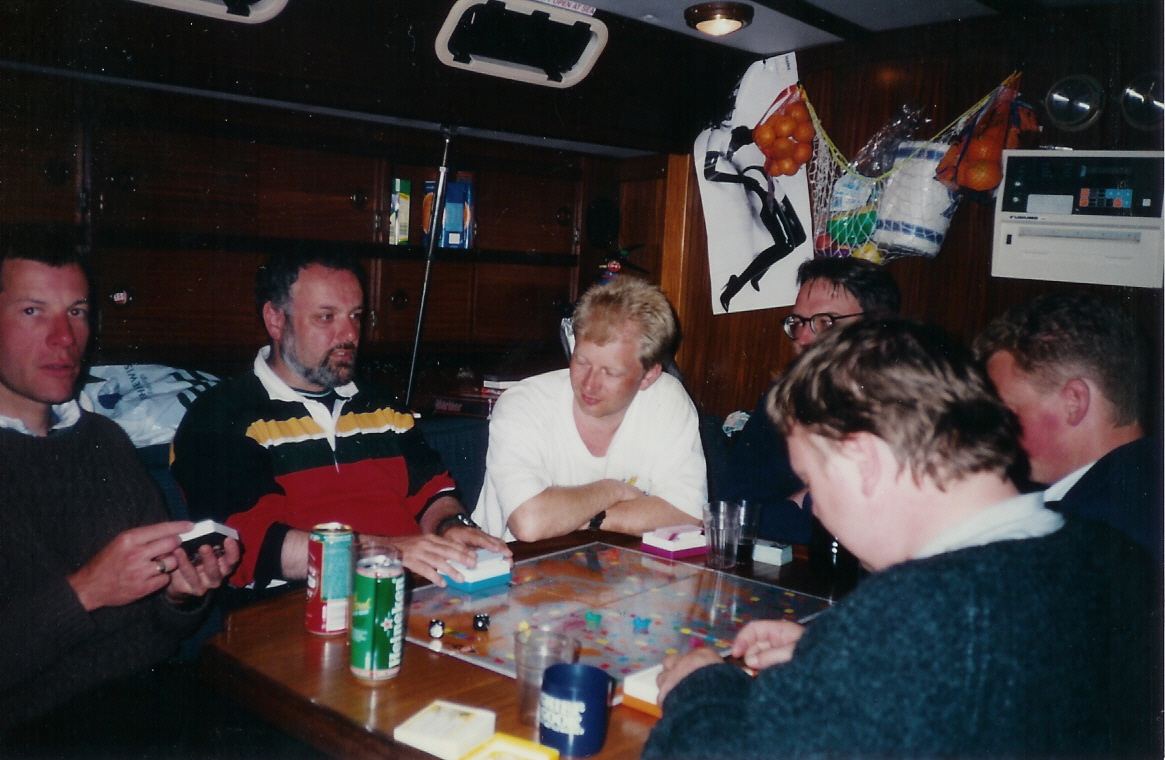 The crew playing "Mariner"
Thursday 19th June
1100 After a leisurely breakfast of scrambled eggs, left the Bull Hole in SW 10kn and ran north to Staffa under spinnaker. Guy banished himself to the foredeck to practice some new chords on his guitar.
1200 Passed close to Fingal's cave, but decided not to go ashore as there was quite a swell and Staffa is very exposed with no real anchorage. Turned NW to the Treshnish Isles.
Sailing past Staffa
1330 Anchored at Lunga for lunch in the sun. In fact we anchored three times, as the anchor dragged twice. The crew went ashore to study at close range the puffins, cormorants, eider ducks, gulls and tourists in their strange plumage of bobble hats and tackity boots.
1545 Left Lunga as the wind died, and motored north round the top of Mull.
1830 Arrived in Tobermory Bay and spent half an hour trying to decide where to anchor, just like last year. Finished up behind all the other boats, furthest from the Mish Nish hotel, in about 30m of water, also just like last year.
1900 Went ashore to Mish Nish hotel to discover that the bar had been given a facelift to remove all the character and most of the space. In addition, they had stopped serving bar food, and only one out of the 3 showers was operating. Decided to eat at The Captain's Table, a cafe run by a lesbian feminist co-operative. The food was excellent, and despite Guy's loud voice and offensive language, we weren't thrown out.
2115 Returned to the Mish Nish as Guy was sure there would be a great folk band playing by now. He was almost right - there was an old-time accordion band playing dance tunes for the over 50s. We left in disgust and repaired to the Macdonald Arms where the locals drink, and who can blame them.
2345 A little white-haired old woman of about 90 collected our glasses and told us she was the owner and would personally kick us out if we caused any trouble. We believed her and behaved ourselves. Next year we'll try the new pub by the garage.
0030 Returned to the boat at the other end of the bay while Dan and Guy woke up the whole anchorage with their tasteful singing.
Friday 20th June
1030 Left Tobermory in SE 10kn. Decided to beat down the Sound of Mull as we were concerned about how much diesel we had, and the fuel gauge wasn't working.

Calmac ferries about to collide in Sound of Mull
1430 Opposite Loch Aline the wind died, so we motored to Oban.
1600 Just past Lismore, we were hit by a massive rain squall which dropped more water on us in 10 minutes than we had had all week.
1610 Entered Oban harbour and cunningly sailed over the Corran ledge at half tide while we discussed the meaning of the cardinal mark we were passing.
1615 Arrived at Oban and tied up at the railway pier backwards. Filled up with diesel and bought cream cakes.
1640 Left Oban before the harbourmaster charged us, and motored down the Sound of Kerrera and into the Sound of Luing.
1915 Passed through the Dorus Mor with the tide - the first time we have managed this in four years.
2000 Tied up at Ardfern marina and headed to the Galley of Lorn for end-of-cruise banquet. Derek worked out that he had now visited 15 Scottish Islands, so had only 150 to go. Start planning next year's cruise…
Derek Gibb
Alastair Millar
Guy Dean
Ian Kernohan
Frank Spratt
Angus Forsyth
Colin Hunter