1700 Departed Ardfern in Lindisfarne, a Moody 38 centre-cockpit caravan, and motored down Loch Craignish in W 8kn. For a change, everything on the boat seemed to work, so despite the looming clouds, we set off in good spirits. As usual, our only definite plan was to avoid Tobermory as we always go there. We had a new crew member on board. Richard is a neighbour of Derek's and hadn't sailed before. But he is a keen fisherman and was determined to show off his fish-catching skills.
1750 Passed through Dorus Mor, hoisted sails and headed up the Sound of Luing doing 7kn in 15kn wind. That's enough technical nautical stuff for this log.
1810 Wind died. Motored for a bit. I've just realised that the first day's sail is exactly the same on every trip we've ever done, so for further details, please consult previous logs.
1945 Got bored of flukey winds, so we headed for the Black Isles and dropped anchor in the shelter of Eilean Dubh Mor in a grey misty evening. Four boats already there, but still a surprising amount of room. Dan got busy in the galley while the others went ashore to explore the caves. Apparently, an adventure training camp on Lunga used to abandon kids here with no equipment to survive for a week on rabbits and crabs. History does not record how many of the kids were eaten. Returned to the boat for steak pie with lots of wine, followed by cheese and biscuits. Listened to the World Cup on the radio, and Richard, our new boy from Geordieland, was over the moon when Ingerland beat Germany. The rest of the crew were not so amused - trust the bloody Germans to let you down.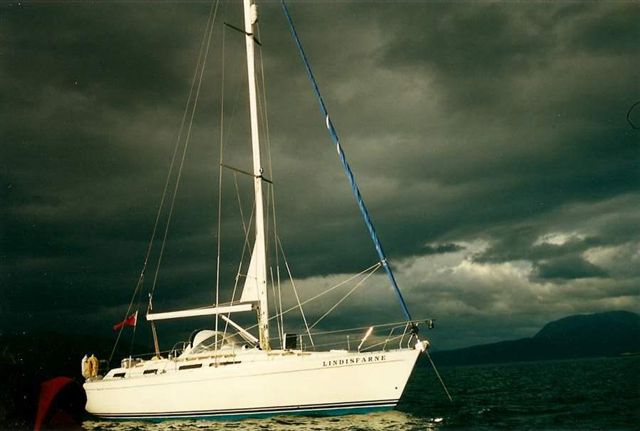 Lindisfarne at anchor under looming clouds
Sunday 18th June
0800 Raining. Got up slowly and had breakfast.
0900 Departed Black Isles in NNE 14kn. Motored up Sound of Lorn into the wind. Richard trailed his fishing line behind the boat most of the day, but never got a nibble.
1000 Wind increased. Hoisted sails.
1100 Wind died. Motored.
1200 Round Duart Point. Stopped raining. Hoisted sails. Not very interesting, is it?
1230 Rain started again.
1400 Wind now S-ish 17kn. Nice gybing run up the Sound of Mull.
1600 Off Ardmore Point (N tip of Mull). Saw a huge luxurious green ketch anchored in the bay with strange multicoloured flag on stern. After much discussion, we decided this must be the Sultan of Brunei on holiday. He probably has luxury yachts secreted all over the world. (Discovered much later that the flag was Antigua & Barbuda - what the hell were they doing in the Minch?)
1630 Wind turned to SW just where we wanted to go. At least it had stopped raining.
1800 Wind died. Motored down the coast of Coll, which is very flat and featureless in the north half.
1900 Tried to pick up a mooring in Loch Eartharna, Coll, but Frank got stuck under the guardrails while passing a line through the mooring eye. After much pushing and pulling, the rest of the crew left him there and went below for gin & tonic. Went ashore to the Arinagour hotel for a feast of scallops, salmon, steak in brandy and lots of sticky puddings with cream. As we left the hotel, we were drenched as a spectacular thunderstorm exploded all round about us. Decided to shelter in a hut at the pier for the storm to pass over before risking our lives in a small dinghy. And does Lindisfarne have a lightning conductor ?
Monday 19th June
0830 Big cooked breakfast.
0920 Departed Coll in N 10kn and beat northwards to the Small Isles. Weather gradually cleared up for the first time this week.
1300 Off Ardnamurchan. Steady wind and nice weather.
1500 Decided to visit Muck as we had never been there. Navigated shallow entrance to Port Mor past a big barge with a digger dredging a new channel, and dropped anchor. Went ashore for a picnic in the sun. Excellent spot with nice views of Ardnamurchan, spoilt only by the cacophony of major construction works going on in the bay. They seem to be building a new pier and terminal buildings.
1645 Departed Muck in NE 4kn and motored towards Rum. Richard 'Findus' tried his luck with the fishing again, using an assortment of old spanners and other ironmongery to weight the line, but the fish still weren't interested.
1845 Dropped anchor in Loch Scresort, where there is more building work going on, with a new road and pier under construction. Perhaps all the Western Isles have been granted lottery money to build new piers for no obvious reason. Richard conjured up a wet but tasty chicken curry, then as it had become a beautiful evening we went ashore to wander round Kinloch and peer in the windows of the bizarre castle. It is exactly 100 years old and was built by an eccentric English playboy using London architects, Lancashire stonemasons, Arran sandstone and Ayrshire soil for the gardens. It is empty now, but you can still see the extravagant Edwardian furniture and stuffed animals in the baronial hall.
Tuesday 20th June
0930 Bacon Rolls.
1030 Departed Rum in SE 24kn under reefed main and jenny, and headed due E for the Point of Sleat, the southern tip of Skye. Low cloud, mist and poor visibility.
1130 Wind increased accompanied by very heavy driving rain. Truly horrible. Could hardly see the Point of Sleat until we passed it. Once round the corner, the wind was behind us which was better but it was still raining heavily.
1315 Decided we'd had enough of this, so we picked up a mooring in Armadale, which was nicely sheltered. Went ashore for shopping and exploring. Alastair bored the others with stories about a summer job he had here working on the Clan Donald estate when he was a student. Richard and Derek visited the Skye Batik shop to get out of the rain, and chatted up a hippie girl who worked there and smelled of incense. Had tea and Danish pastries in the world's smallest tea shop at the ferry pier.
1630 Finally stopped raining, so we departed Armadale and reached up the Sound of Sleat.
1800 Dropped hook in a shallow and not very sheltered bay at Isleornsay. Findus got out his tackle (so to speak) and to everyone's surprise, finally caught a fish! Well, it was only about 3 inches long, but it seemed to make him happy. Had chilli con carne followed by bakewell tart, then listened to another World Cup game on the radio. It was England v Romania so there were 4 honorary Romanians on board. It was all too close at 2-2 then Philip Neville lost his head, Romania scored the penalty and 80% of the crew went to bed happy.
Wednesday 21st June
0930 No wind, rain pissing down. HW at Isleornsay was at 0941, so we motored to the pier to fill our water tank from the tap. Unfortunately our hose wasn't long enough, so Dan went to the hotel and eventually found someone who knew someone else who had a key to a shed which had a hose which just reached the boat, without us running aground.
1000 Departed Isleornsay and motored south through thick, cold mist and rain. Isn't the west cost lovely in June.
1145 Couldn't stand it any longer, so stopped at Armadale again and went below for hot coffee and dry clothes.
1245 Departed Armadale and continued motoring south. Eventually the rain stopped and it started to brighten up.
1630 Wind now W 12kn, so hoisted sails off Ardnamurchan.
1830 Found ourselves entering Tobermory - how did that happen again? The bay is full of lots of nice new visitors moorings with bight yellow pick-up buoys with '£10' painted on them. Went ashore for the world's worst pub food in the Mish Nish hotel while we watched France v Netherlands on the telly. Why do we keep going there - it's the worst pub on the west coast. Stopped at McGoohans for another pint on the way home, which was full of very loud Germans.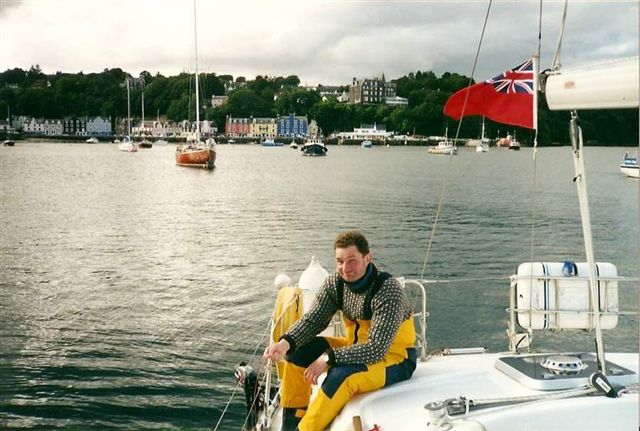 Richard fishing in Tobermory Harbour
Thursday 22nd June
0900 Usual Tobermory slow start, with shopping for fresh supplies and hangover cures.
1045 Departed Tobermory in no wind. Motored slowly down Sound of Mull with Findus fishing enthusiastically but pointlessly over the stern.
1200 Wind SW 7kn so hoisted sails.
1300 Wind increased and veered all afternoon.
1400 Reached up Loch Linnhe, along west shore of Lismore.
1615 Dropped anchor in fairly exposed bay at Port Ramsay on Lismore. Went ashore to explore, and walked to the ferry pier at the other side of the island. Found community council minutes on a noticeboard, which were very interesting. Councillors complained about the number of abandoned cars, discussed fund-raising for a new community minibus, and congratulated the under-15 shinty team for winning their league in Oban.
1900 Back aboard for pasta surprise and all the remaining wine.
2200 Wind up to 25kn and boat swinging considerably, so we put out a second anchor and set the anchor watch on the GPS.
Friday 23rd June
1030 Departed Port Ramsay in NW 20kn with heavy clouds and choppy sea. Not nice. Motored round top of Lismore and down the east side, past Port Appin. Wind only 15kn on this side and water flatter.
1130 Wind dropped to 8kn, so motor-sailed. In fact the wind was up and down all day between 0 and 25kn and so the engine was on and off all day too. Spent an uncomfortable afternoon navigating south through the Sound of Luing with big lumpy seas and bursts of heavy rain. Don't you just love this sailing lark?
1630 Through Dorus Mor, and dropped anchor in a quiet bay in Loch Craignish, just 2 miles from base at Ardfern. The plan was to wait for the rain to stop and go ashore for a last night BBQ on the beach.
1900 Still cold and wet, so decided to have BBQ on board - steak and tatties followed by sticky toffee pudding.
2005 Left the bay and motored to Ardfern.
2120 Tied up at pontoon in Ardfern and repaired to the Galley of Lorne to dry off by the fire.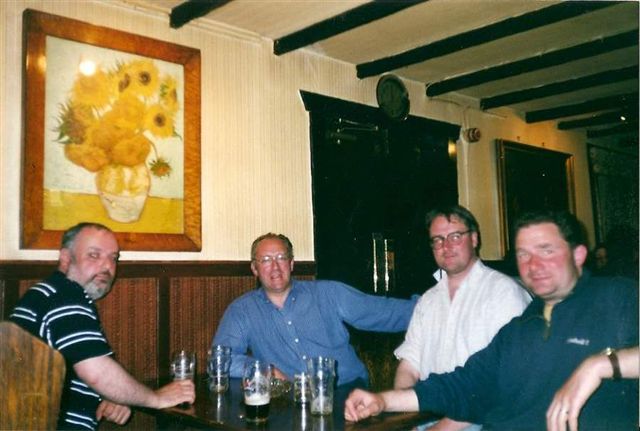 Post-cruise pint in Ardfern
Derek Gibb, skipper
Alastair Millar, navigator
Frank Spratt, tactician
Ian Kernohan, chef
Richard Slipper, 'Findus the Fisherman'