1645 Departed Ardfern in Elan Adventurer, an Elan 43. Readers may remember this boat from our trip to Ireland two years ago (ďDidnít we have a lovely day the day we went to BangorĒ). Bob Fleck from Islander Charters explained enthusiastically that it was very fast as it had new sails this season, but admitted that he had spent all day fixing problems with the engine, water pump, anchor windlass and navigation instruments. Motored down Loch Craignish in NW 4. We had no definite plans for the week except to bag a few more islands for Derekís tally, and to avoid Tobermory as we always go there.
1730 Passed through Dorus Mor with the tide, then hoisted sails and headed up the Sound of Luing. Found that the kicker was attached the boom with a small piece of string as the boom fitting was broken. Andrew was appointed chief engineer and found a slightly stronger wire strop to replace the string. Just to annoy Bob he bolted this to the boom with mild steel nuts.
1900 Wind slowly backed and died so we started the engine and motored towards Loch Spelve on Mull. The fresh water electric pump was a bit temperamental so Engineer Andrew decided to take it apart and fix it. Sometime later he announced that the pressure switch was now completely inoperative as heíd broken the microswitch and lost some other bits in the bilges. He carefully hot-wired the pump and hid the remains of the pressure switch. Naturally there is no manual pump for the water tanks.
2015 Dropped anchor in a quiet bay in Loch Spelve just as the wind got up again. Retired below for the captainís gin íní tonics, followed by Danís chicken curry with a bottle of Bulgarian Svitschtov Special Reserve, bakewell tart and custard.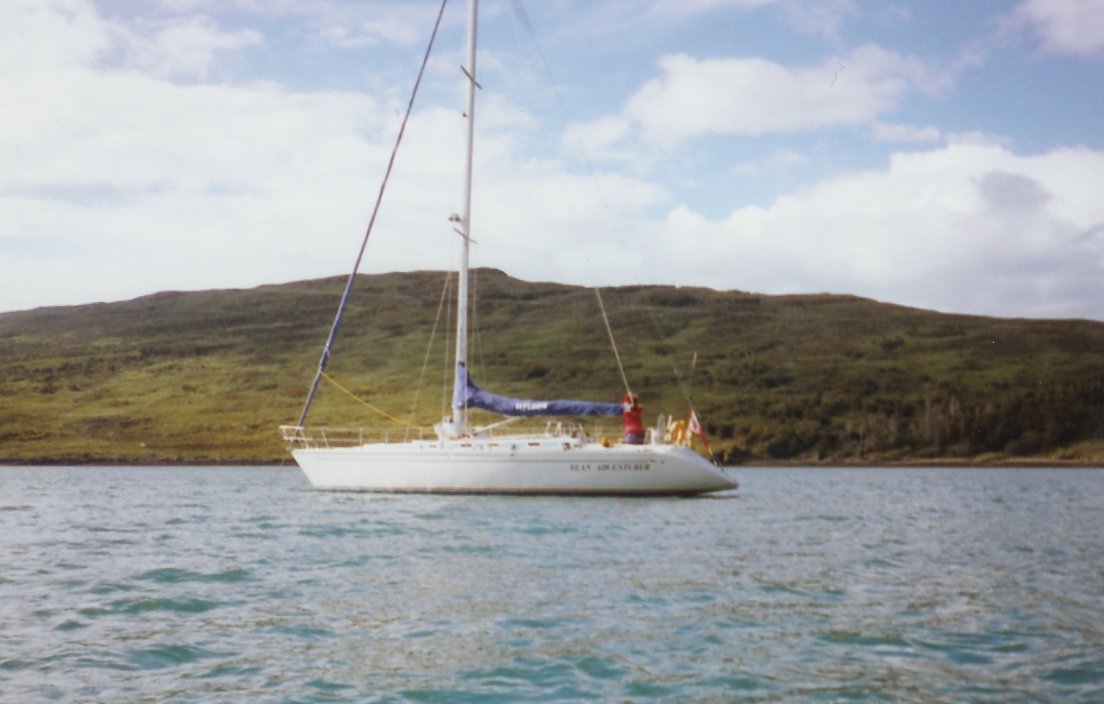 Elan Adventurer at anchor in Loch Spelve
Sunday 6th June
0945 Departed Loch Spelve in N 5-6 under doubled-reefed main and partly-furled genoa and tacked towards the Sound of Mull.
1200 Passed Duart Castle and for once, Alastair didnít tell the story about how he once met Sir Charles McLean there. Wind eased.
1215 Wind all over the place. This is what they call cyclonic variable. Started the engine and motor-sailed up the Sound of Mull.
1400 Left the S of M and hit by N 5-6 again - very cold wind with big bouncy seas. Decided to abandon Plan A (Coll) and invoke Plan B (make for the comfort of Tobermory). So much for plans.
1530 All the visitors moorings were occupied by the same local boats as previous years. As usual we drove around the bay for half an hour until finally dropping anchor in the deepest part of the bay miles from the shore or pub. Pumped the bilges as there seemed to be a surprising amount of water in them.
1700 Went ashore and ate in the Lochinvar restaurant - good food but very tacky decor and plastic seats. Went to the Mish Nish and found it was quiz night. Very loyal readers will remember that on a previous cruise we came third in a pub quiz in Bunessan. Well this year we did one better and came second, winning six bottles of Holsten Pils. We would have won if Alastair had remembered that General Sherman was a Sequoia tree and if Dan had known the difference between a metaphor and a simile.
Monday 7th June
1000 Departed Tobermory in NNW 4, hoisted all sails and fetched towards Ardnamurchan point. The vague plan was to head to Lochboisdale on South Uist.
1130 Passed the Ardnamurchan lighthouse. Some of the crew were not feeling great - probably a combination of a night in the Mish Nish (including free Holsten Pils) and the lumpy swell in the sea. Andrew couldnít remember what he had in the restaurant last night, so brought it back up to check. Derek decided to take the helm in an effort to keep his down. After a short discussion, it was agreed to postpone the visit to Lochboisdale.

The crew enjoying the sail (and last night's dinner)
1230 Tacked between Eigg and Muck. Dolphins investigated us for a while but quickly got bored and left at high speed doing circus jumping tricks.
1400 Wind N 4-5. Tacked up east side of Rum. Weather good but wind still very cold.
1645 Anchored in Loch Scresort on Rum and had a very late lunch as no-one had felt much like eating earlier. Discovered more water in the bilges and pumped them out again.
1800 Went ashore to wander round. Beautiful warm evening, at least 10į warmer on land. Found lots of strange people camping on the island for no obvious purpose. Kinloch Castle is now closed but looks very impressive through the windows - lots of fancy Edwardian furniture and stuffed animals. Tried to phone from the islandís only phone box, but it wasnít working - either the campers had eaten the pigeons which carry messages to the mainland, or the satellite microwave downlink was broken.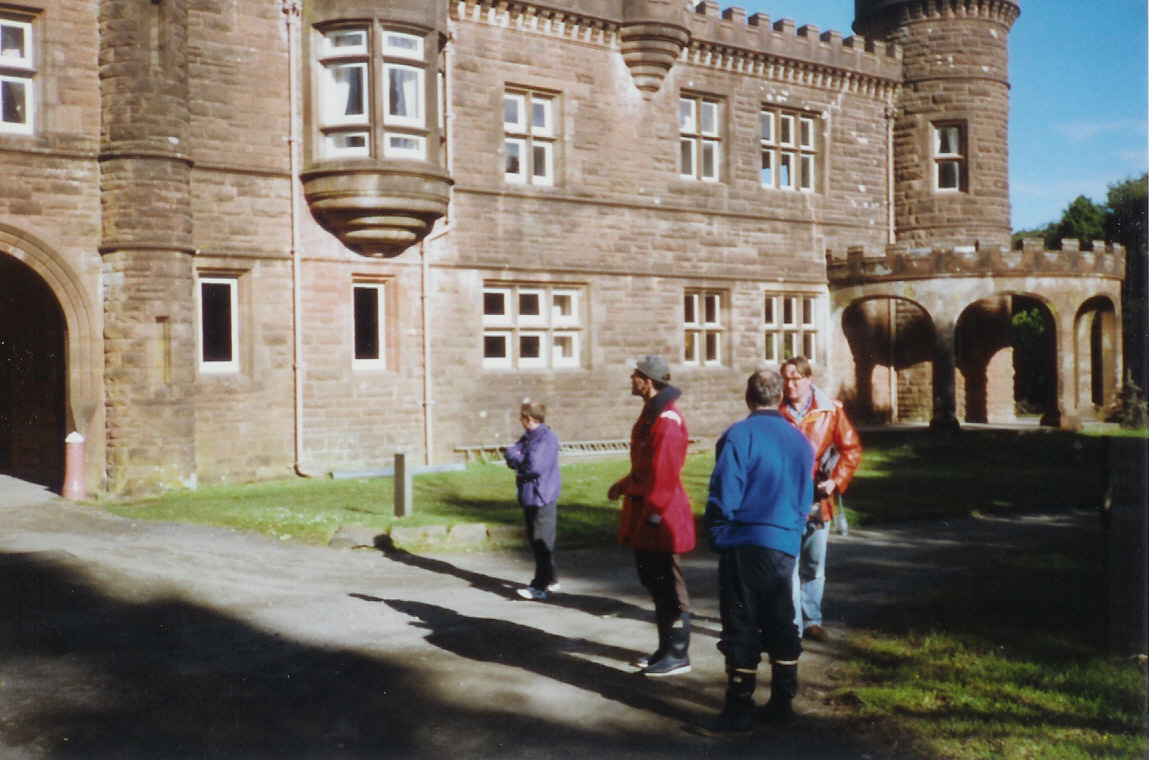 The crew visiting Kinloch Castle, Rum
2000 Back to the boat for ritual GíníTs and dinner - steak pie with Australian Cabernet Sauvingon, followed by carrot cake and cream. Noticed the cabin lights were a bit dim so we started the engine to charge the batteries only to find there was no charging current. Went to bed early in the dark.
Tuesday 8th June
0900 Woke to find the domestic batteries were completely dead, so engineer Andrew started poking around in the engine bay with bits of wire and a torch bulb to identify the charging problem. One blown bulb later, he decided that the alternator was shorting out. Luckily Frank had his mobile phone (cos heís a yuppie from the 80s) so we phoned Bob Fleck at Islander Charters who arranged for an electrician to meet us at Mallaig.
1000 Departed Rum in NW 3-4 and motored east while Dan fried all the food for breakfast as the fridge was getting warm.
1210 Arrived at Mallaig to find the traffic lights on the harbour wall at red, so we had to wait while the Skye ferry left.
1220 Tied up at Mallaig pier where the electrician was waiting. He quickly found that the alternator wasnít charging and said it would take until Friday to get a new one. We explained that wasnít very satisfactory so he took the alternator apart and discovered a loose bolt rattling around inside which was probably shorting the electrodes - engineer Andrew was right ! He fixed it up while we topped up the fresh water tanks which had mysteriously run dry.
1400 Left Mallaig in NW 4-5 with properly charging batteries and discussed options for the rest of the day. As we had lost the morning, we decided to head for Canna which would give us more options tomorrow.
1500 Noticed the bilges were filled with water again and the floorboards were starting to float. When the boat heeled, the saloon seats were nearly under water. Andrew bravely tasted the bilgewater and found it to be fresh. It dawned on us that the newly-filled water tanks were leaking into the bilges and were now empty again. Luckily there were 2 jerrycans of fresh water in a locker. Pumped out the bilges which were now the cleanest in the Western Isles as they had been sluiced through with 60 gallons of fresh water. Derek then discovered that the fridge door seal wasnít watertight when he opened the fridge while the boat was heeled and was met with a cascade of water which had seeped in on the other tack and drowned half the food.
1830 Dropped the hook in Canna harbour where we were surrounded by fancy yachts flying white ensigns - seemed to be a sailing holiday for retired Admirals.
1850 After mandatory GíníTs, went ashore in the dinghy. The outboard ran out of petrol as we arrived on the beach. Of course we had left the oars on the boat. Well, we hadnít had a disaster for a couple of hours. Fortunately we found a wooden palette on the beach which we broke up to make paddles to get us back to the boat.
2130 Dinner on board - chilli with claret, followed by the cheese which had been immersed in bilgewater in the fridge. Played cards till the 0048 shipping forecast - Dan won (mainly because he made up the rules).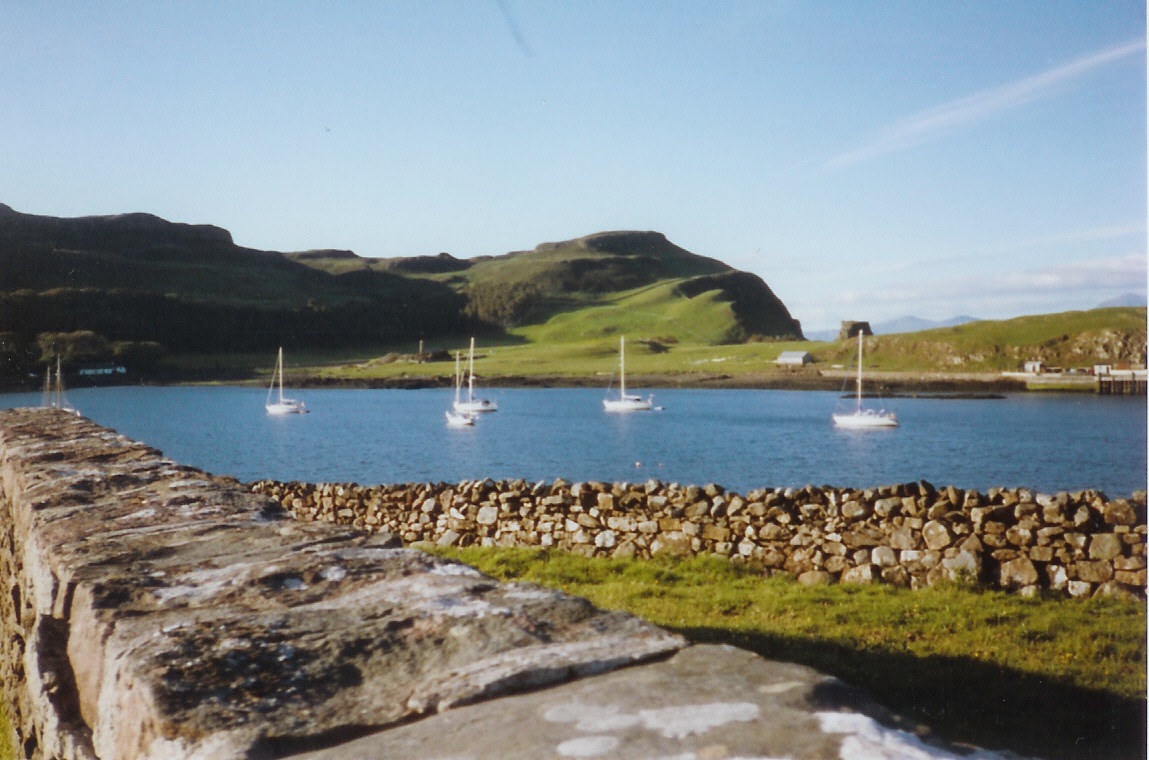 Canna Harbour
Wednesday 9th June
1015 Departed Canna in NW 3-4 and headed due south. Hoisted the spinnaker as this was our first downwind sail of the week - suddenly the wind seemed a lot warmer.
1415 Rounded the north end of Coll and dropped the spinny after 4 hours of great sailing.
1530 Picked up a visitorís mooring in Arinagour, Coll. The boat moored in front was from the Royal Yacht Squadron and most of the others in the bay flew white ensigns - had we stumbled on an RNSA convention in the Western Isles?
1630 After the obligatory gins, went ashore to the Coll Hotel for beer, warm showers, more beer, excellent food, more beer and some rum. Alastair had been here 20 years ago, so he searched the old yotties visitors books going back decades and found what he was looking for - an entry dated 5th July 1978 from the crew of the steel ketch Erraid - Carew Thomas, Robert Pattullo, George Henderson and Alastair Millar. Dan decided that if he won the lottery he would buy the Coll Hotel and turn it into a lap-dancing bar with Swedish barmaids and shag-pile carpets. The bar was full of yotties with loud voices, then some of the locals turned up and entertained us with their Lancashire and cockney accents. But Heather the barmaid was a genuine Coll girl. A group of old bufty yotties from Aberdeen spent about an hour trying to find their lifejackets before leaving, accusing everyone else of stealing them. We met them later at the pier where they discovered they had left the missing lifejackets.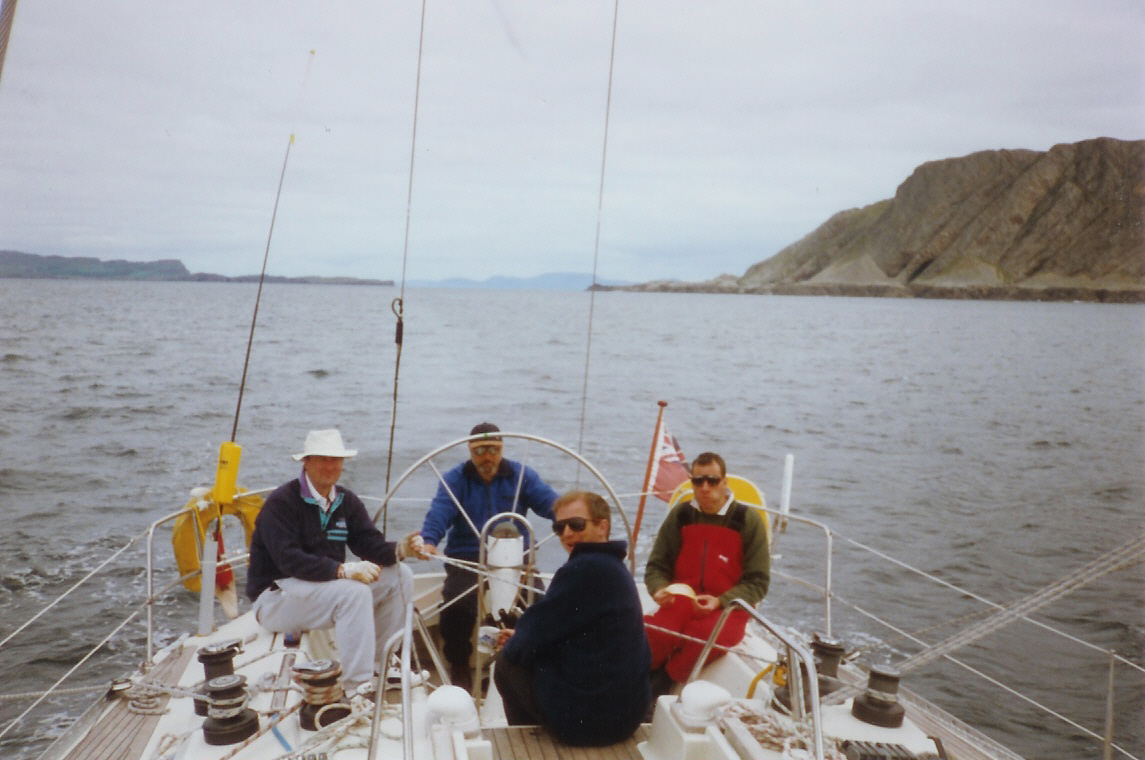 Downwind sailing to Coll
Thursday 10th June
0900 Lazy start due to horrible cloudy cold weather. Big fry-up for breakfast.
1115 Weather started to clear, so departed Coll in N 3-4. Ran due south under full sail again.
1300 Passed Treshnish Isles. Sun came out, blue skies but still cold wind.
1530 Passed Torran Rocks to port and gybed towards Colonsay.
1830 Passed by a Norse longboat full of hippies being towed into Scallasaig by a lifeboat.
1900 Arrived at Scallasaig on Colonsay. Anchorage looked very small, so we popped into the next bay for a look. This was better but very exposed, so we returned to Scallasaig and tied up alongside the pier.
2000 The ubiquitous gin with 7 Up (run out of tonic) followed by Pasta Ragu with New Zealand Chardonnay for dinner. A single-handed 36 ft ketch Snoopy came alongside. This used to belong to Peter McLeod who wrote for Yachting Life, but is now owned by a peripatetic oil worker who lives aboard. He told us that Peter McLeod knew nothing about boats and had sold Snoopy in a terrible condition. He left us with his boat while he visited his girlfriend who lives on Colonsay.

The crew walking to the pub on Colonsay
2100 Went to the pub which unusually had 60 shilling ale on tap. By this stage in the week we were quite glad to drink something a little lighter than usual - we must be getting old. Bar was soon flooded with hippies from the Norse long boat - very odd mixture of bearded salty seadogs, English middle-class wimin in canvas smocks and American drop-outs. Their leader spent 3 hours on the phone arranging an educational visit to a school on the mainland tomorrow while the others discussed socio-collective responsibilities in marine management decision-making and how to knit your own yoghurt.

The crew in the pub on Colonsay
Friday 11th June
0730 ! Departed from Colonsay, slipping out under Snoopyís warps and leaving them tied in knots. We had to leave early as we intended to sail round Jura before returning the boat, so we had to catch the last of the south-going tide through the Sound of Islay. Motored to the Rubha aíMhail lighthouse at the north end of Islay.
0910 Engine alarm sounded so we quickly switched it off. Alastair and Frank were appointed assistant engineers and went to investigate. It was soon clear that the same problem we encountered on this boat 2 years ago had recurred - there was a leak in the fresh water cooling system. After topping this up, we started the engine again and entered the narrow sound, but the tide had already turned against us.
1030 Halfway through the sound we were doing 7 knots under engine and full sails against a 5Ĺ knot tide. Watched the distilleries go past very slowly.
1200 Finally escaped the Sound of Islay and turned east round the south end of Jura.
1315 Wind died, so we motored into Craighouse bay and picked up a visitors mooring in a bizarre Caribbean scene - clear blue water, clear blue sky, green wooded shore and even some palm trees. Had lunch al fresco.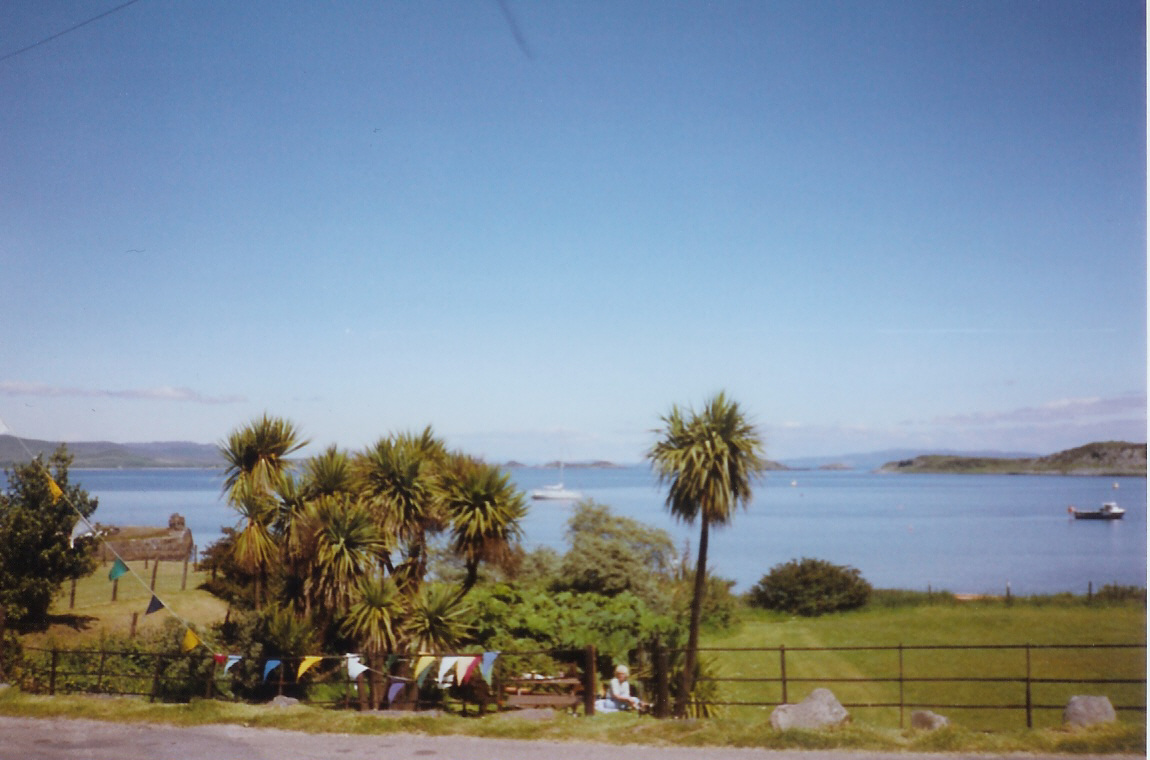 Exotic, tropical Craighouse on Jura
1415 Departed Craighouse. Sea completely flat, so we motored north up the Sound of Jura (against the tide again, which had now turned south).
1800 Arrived Ardfern, cleaned up the boat and gave Bob a list of 40 things wrong with it. Bob looked a little hurt. Went to the Galley of Lorne for the traditional end-of-cruise pub feast.
Derek Gibb, skipper
Alastair Millar, navigator
Ian Kernohan, chef
Andrew Butler, engineer
Frank Spratt, assistant everything