0900 Derek, Frank, Alastair and Ian filled the cars with shopping from Sainsbury's and headed north to Skye. We were returning to Isle of Skye Yacht Charters (IOSYC) after a break last year, but this time hoping to avoid the equinoctial gales by a couple of weeks.
1300 Lunch at the Lochailort Hotel while we discussed our plans for the cruise. The forecast was for a large anticyclone to sit on top of us all week, so we were hoping for sunny weather and gentle winds. Which would make a nice change as we normally get freezing northerly gales and horizontal rain on our west coast cruises.
1415 Arrived at Mallaig.
1440 Jeremy sped into town in his racing-green Subaru having driven all the way from Bradford that morning, just in time to get the ferry to Armadale. When we unpacked the cars at the old stone pier used by IOSYC, we found they had a new pontoon which greatly improved the process of transporting people and baggage to the yachts without getting wet.
1645 Boarded Osprey, a Beneteau Oceanis 411, our home for the week. Seemed to be in good nick, which makes another nice change for us. Lots of gadgets, including a colour chart plotter and Navtex.
1730 After Mark from IOSYC finally showed us how everything worked on the boat, we departed Armadale in a cloudy, drizzly evening and headed north. Hoisted sails but the wind died almost immediately, so we motored through the Kylerhea narrows with the tide sweeping us along at 8.5kn. Loch Alsh was just a blanket of wet mist so we motored on to Kyle in the gathering gloom.
2010 Arrived at Kyle of Lochalsh and tied up at the hotel pontoon, just squeezing in between two larger vessels. To give Ian a bit of a rest from the galley, we were cooking one meal each on this trip, which was quite brave really. Alastair cooked his famous Pork Pasta (which is the only thing he knows how to cook) then we retired to the pub for a few beers.
Sunday 5th September
0900 Departed Kyle of Lochalsh and motored under the Skye Bridge.
0915 Lovely sunny morning, wind SW 10kn. Hoisted sails and reached northwards through the Inner Sound. Bacon rolls for breakfast.
1100 Wind died, so motored for a bit. Noticed that the instruments weren't showing any distance or boat speed, although the GPS was working OK.
1130 Wind picked up again, so sailed for a bit. In fact the wind was up and down all day, but this was T-shirts and sunglasses weather so who cares ?
1300 The GPS stopped working now, so we had no instrument readings at all. Fortunately Alastair had his hand-held GPS in case we needed to do anything as extravagant as navigating. Phoned Mark at IOSYC who explained that the boat's GPS needed more satellite signals than usual as it was linked to the colour chart plotter, which seemed a bit bizarre. He also suggested that the log impellor was probably jammed. Derek was reluctant to remove the log impellor while at sea.
1400 Lunch al fresco. Continued gentle progress up the mainland coast past Lochs Torridon and Gairloch.
1830 Entered Loch Ewe and dropped sails.
1910 Dropped anchor in Aultbea in NE corner of Loch Ewe. Gin and tonics on deck in the evening sunshine - very pleasant. Despite the skipper's concerns about opening a hole in the bottom of the boat, Alastair and Ian removed the log impellor and found it so encrusted with barnacles that it couldn't turn. It didn't look like it had been cleaned in years – did no-one else bother with log readings? It worked fine after a good scrub.
2015 Derek's pork and rice for dinner – very good, although Derek explained there should have been more meat but we didn't seem to have bought enough. Went ashore to the Aultbea hotel which was very quiet. Well, dull actually. It fact the most interesting point of the evening was when Frank observed that the tartan carpet was very nicely laid. Following previous cruises, Derek was still gathering data for his proposed book on "Barmaids of the Western Isles" so we discussed various assessment categories and ranking systems. Mary the barmaid at Aultbea scored 9/10 for remembering our order each time, but 1/10 for what she added to the attractiveness of the place.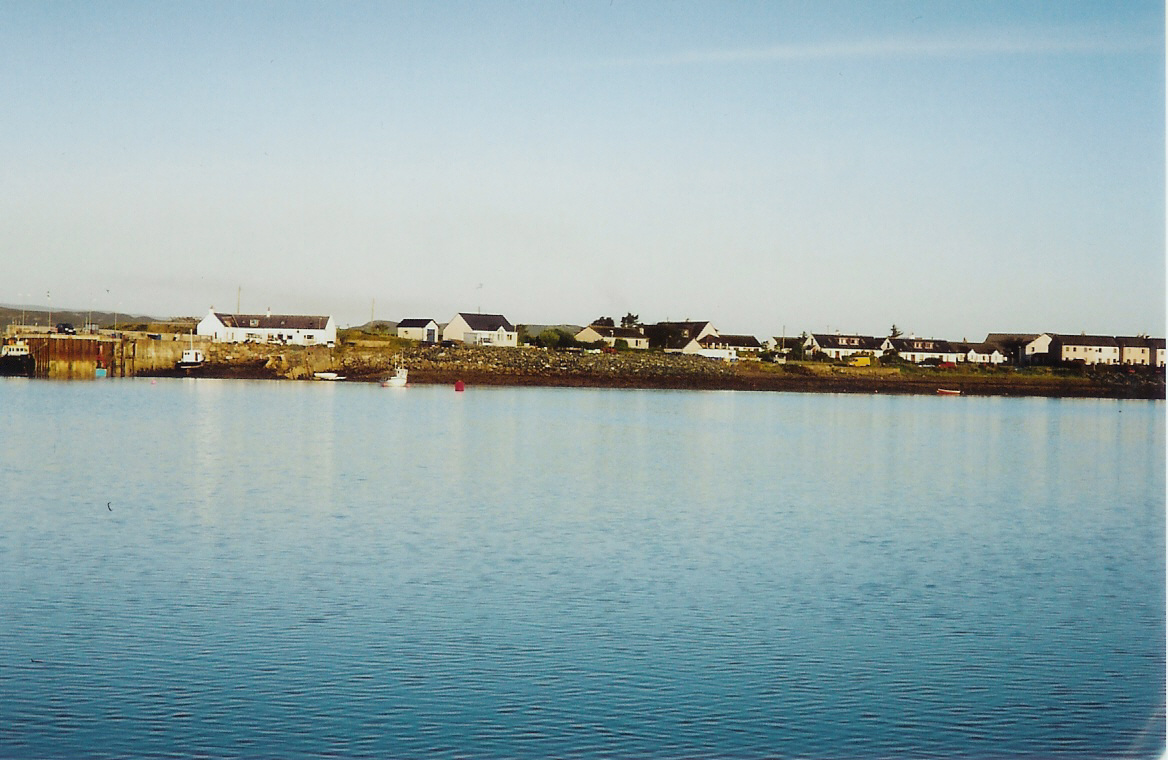 Aultbea, Loch Ewe
Monday 6th September
0800 Early start as we wanted to cross the Minch. Departed Aultbea and motored out of Loch Ewe as there was no wind. Ian cooked a big cooked breakfast, but Jeremy missed it as he was still asleep and it seemed a shame to wake him.
1000 Wind arrived from NE 8 kn. Hoisted sails and headed for Lewis. Bright sunshine all day. Shorts and suntan cream appeared. Porpoises also appeared close by twice during the day.
1300 Lunch on deck. This weather is ridiculous; in 10 years of one-week cruises on the west coast, we've never sailed in shorts and T-shirts before.
1500 Sailed right into Loch Shell (Loch Sealg in Gaelic), 15 nm south of Stornoway, and dropped anchor in Eishken Bay (Tob Eisgen). It was so hot that Derek, Ian and Jeremy went swimming (although the water was still bloody cold). Derek, Alastair and Ian then went ashore for a look around. It is a strange place, with a number of high-powered motor boats and landing craft moored in the bay, and some sailing dinghies by a shed at the pier. Eishken Lodge is a very impressive mansion, and all the surrounding houses are painted exactly the same colour of yellow. There is a man-made lochan for fishing and a greenhouse full of exotic plants. What is this place - holiday lodges, a base for fish farming, or the headquarters of a religious sect ? In the end we decided it must be a secret military establishment because we saw an army Landover parked by the fishing pond. Jeremy cooked lamb chilli for dinner with rather more kidney beans than lamb. Ian had brought a 'Who Wants to Be A Millionaire' quiz book, so quizmaster Derek fired questions at us until we got bored and went to bed.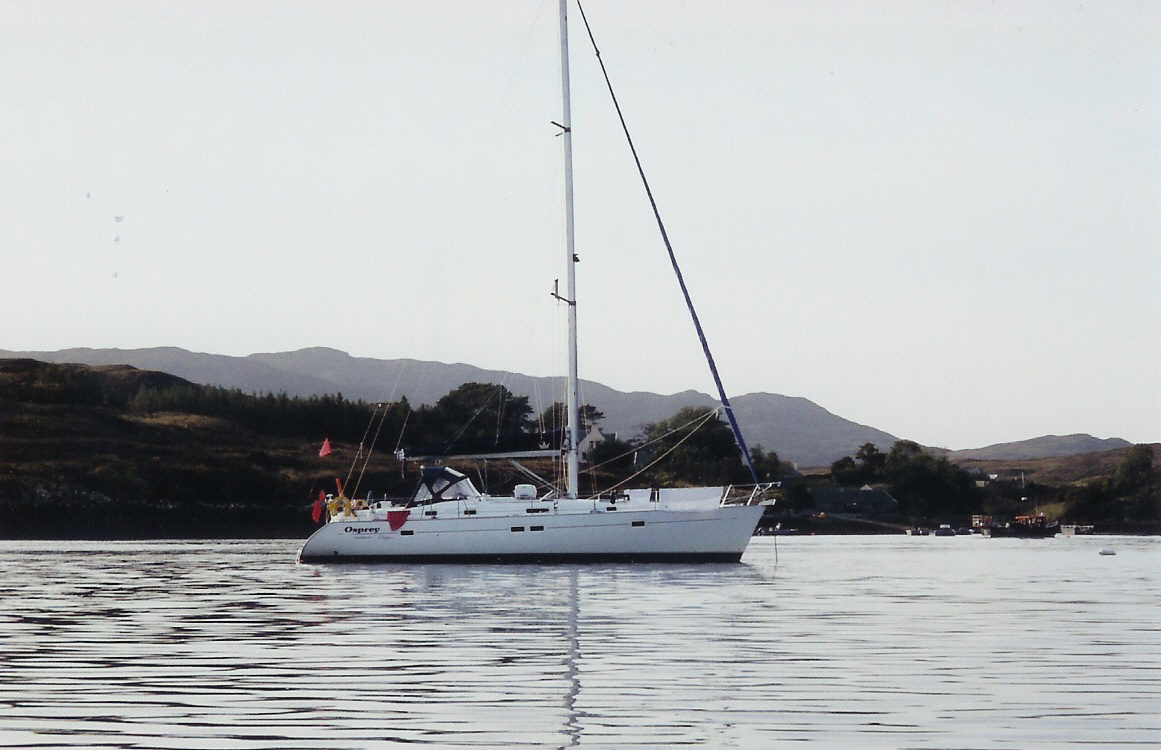 Osprey in Eishken Bay, Loch Shell, Lewis
Tuesday 7th September
0800 Up for sausages and bacon breakfast (apart from Jeremy who slept in again.)
0915 Departed Loch Shell. Another glorious day but no wind, so motored south to the Shiant Isles.
1100 Anchored in the Shiant Isles and went ashore to the largest island, Eilean an Tigh. Although uninhabited now, there used to be two families who lived here and looked after the sheep, although they suffered an alarming death rate from falling over the cliffs. We took the rubber dinghy through a natural arch in the rock at the north end of Garbh Eilean which is very impressive. Not as many birds as when we were last here in 2001, but lots of young gannets.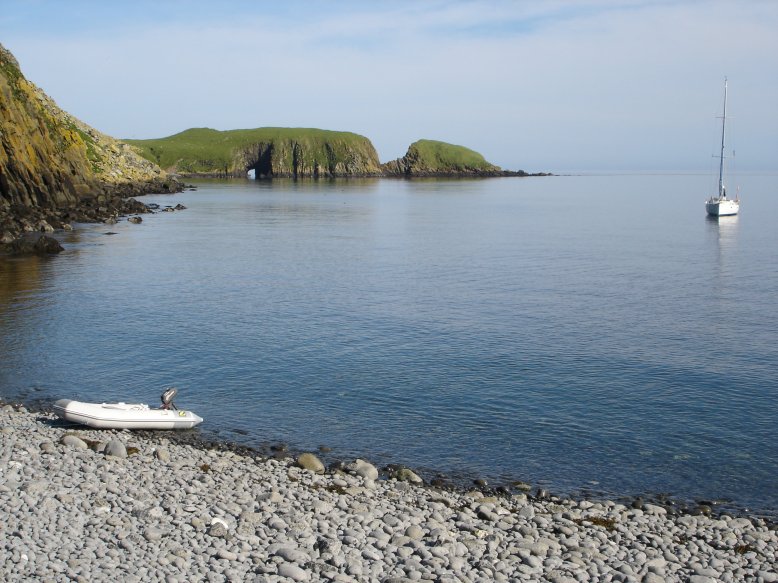 Osprey in the Shiant Isles
1155 Departed Shiant Isles. Still no wind, so we motored SW past Harris and on to North Uist.
1415 Saw more porpoises, and Derek claims to have seen a whale, but it must have been a very tiny whale as no-one else saw it.
1700 Picked up a visitor's mooring beside the Ro-ro pier at Lochmaddy. G'n'T in the cockpit then ashore to the Lochmaddy Hotel for showers, drinks and food. The pub was very busy with visitors and locals, and the food was excellent. The crew awarded good marks to the barmaids too.
Wednesday 8th September
0840 Derek and Ian went ashore to get some fresh food and newspapers (one-week-old Oban Times.) Alastair saw an otter playing in the rocks near the mooring.
0930 Departed Loch Maddy. The wind was quite strong in the loch but actually calmer outside – SE 10-15kn. Hoisted sails and tacked across to Skye.
1100 Tacked back towards Benbecula.
1330 One more short tack east, then tacked again towards South Uist.
1530 Wind died off Loch Skipport, so dropped sails and motored southwards.
1630 Three dolphins appeared some way off and came leaping towards us. They dived under the boat and played around the bow for a few minutes then got bored and disappeared.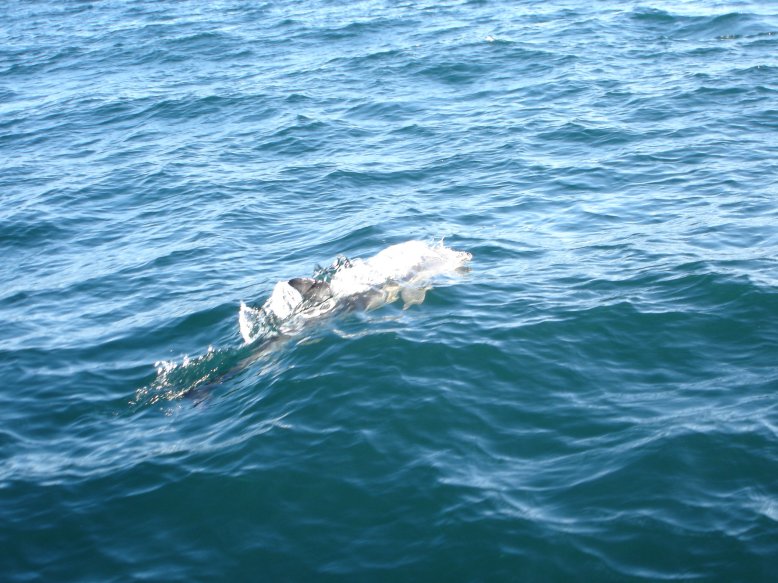 Getting checked out by a dolphin
1730 Picked up a mooring in Lochboisdale, which is pretty much indistinguishable from Lochmaddy – Ro-ro pier, white hotel and sad, grey little village. Went ashore to the hotel for food. Watched the football (Scotland 0, Slovenia 0) on a big-screen telly in the public bar, a huge barn of a place with just six locals and us. Various barmaids kept popping in from the hotel bar to watch the football and fraternise indecently with the locals, so there was plenty of material for Derek's book. Ian and Jeremy played pool, but couldn't persuade the locals to give them a game – their reputation must have preceded them.
Thursday 9th September
1015 Late start. Jeremy missed breakfast again. Motored to the pier to top up our water tanks.
1030 Departed Lochboisdale. Another bright sunny day and wind S-SE 15kn so a set off across the Minch on a close fetch.
1515 Dropped anchor in Canna harbour. Canna has changed a lot since we were last here – it has a new pier for the Small Isles ferry, a visitor centre and a licensed restaurant. Derek, Ian and Jeremy went ashore to check it out. Jeremy hadn't been here before so he was sent to climb Compass Hill for the views, while Derek and Ian walked to St Edward's, the old catholic church which is now the new visitor centre. At least, it was officially opened by Princess Anne 3 years ago after a £900,000 renovation but has never actually opened to the public as it is riddled with wet rot, dry rot and rising damp. Another triumph for devolution. Derek and Ian decided to visit the new restaurant, which turns out to be someone's front room, but very nice for all that. You have to book days in advance for food, so they sat outside and had a beer while the rich pageant of island life unfolded around them.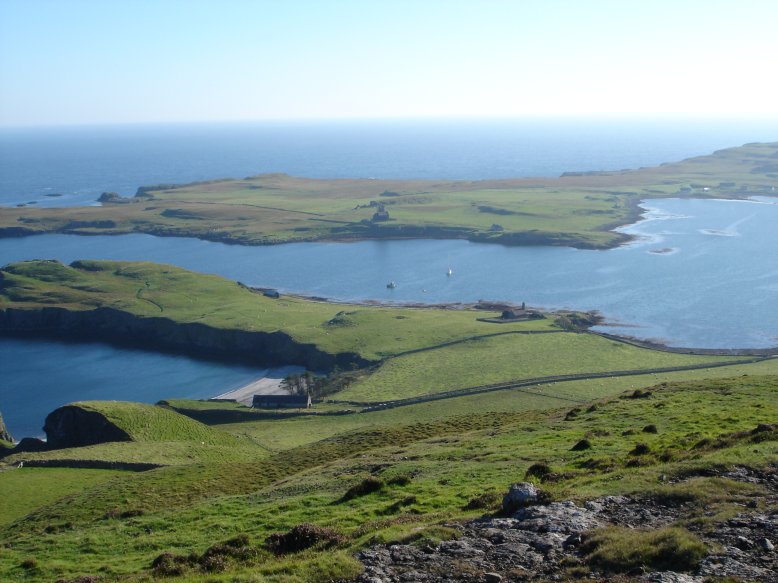 Canna Harbour from Compass Hill
1900 Dinner in the cockpit - Frank's mince and tatties. But no onions, as someone else had already nicked them for their meal. However, Frank did unearth the missing half pound of pork, now green, which Derek mislaid on Sunday. Lovely evening sipping cocktails on deck and watching the mountains of Rum turning vivid shades of orange, pink and red as the sun set behind us.
Friday 10th September
0900 Watched and heard a number of seals calling to each other with a strange honking sound.
0930 Departed Canna. Wind NE 10kn so beat northwards towards Skye.
1030 Wind all over the place, so we gradually sailed round the north of Rum without actually tacking.
1130 Wind died. Motored towards Point of Sleat. Very hot, hazy day. More porpoises in the distance.
1440 Entered Loch Nevis. Lots of small launches motoring in and out of the loch. As we approached Inverie, the noise of industrial hammering got louder.
1515 Picked up a visitor mooring in Inverie, which is supposed to be the remotest village in Scotland, but is now like a massive building site. A new pier is being built to provide the isolated peninsula with a proper ferry service, and there are cranes and barges busy dredging and pile-driving in the bay. A mother ship is anchored nearby and a fleet of small craft are buzzing about ferrying workmen to and from the site. Ashore, lorries and Landrovers are chugging about on Knoydart's road to nowhere, and the Old Forge Inn is surrounded by people drinking in the sun. What a peaceful place Inverie is !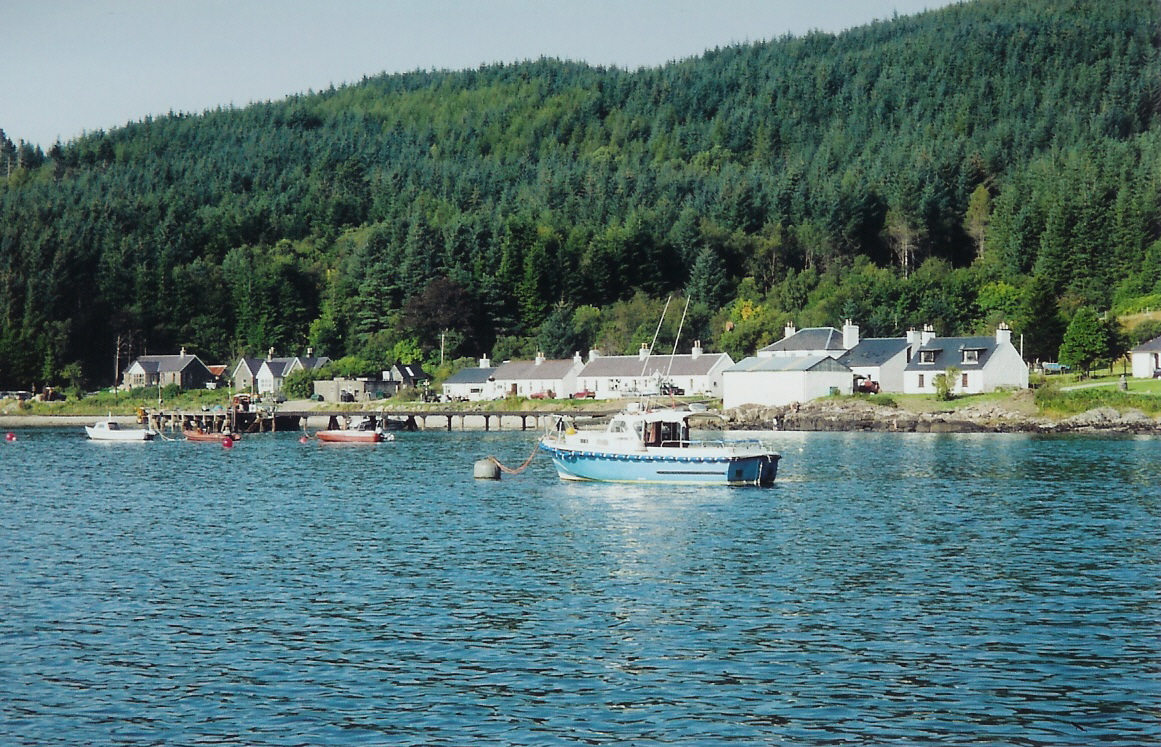 Inverie, Knoydart
1530 Despite all this activity, Derek and Ian decided to go for a swim and a wash before going ashore. Derek really shouldn't subject us to this grotesque sight twice in one week. Packed up and cleaned the boat before dinner.
1900 Went ashore for end-of-cruise-dinner at the Old Forge – magnificent scallops, lamb cutlets and steaks. There is often an impromptu ceilidh at the Old Forge, so we were encouraged to see someone pick up a guitar. We were less impressed when he started with 'Riders on the Storm' and followed this with a string of pretty awful country and western ballads. Despite this, a good night.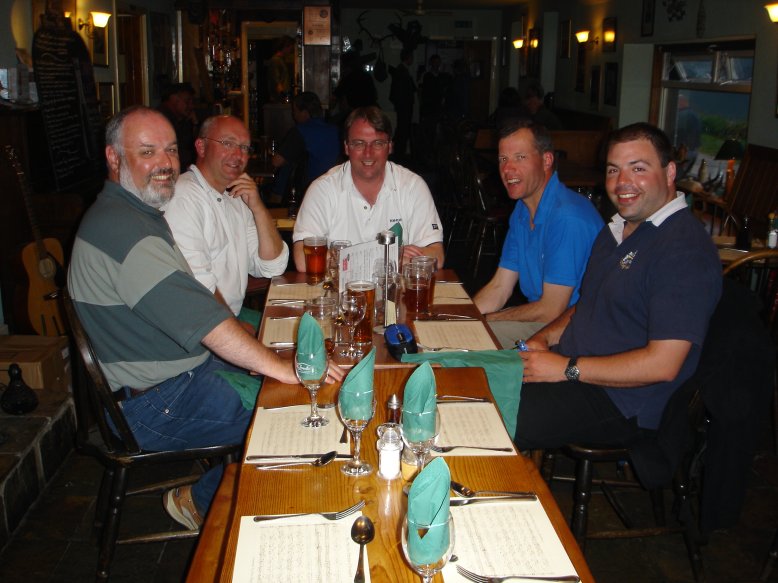 Dinner at the Old Forge
Saturday 11th September
0700 Early start as we had to return Osprey to Armadale by 9am. Departed Inverie and motored across the Sound of Sleat in a grey misty morning. Lumpy seas and rain started as we left Loch Nevis. After a week of perfect weather, it was turning nasty just as we were going home.
0830 Picked up IOSYC mooring at Armadale. Jeremy woke up. End of cruise.
Derek Gibb, skipper
Alastair Millar, navigator
Frank Spratt, anchormaster
Ian Kernohan, quartermaster
Jeremy Cresswell, narcoleptic